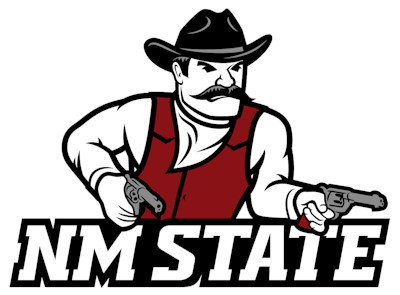 New Mexico State University athletic officials called NMSU campus police to tell them the whereabouts of Aggie basketball forward Michael Peake's gun, tablet and phone following a campus self-defense shooting that left a UNM student dead last month.
However, the administrators didn't call the detectives actually investigating the killing. Instead, they called their own campus police officers who were nearly 200 miles away, Albuquerque's ABC affiliate KOAT reported.
KOAT has learned that state police were trying to get Peake's gun, tablet and his phone. Police determined that the basketball player gave the evidence to three of his teammates — Issa Muhammad, Marchelus Avery, and Anthony Roy.
According to KOAT, as he was trying to get the evidence, New Mexico State Police agent David Esquibel gave assistant athletic director Braun Cartwright a warning.
"I don't know what those players did with it between, you know, the incident and now and if those items are in one of their rooms, you know, we need them to hand them over, hand those things over like now. Because, you know, for obvious reasons," Cartwright said in a recorded interview. "And, also they are evidence. So, we don't want anyone else to get hemmed up for tampering with evidence. We'd like to nip this in the butt now."
Cartwright told him, "Let me make some calls and I could see what I could find out as far as where those items may or may not be."
KOAT reported that it has learned through police reports and text messages that instead of calling the detective back, Cartwright called NMSU police chief Andrew Bowen to tell him where the evidence was.
"There was no need to involve the university police department of NMSU. Was it necessary now?" said Darren White, who used to oversee the state police when he was the Department of Public Safety cabinet secretary, as reported by KOAT. "This wasn't their case. This was the state police's case. They were investigating this case and they didn't need the assistance of the chief, the lieutenant or anyone else at the university police department."
The state police agent called the team's coaches several times. He kept getting voicemail messages and at one point he wrote in his report that when he called assistant coach Domonique Taylor, someone picked up the phone and hung up.
At one point, Esquibel, the state police agent, was pursuing the NMSU team bus, turning on his lights and sirens to catch up with it and pull it over. Before he caught up with the bus, he received a text message from a university police lieutenant offering to assist, KOAT reported.
The state police agent asked the campus cop to have the bus pull over. The campus officer called him back and said the gun was with assistant coach Taylor back in Albuquerque.
KOAT pieced together that assistant men's basketball coach Lorenzo Jenkins had the tablet with him on the bus, and assistant athletic director Ed Posaski had the phone at home, and was "happy" to turn it over to authorities.
According to KOAT, the state police agent was curious how this campus officer who was 200 miles away knew where everything was. When he asked the campus cop about it, he told him that Cartwright had called the campus police chief who then called him.