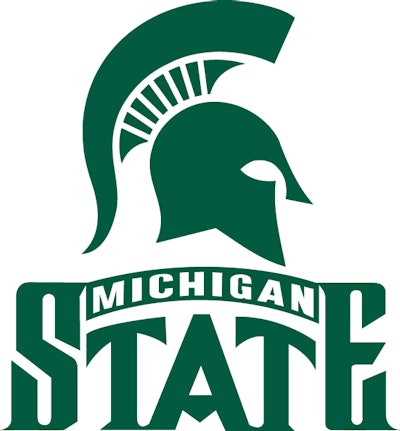 Members of Michigan State University's now-dissolved women's swim and dive team agreed to end their legal fight against the school Friday in exchange for further review and revision of Title IX policies by the MSU athletic department.
As reported by The State News student newspaper, citing a release from the team members' attorneys, the settlement agreement will see MSU appoint an independent Gender Equity Director who will conduct a full "gender equity review" of the athletic department. This director will scrutinize the treatment, benefits and athletic financial aid given to male and female athletes. They will work with MSU to create a plan to address any inequalities found in their review and resolve those issues by the 2026-2027 school year.
The law firm, West Virginia-based Bailey Glasser, said the settlement does not outline any plan for reinstatement of the women's swim and dive team.
"Our settlement today, while so worthy of celebration, was bittersweet," plaintiff Elise Turk said in a statement, as reported by The State News. "Even though our team will not be making a return in the near future, it's gratifying to know that Michigan State University will be evaluated and held accountable for any future mistreatment of their female athletes."
The lawsuit followed MSU's announcement to cut the swim and dive team in October 2020. The swimmers argued doing so changed the overall gender-ratio of male to female opportunities in sports and potentially left MSU in violation of Title IX.
Much of the compliance disagreement centered around how to measure equality of female and male opportunities, The State News reported. While the former swimmers argued the statute demands exact numerical compliance, MSU argued an overall percentage is sufficient. The university's method would make the current gap — nine more male athletes in a pool of more than 800 total roster spots — within compliance of the law. Any future noncompliance would be addressed by trimming individual male roster spots, as opposed to adding a women's team.
According to the Lansing State Journal, MSU deputy spokesman Dan Olsen said MSU was never found to be out of compliance with Title IX. The settlement, he said, stipulates that MSU must conduct a gender equity review by Sept. 1. If that review concludes that there are Title IX compliance issues, a third party would develop a compliance plan to be completed by the 2026-27 school year. If the review finds no compliance issues, there would be no compliance plan.
"MSU remains committed to providing equal opportunities for all student-athletes," Olsen said,. "While the university is in compliance with Title IX, these measures will help ensure public trust in our compliance enforcement through an ongoing independent, third-party review."