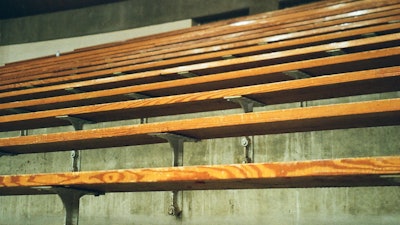 West Des Moines (Iowa) Community Schools has settled a negligence lawsuit filed in August 2021 by a student's parents who claimed their child suffered permanent injury after falling during a gym class activity.
As reported by the Des Moines Register, Liza and Thomas Nugent alleged in the lawsuit that in 2019, when their child was a student at Valley Southwoods Freshman High School, a physical education teacher instructed students to run up and down bleacher seats — not the bleacher stairs — during gym class. The student tripped and fell during the activity, hit their face, suffered a concussion, lost teeth and now has permanent injuries, according to the lawsuit.
The case was scheduled to go to trial in June, but was dismissed last month after the district and the family reached a $55,000 settlement in January.
The school district's insurance company will pay the settlement, which includes $19,250 for legal fees, $4,700 to expenses and about $4,500 in a trust for Delta Dental/Wells Fargo. The remaining $26,600 will go to the parents and their child, Chris Higgins of the Register reported.
No one admits liability for the incident under the settlement agreement. A spokesperson for the school district and an attorney for the Nugents both declined to comment.
The lawsuit said running up and down bleacher seats was dangerous because they lacked marking stripes and handrails and should not have been used as stairs under safety code. Students should not have been allowed to run on them, much less been required to, according to the lawsuit, which added that the teacher continued to require the exercise despite the fact that other students had previously fallen while running on the bleachers.