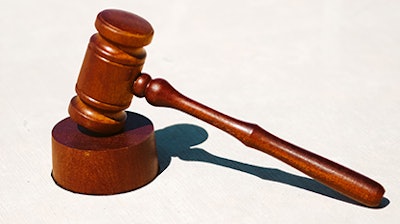 Caden Cox, the first college football player with Down Syndrome to play in an official game and score, is now suing Hocking College, alleging staff discriminated against him.
In a lawsuit, filed by Cox's mother Mari Cox, Caden alleges that his former supervisor, Matthew Kmosko, persistently engaged in "derogatory, discriminatory, and abusive verbal harassment."
Kmosko was the coordinator at Hocking's Student Recreation Center where Caden Cox was an employee. Caden alleges that he submitted multiple complaints about Kmosko but they were ignored by the school. According to CBS News, Cox's time working under Kmosko culminated in Kmosko allegedly holding Cox "at knifepoint in a campus bathroom during his work shift."
The suit also names Hocking College president Betty Young and the school's board for dismissing Cox's complaints.
According to CBS, Kmosko had a history of violent behavior and the poor performance reviews. Hocking allegedly failed to run a proper background check on him before his hiring.
Complaints against Kmosko, among many, include aggressive text messages and using a derogatory term for person with disabilities.
"On several occasions, [Kmosko] took Plaintiff's phone and looked through it without permission," the suit reads. "He asked Plaintiff to give him hugs. There were also instances in which he would stare at him menacingly and send aggressive text messages."
Cox's attorneys say there is video footage of Kmosko walking in and out of the bathroom with a knife, where Cox alleges Kmosko "physically blocked the exit, and began to scream at him that he told him to change the trash while pointing a black-handled, silver knife at Plaintiff's chest."
After the incident, Cox's family called the police, and Kmosko was charged and later convicted of menacing. However, Kmosko was not immediately removed from his position, although he resigned more than a week later and was barred from entering campus.
The Cox family is asking for a jury trial and are asking for compensatory and punitive damages.