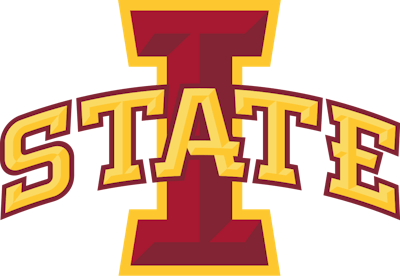 The increasingly cozy relationship between college athletics and sports gambling has brought us to this point: Iowa State University starting quarterback Hunter Dekkers has been charged with tampering with records relating to reported gambling activity and violations of gaming rules.
As reported by ABC affiliate KCRG in Cedar Rapids, prosecutors for the State of Iowa have indicated that wagers routinely and consistently were placed from Dekkers' personal phone and that he wagered on activities "related to sporting events, such as NCAA-sanctioned contests and events sponsored by the Iowa State Athletic Department."
Dekkers allegedly made approximately 297 wagers while under age, 26 of which were placed on Iowa State University sporting events. One wager was placed on the 2021 Iowa State football game against Oklahoma State, KCRG reported.
Gambling is illegal for individuals under the age of 21. It is also a breach of university and NCAA policies for athletes.
According to the criminal complaint cited by KCRG, Dekkers engaged in a scheme to disguise his identity and manipulate online transactions in order to create the appearance that the transactions were made by a family member and not him. The complaint alleges that Dekkers' use of an account associated with a non-athlete individual allowed him to circumvent scrutiny and sidestep policies from the NCAA and Iowa State University.
Dekkers' lawyer released the following statement:
"Hunter Dekkers denies the criminal charge brought against him. He will plead not guilty to that charge because he is in fact not guilty of that charge.
This charge attempts to criminalize a daily fact of American life. Millions of people share online accounts of all kinds every day.
This prosecution interferes with and politicizes what is the business of Iowa State University and the NCAA. The investigation at the Iowa universities is the tip of an iceberg. Thousands and thousands of college athletes place bets—usually very small ones—with shared accounts. That is for the schools and the NCAA to police.
From boyhood, Hunter Dekkers has been the model student-athlete, with the first emphasis on student. He grew up in a close-knit farm family in tiny Hawarden, Iowa, on the state's northwest border. Playing football at Iowa State has been a dream come true.
This investigation has gone on since May, when DCI agents executed a search warrant at Hunter's apartment in Ames and another at his family's home in northwest Iowa. The investigation has been an immense distraction from Hunter's ability to be a good student and a great teammate. Hunter greatly appreciates the cooperation and support of Iowa State University and Coach Campbell and his staff during these events.
So he can focus on his studies and on the defense of this criminal charge, Hunter has informed the University and the coaching staff that he cannot participate in fall football camp."
Other athletes have also been charged as part of a sports betting investigation, according to KCRG.
Former Iowa State defensive lineman Enyi Uwazurike is also accused of placing wagers in two games he played in while a Cyclone in 2021.
Current Cyclones Paniro Johnson (a sophomore wrestler), and Dodge Sauser (a sophomore offensive lineman on the football team), are both accused of wagering on Iowa State sports.
Johnson is alleged to have bet $45,640 on approximately 1,283 bets. He's accused of placing approximately 25 bets on Iowa State events.
Sauser is alleged to have placed 12 wagers on Iowa State football games, including contests last year against Ohio, West Virginia, Oklahoma State and Texas Tech.
All four players are charged with falsifying personal electronic wagering records by concealing their identities.
In addition, former University of Iowa baseball player Gehrig Christensen has also been cited as making 559 illegal sports wagers. Approximately 23 of those were placed on Hawkeye sporting events, KCRG reported.