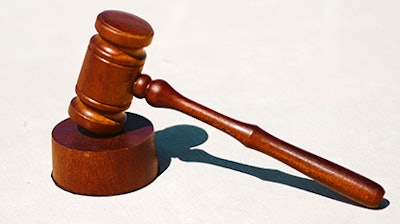 Four boys and their parents have sued Sumner-Bonney Lake (Wash.) School District for failing to properly investigate allegations that the boys' basketball coach sexually abused them.
The lawsuit seeks unspecified damages, and alleges that Jacob "Jake" Jackson sexually abused the players and sought and sent sexually explicit photos to them.
Jackson was charged in April with third-degree child rape, indecent exposure, first-degree sexual misconduct with a minor, two counts of third-degree child molestation and five counts of communication with a minor for immoral purposes.
Jackson pled not guilty at an arraignment and was released to electronic home monitoring after posting $25,000 bail.
A statement on the school district's website in May said in part that the district was "saddened by the recent criminal allegations involving Jacob Jackson and any related impacts on students, their families, employees, and the community. Out of respect for the privacy of those involved in the criminal process, the District is not commenting on the criminal allegations."
The statement went on to say that the district "did not receive any report involving allegations of inappropriate sexual behavior by Jacob Jackson in any fashion until the District was notified by the Sumner Police Department at the end of August 2022. The District then immediately placed Jacob Jackson on administrative leave and cooperated with law enforcement's investigation of the alleged conduct to the extent it involved the District."
Jackson has resigned from his position.
According to the lawsuit, which was obtained by The News Tribune, the district hired Jackson as the head basketball coach in 2016, but ignored concerns related to them by his past associates.
"Jackson also had a business relationship with the District worth thousands and thousands of dollars through Jackson's sporting goods corporation, Sterling Athletics," the lawsuit said. "Although lauded by some District administrators, Jackson's actions as Sumner's varsity coach drew concerns as controlling and manipulative."
Notes from a 2018 meeting between Jackson and a district employee allege there were concerns about "mind games," "ego," "manipulation," "individual negative text messages," and that Jackson treated players inconsistently, according to the lawsuit.
The lawsuit alleges that the school district did not follow up on those allegations.
The letter also stated that coaches and teachers had been fired for sending one or two personal text messages to students, but that Jackson allegedly texted, called, sent direct messages and SnapChatted constantly with his players and with children as young as sixth graders.
The lawsuit said the district told the WIAA it would investigate.
Tim Thomsen, the director of Athletics, Activities and Facility Scheduling, sent an email to district superintendent Laurie Dent, assistant superintendent Bill Gaines, and Sumner High School principal Kassie Meath with an update April 13, 2020, the lawsuit said. The email allegedly said: "I could find no evidence of any inappropriate personal contact. Jake was able to quote our athletic dept. expectations for boundaries in coach/athlete communication, and I subscribe to his weekly email communication. He assures me he does not violate the expectations, and always uses group communication for logistics, and copies parents for individual communication (when needed). He reports he has reached out in the past, when requested by an SBA coach, to an SBA student and family on a birthday celebration, etc. I also follow both his personal and team twitter accounts." The lawsuit alleges the district didn't investigate further.
Read more at: https://www.thenewstribune.com/news/local/community/puyallup-herald/ph-sumner/article278393394.html#storylink=cpy