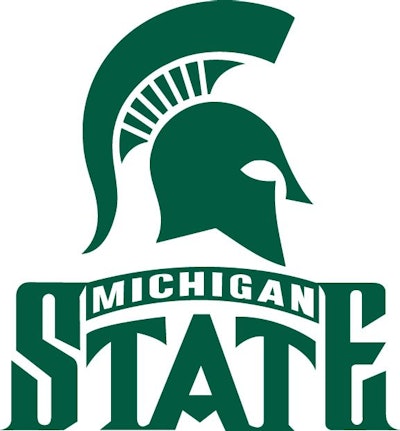 Mel Tucker, relieved of his duties as head football coach by Michigan State University on Wednesday, is preparing a potential wrongful-termination lawsuit against the school.
As reported by ESPN, Tucker's attorney sent a letter to Michigan State's general counsel requesting that the school maintain electronic and paper records for all members of the athletic department along with several other university employees "in anticipation of litigation."
Michigan State fired Tucker for cause roughly one month after sexual abuse prevention advocate Brenda Tracy accused the coach of sexually harassing her subsequent to her being contracted to work with the football program.
According to ESPN's Dan Murphy and Pete Thamel, MSU athletic director Alan Haller said Tucker was being fired for cause because his "admitted and undisputed behaviors ... brought public disrespect, contempt and ridicule upon the university; and constitute a material breach of his agreement, and moral turpitude."
Tucker's attorney, Jennifer Belveal, called Michigan State's actions an "illegal termination" in her letter, Murphy and Thamel reported. By firing Tucker for cause, Michigan State is not responsible for paying Tucker any of the nearly $79 million that remained on his 10-year contract signed in 2022.
Related: MSU Releases AD Haller's Letter Officially Terminating Mel Tucker
Michigan State suspended Tucker without pay Sept. 10, one day after details about his alleged sexual harassment of Tracy were made public in a story published by USA Today. Tracy filed a sexual misconduct claim with the university in December 2022, claiming that Tucker made unwelcome sexual comments to her and masturbated during a phone call without her consent.
The university hired an outside investigator to determine whether Tucker violated the school's sexual misconduct policy. A hearing to decide whether there were any violations is scheduled for next week. Tucker has publicly called that forthcoming hearing "a sham."
Tucker, who says he is estranged from his wife, told the investigator that he had an intimate relationship with Tracy and that his behavior on the phone call was consensual. He said that his interactions with Tracy were a private matter and not related to his work at Michigan State. He said he is being fired without due process.
Haller told Tucker in a letter last week he has violated the terms of his contract regardless of the outcome of his pending sexual harassment hearing because he admitted to having a sexual encounter with a woman who was hired by the university as a vendor, among other reasons.
In the letter sent Thursday to Michigan State's general counsel, Tucker asked the university to retain all phone and computer records and physical files generated by athletic department employees, the general counsel's office, the university and all members of Michigan State's board of trustees, among others, Murphy and Thamel reported.