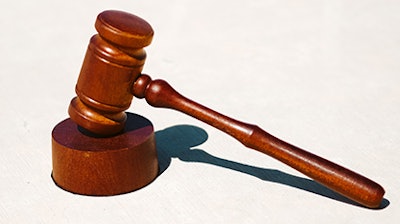 Four of the five victims shot during a football game at Ladd Stadium in Mobile, Ala., have filed a lawsuit against the stadium's security firm, the City of Mobile and the Mobile County School Board.
According to the local NBC affiliate, the lawsuit alleges that Mishkin Group, which ran the stadium's daily operations, as well as the other defendants in the case, are responsible for the victims' injuries and that they "unreasonably placed high school football spectators on the front line to have to confront shooters without adequate protection and security."
The suit also names the two shooters, Jai Scott and Hezakiah Belfon as defendants in the case. Scott and Belfon have both been charged with the shooting during the 4th quarter of the Vigor-Williamson game on the night of October 15, 2021.
The lawsuit was filed on the two-year anniversary of the shooting.
Specifically, the suit alleges that Scott and Belfon were allowed to leave the stadium and re-enter during the third quarter without passing through metal detectors.
"That is, absent the complete failure by Defendants Mishkin, the City, the Park Board, Mobile County, MCPSS, the Board of School Commissioners, and/or King Security to follow and enforce reasonable, basic security measures and/or all security policies and procedures, Defendants Scott and Belfon would not have been able to carry their firearms into Ladd-Peebles," the suit states.
The five count suit seeks an unspecified amount in damages against all defendants.
Belfon has filed a motion for an immunity hearing, arguing that his actions were in self-defense, and he is immune from presecution.