Budget-strapped high schools find new ways to save their sports programs.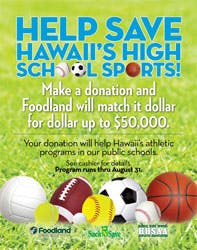 Poster promoting the Hawaii High School Athletic Association's Save Our Sports campaign
During a two-week period last month, shoppers at 30 Foodland and Sack N Save supermarkets throughout Hawaii were encouraged to donate as much as $249 per person to help rescue athletic programs at the state's financially strapped public high schools. As incentive, the family-owned grocery company matched all donations, raising almost $77,000 for the Hawaii High School Athletic Association's "SOS" (Save Our Sports) campaign. As of mid-September, the HHSAA's efforts had generated more than $800,000 in less than seven weeks - money needed to bulk up athletic department budgets that have been collectively depleted by the loss of an estimated $1.2 million for the 2009-10 academic year.
Far away on the mainland, officials at Eastern Bank (the largest independent, mutually owned bank in New England) recently distributed more than $20,000 to high school athletic departments around eastern Massachusetts. Area football teams - including the Hull Pirates, which is financing its season completely through private donations - were invited to submit videos, photos, audio recordings or essays that answered this question: "What makes your team special?" More than two dozen teams responded, in the hopes of winning cash for their schools, as well as a starring role in a new Eastern Bank television commercial about teamwork. Everett High School won the grand prize of $5,000, while runners-up received $2,500, $2,000 and $1,000. Additionally, the other schools that entered each received $500.
School districts around the country are being forced to rely on such outside help to bail them out - or find ways to survive that even a few years ago might have seemed highly improbable. Over the past several months, athletic director positions have been shortened), varsity and junior varsity schedules have been scaled back, significant pay-to-play fees have been implemented (some as high as $1,000 annually) and junior varsity and non-revenue sports have been put on the chopping block or already cut.
Last month at Sebastian River High School in Sebastian, Fla., athletic director Michael Stutzke informed coaches of the boys' and girls' golf, bowling, cross country and lacrosse teams, as well as of the weightlifting, competitive cheer and girls' rugby squads, that their teams had only a few days to become self-sufficient. Otherwise, they would be eliminated. The golf, lacrosse and rugby teams were able to meet that deadline, while other teams scrambled to organize fundraisers. "How do you tell a kid, 'Because you can't raise the money, you can't have your sport?'" Stutzke asked the Vero Beach Press Journal.
In Vancouver, Wash., many schools have requested that parents transport their student-athletes to all sporting events within the Clark County lines, and the practice of taking lengthy cross-state or interstate road trips was called into question.
Travel expenses for coaches are being re-evaluated, too. The Illinois High School Association last year launched a series of online rules seminars, eliminating the need for coaches to travel to IHSA headquarters in Bloomington, located in the center of the state. The association reports an average savings of 34.5 miles per person by holding the meetings online, which translates into more than 67,000 total travel miles saved so far.
Booster clubs also have stepped up their efforts. In June and July, the Oroville (Calif.) High School Athletic Boosters Club for the first time partnered with a fireworks vendor to sell fireworks in a local Big Lots parking lot, and the Byron Center Sports Boosters in Michigan refocused its mission by establishing a "passive" membership program that allows individuals to do little more than donate money in an effort to avoid a pay-to-play system for student-athletes. Four different donation levels are available, ranging from $25 to $100.
All residents of Reynoldsburg, Ohio will be asked to shoulder the budget burden, as a 9.9-mil tax levy will be on the Nov. 3 ballot. After the failure of a 15.6-mil levy in May, school district officials made $11 million in cuts - including physical education programs at all elementary and middle schools - and began charging high school players $500 a sport. Even if the levy passes, P.E. (along with art and music programs) likely won't be fully restored, and pay-to-play fees will remain in place. "We will never be able to do what we did before," superintendent Steve Dackin told The Columbus Dispatch.
Maybe not. But Mike Colbrese, executive director of the Washington Interscholastic Activities Association, warns that administrators need to be prepared for when the economy stabilizes. "If you're going to talk about reducing, you're also going to have to talk about how you're going to re-create and re-implement," he told the Seattle Times.
Hawaii athletic administrators hope that, before too long, they can start thinking that way again. The plight of prep sports programs in that state led Philadelphia Phillies centerfielder Shane Victorino, a Maui native, to donate $10,000 to the SOS fund. Tourists have readily written checks, says Keith Amemiya, executive director of the HHSAA, and national publicity about the program has led to nearly $4,000 in donations from residents in states as far east as Vermont and New Jersey. The SOS drive is slated to run through the end of this month - hopefully with the association's $1.2 million goal being met. As Mufi Hannemann, mayor of Honolulu, told The New York Times, "Sports is not a nice-to-have, it's a need-to-have."