Increased fuel costs are forcing athletics administrators to rethink where their teams compete.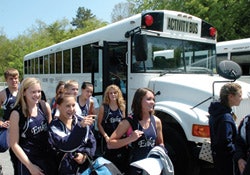 Long before the average price of diesel fuel in Asheville, N.C., reached $4.75 per gallon (up $1.86 from a year ago), A.C. Reynolds High School athletic director Jim Sziksai warned his coaches of a pending gas hike. "I kept reminding them for the past year that tough times are coming," he says, adding that as early as 2006 he began asking coaches to consider scheduling more non-conference games with nearby opponents. "But I didn't predict prices were going to rise as dramatically as they have."
As the spring sports season at high schools around the country wrapped up, the national average price of diesel fuel (on which many team buses run) hovered around $4.50 per gallon, according to the Oil Price Information Service. Regular unleaded was at $3.80 per gallon and eventually topped $4 - spelling trouble for A.C. Reynolds' teams, many of which regularly spend four hours traveling to and from conference games. Last year, combined travel expenses for the Rockets' varsity and non-varsity athletic teams reached $50,000. This year, costs were estimated at $65,000, and the expectation is that transportation costs could reach $90,000 during the 2008-09 academic year.
In April, Sziksai mandated that his coaches limit all non-conference games beginning this fall to within a 50-mile radius. If they want to travel farther, teams will be responsible for financing the additional mileage. Sziksai also suspended the athletic department's four-year cycle of uniform purchasing, asking teams due to receive new uniforms next season to make do with the old ones for another year. The school's annual student-athlete fee also increased from $25 to $36 to help offset the increase in transportation costs - although that won't be nearly enough.
"Our biggest concern used to be time spent on the road and out of class, because we would have to leave an hour and a half before school let out," Sziksai says. "That is still an issue, but our athletes have adjusted to that by making up schoolwork. Now, the main concern is financial. We've never had anything like this, when we've had to worry about something so much. I've lost my hair trying to get us through this crisis."
He's not the only one. Athletics administrators at high schools from coast to coast are trying to battle rising gas prices by reducing the number of away games and travel distances, implementing moratoriums on equipment purchases, and booking multiple teams to play the same school on the same day so they can share buses.
Merrill F. West High School in Tracy, Calif., is considering charging student-athletes a $100 per-sport travel fee. Administrators at schools in Aiken County, Ga., asked the school board there for $500 per team to offset rising costs of both bus fuel and game security, but the money simply isn't available. And in New Hampshire, where teams travel all over the state to play each other, efforts have been made to schedule games at neutral sites, located midway between opposing schools.
"We're a small state, no question about it. But there are no interstates going east and west," says Pat Corbin, executive director of the New Hampshire Interscholastic Athletic Association. "I have a small school in the southwest corner of the state on the Vermont/Massachusetts border that has games against Pittsburg up by the Canadian border, and that's about a five-hour trip."
Two years ago, the NHIAA formed an ad-hoc committee to implement ways to reduce loss of class time for student-athletes. It has since turned its attention to how fuel prices are impacting interscholastic sports in the state. "The two really are, to a certain extent, the same issue," Corbin says. "The amount of time spent traveling and being at events is directly related to the distance traveled."
Potential solutions to both problems have included allowing schools in close proximity to each other, regardless of size, to compete for berths in an open-class state tournament, as well as scheduling later start times - which means some student-athletes would arrive home after midnight. But there has been no consensus. "My guess is that we'll have to regionalize in some way," Corbin says. "But we don't have a comprehensive approach yet, and that concerns me."
Inflated fuel costs are pinching interscholastic sports programs in other ways, too. Many athletic departments rely solely on gate receipts and booster club efforts to fund their teams, and soaring costs along with a slumping economy have cut into attendance figures nationwide.
Many state athletic associations reported steep crowd drops at winter and spring tournaments. In West Virginia, the boys' basketball championships drew an estimated 62,000 fans over four days, down more than 21,000 from 2007 - a reality administrators blamed partly on gas prices. Maine officials also reported several thousand fewer fans at the state basketball tournament. "One thing we heard through the week was that the price of gas to get to the tournament and the cost of heating oil at home left people with less discretionary funds to get to the games," Dick Durost, executive director of the Maine Principals' Association, told the Bangor Daily News.
Sziksai estimates that gate receipts at A.C. Reynolds were down about 20 percent for the 2007-08 school year. "It impacts your home crowd, but more importantly your visiting crowd," he says. "Not only are we going to have significant costs for our travel in the fall, but I'm predicting our gates are going to be less, just because visiting teams won't bring as many people as they have in the past."
If gas prices continue to rise, Sziksai hopes some of the pain will ease beginning in 2009, when Reynolds will move to another conference as part of a previously planned realignment scheme that will have competing teams traveling 10 to 15 miles, not 110 to 115. But for now, "we're really going to tighten our belts," he says. "We're going to cover the cost of what we have to in order to run our programs. That means transportation, officials and necessary things like that. We just need to put a moratorium on some of the wants for one year. The thing we're definitely not going to do is cut a program. We have some non-revenue sports, but they're too important to our kids."
Corbin declares the situation more desperate in New Hampshire. "My concern is that if we can't proactively come up with some reasonable ways to modify how we do business, someone else is going to do it for us," he says. "There's going to be a superintendent who says, 'We're not traveling anymore,' without understanding much about the impact that will have."