Construction Cost: $44.2 million
Area / Square Feet: 4,000 SF (basketball), 4,700 SF (events)
Occupancy Date: September 2021
Woven into the picturesque, undulating hills and wheat fields of the Palouse region is the pride of the University of Idaho: a stunning, mass-timber-designed arena built to offer vibrant, intimate fan experiences for years to come. Accommodating more than 4,000 spectators, the multi-use arena serves as home for the university's Division I basketball teams, volleyball teams, U of I student events and more. It will serve Vandals student-athletes, staff, community members and visitors for generations to come.
The Idaho Central Credit Union Arena is the first signature wood facility of its size in Idaho, serving as a learning laboratory for forestry, architecture and engineering students, while greatly enhancing recruiting. Reinterpreting the rolling hills of the Palouse region, the mass-timber design extends and wraps the double-curved roof structure over the arena's walls to give athletes and spectators the feel of being enveloped in the surrounding landscape, and wrapped in the warmth and feel of wood.
In stark contrast to a typical arena made of steel and concrete, this sustainable project met the university's goals for implementing locally grown timber from Idaho sustainable forests. The volume of wood products used in construction exceeds 1,241 cubic meters, the equivalent of what Idaho forests grow in one hour's time. More than 1,105 metric tons of CO2 are stored in the quantity of wood utilized in the project. By utilizing mass timber, the total CO2 reduction to the environment equals 2,014 metric tons.
ARCHITECT OF RECORD
Opsis Architecture
Portland, Ore.
ASSOCIATE ARCHITECT
Hastings+Chivetta Architects
St. Louis, Mo.
PROJECT VENDORS:
| | |
| --- | --- |
| Gymnasium/Field House/Arena - Scoreboards/Timing Systems | ANC |
| Gymnasium/Field House/Arena - Scorers Tables | ANC |
| Training Facilities - Taping/Treatment Tables | Athletic Edge |
| Indoor Sports Surfaces - Basketball | Connor Sports |
| Laundry - Dryers | Continental-Girbau |
| Laundry - Washers | Continental-Girbau |
| Gymnasium/Field House/Arena - Wall Padding | Draper Inc. |
| Locker/Shower - Shower/Toilet Partitions | Global Partitions |
| Gymnasium/Field House/Arena - Arena Seating | Hussey Seating Company |
| Gymnasium/Field House/Arena - Bleachers/Grandstands | Hussey Seating Company |
| Training Facilities - Hydrotherapy Tanks | Hydroworx |
| Locker/Shower - Flooring | Marazzi USA |
| Gymnasium/Field House/Arena - Lighting | Musco Sports Lighting LLC |
| Gymnasium/Field House/Arena - Sound Systems | Performance Audio |
| Locker/Shower - Shower/Toilet Partitions | Scranton Products |
| Gymnasium/Field House/Arena - Floor Covers | Signature Systems Group (Omnideck LD Panels) |
| Gymnasium/Field House/Arena - Basketball Backboards/Supports | SNA Sports |
| Gymnasium/Field House/Arena - Basketball Backboards/Supports | Spalding |
| Gymnasium/Field House/Arena - Folding Chairs | Spec Seats |
| Architectural Lighting | SPI Lighting |
| Building Systems - Pre-Engineered Structures | StructureCraft |
| Locker/Shower - Lockers | GearBoss by Wenger |
View Next Project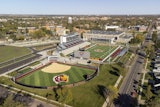 View Previous Project