Construction Cost: $14.3 million
Area / Square Feet: 33,232 SF
Occupancy Date: June 2021
The University of Saint Joseph sought to expand the school's existing O'Connell Athletic Center and transform it into a flexible multisport training and competition venue that would accommodate existing and new university programs. The private Catholic university — formerly St. Joseph's College — became co-educational in 2018. As part of the institution's efforts to adapt its offerings to a more diverse campus population and expand its reputation in NCAA Division III athletics, the O'Connell Center was identified as a facility in need of immediate expansion.
Opened in 2020, the expanded O'Connell Center has already allowed the university to strengthen recruitment activities and to expand the number of varsity sports. In addition to serving the needs of USJ athletics, the new 32,232-square-foot facility includes the university's Campus Health and Wellness Center and an 800-person capacity Division III gymnasium. Located directly across from the Student Center, the O'Connell Center expansion was designed to bring a new and dynamic form to a campus largely comprised of traditional red brick New England architecture. The resulting design marries the red brick materiality and yellow doorways that are a hallmark of all buildings on campus with sleek and modern glass forms, clean lines, cantilevers and projections. Expansive windows animate the facade and highlight the activity taking place within. University colors of blue and yellow are integrated into the exterior glass to add another layer of connection and visual excitement. The facility establishes a new and energetic visual focus at the northern end of the USJ campus.
With its distinctive visual sensibility, the O'Connell Center has enabled the university to enhance its programmatic offerings, welcome game-day visitors and fans, and more fully support the health and wellness of the USJ campus community.
ARCHITECT OF RECORD
JCJ Architecture
Hartford, Conn.
PROJECT VENDORS
| | |
| --- | --- |
| Locker/Shower - Shower/Toilet Partitions | ASI Group |
| Gymnasium/Field House/Arena - Sound Systems | Community Application Solutions |
| Gymnasium/Field House/Arena - Scoreboards/Timing Systems | Daktronics |
| Indoor Sports Surfaces - Multipurpose | Dalene Flooring |
| Locker/Shower - Flooring | Dalene Flooring |
| Fitness Center - Flooring, Fitness Center | Dalene Flooring |
| Laundry - Dryers | Daniels Equipment |
| Laundry - Washers | Daniels Equipment |
| Locker/Shower - Lockers | GearBoss/Wenger Corp. |
| Gymnasium/Field House/Arena - Folding Chairs | Insalco Corp. |
| Training Facilities - Taping/Treatment Tables | Insalco Corp. |
| Gymnasium/Field House/Arena - Bleachers/Grandstands | Interkal |
| Gymnasium/Field House/Arena - Basketball Backboards/Supports | Jaypro Sports |
| Gymnasium/Field House/Arena - Volleyball Nets and Standards | Jaypro Sports |
| Fitness Center - Free-Weight Equipment | Matrix Fitness |
| Fitness Center - Strength Equipment | Matrix Fitness |
| Gymnasium/Field House/Arena - Scorers Tables | Nevco Inc. |
| Fitness Center - Free-Weight Equipment | New England Fitness |
| Fitness Center - Strength Equipment | New England Fitness |
| Training Facilities - Taping/Treatment Tables | ProTeam |
| Gymnasium/Field House/Arena - Lighting | Rexel Hubbell |
| Indoor Sports Surfaces - Basketball | |
| Indoor Sports Surfaces - Volleyball | |
| Training Facilities - Hydrotherapy Tanks | Whitehall Manufacturing |
View Next Project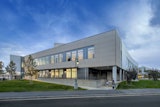 View Previous Project