Construction Cost: $70 million
Area / Square Feet: 110,00 SF
Occupancy Date: September 2021
Iowa State University's Stark Performance Center is a 110,000-squarefoot academic and training resource focused on student-athletes. The facility includes spaces dedicated to improved performance — both on the field and in the classroom — by consolidating locker rooms, strength training, athletic training, academic and life-skills support, and sports nutrition into a single state-of-the-art facility serving ISU's football, soccer, softball, golf and tennis teams. The Stark Performance Center expands the existing Bergstrom Football Training Facility — a 140,000-square-foot complex constructed over the preceding two decades — to create a single, 250,000-square-foot training center. In addition, the project improves the game-day experience for Cyclone fans in and around Jack Trice Stadium by creating a public plaza and integrating other site amenities, as well as interactive public artwork.
The building was conceived as a simple, precast "box" connected to the existing building. The "box" maximizes the 20,000 square feet available. It is organized on three levels — two above grade and one below. An academic and dining "bar" is supported by columns that straddle the box below. These two elemental forms — box and bar — work in tandem. They are unified by a set of interconnecting lobbies and stairs.
The Stark Performance Center works with the existing buildings to create an athletic campus as part of an ambitious master plan to consolidate the university's athletic facilities in one location. The master plan required a design that was prospective. It was developed to complement and support buildings that will be constructed over the next two decades while appearing complete without them.
ARCHITECT OF RECORD
Substance Architecture
Des Moines, Iowa
PROJECT VENDORS
| | |
| --- | --- |
| Outdoor Facilities/Stadiums - Scoreboards | Daktronics |
| Laundry - Dryers | Electrolux |
| Laundry - Washers | Electrolux |
| Locker/Shower - Lockers | Hollman Inc. |
| Locker/Shower - Flooring | J & J Invision |
| Gymnasium/Field House/Arena - Scoreboards/Timing Systems | Nano Lumens |
| Fitness Center - Flooring, Fitness Center | PLAE |
| Indoor Sports Surfaces - Multipurpose | PLAE |
| Fitness Center - Strength Equipment | Sorinex |
| Locker/Shower - Saunas/Whirlpools | |
| | |
View Next Project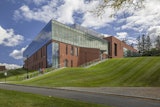 View Previous Project