No two aquatic renovation projects are the same. Just how unique a facility might be is often clear in the planning phase, but it sometimes becomes evident once construction is underway.
The second circumstance keeps aquatic design companies on their toes.
"The unique thing about aquatic renovations is once you start, once you get in there and start construction, you never know what you're going to find," Counsilman-Hunsaker project director Connor Riley says. "I'd say it's the exciting part of renovations, but it's also stressful at times. They're finding stuff as they go through construction. It seems to be that in every renovation there's something that comes up that you didn't anticipate during design and you have to go back to the drawing board."
Going back to the drawing board could take architects in several directions, requiring them to rethink the process, acquire additional supplies or find a solution that facility operators might not have known was possible.
Aquatic facility renovations are inevitable, as pools rarely last longer than 40 years, according to Steve Crocker, director of Sport Swimming at Water Technology Inc. The lifetime of an outdoor pool is more difficult to determine due to freeze-thaw cycles and other environmental factors.
"Most pools that age are kind of functionally obsolete," Crocker says. "Before we renovate a pool like that and put hundreds of thousands of dollars into it, it's important to know everything we can."
When a pool gets up there in age, facility operators and aquatics designers typically discuss expanding a pool's recreational opportunities, adding ease of access or modernizing the mechanical equipment. However, the path toward hitting those wide-lens goals is filled with details that may add hurdles.
Says Riley, "Fingers crossed it's not something significant, but I would say nine times out of 10 working on renovations, you're going to encounter something during construction that you didn't anticipate during design."


Planning process
While the process rarely goes exactly as planned, the early stages of an aquatic renovation are as in-depth as possible in order to mitigate surprises.
"We'll get contacted about a project and generally start with a swimming pool audit," says Riley, who works in Counsilman's Denver-based Mountain Studio. "Operators know they have a pool that's in need of some repair, but they don't know where to start."
Aquatic design companies help ignite that process. They interview staff members and pool operators in order to get a feel for how the pool operates, what works, what doesn't work, what operators have replaced or repaired or if the pool is experiencing water loss.
"I came from the aquatic operations side of aquatics," says Counsilman-Hunsaker project director Chris Seris, who has been with the company three years. "I've been an aquatics director for many years, and an aquatics specialist and lifeguard for many years, so I brought that type of knowledge to Counsilman-Hunsaker. We have others on our team who also have that type of background. It's very helpful when we're talking with owners that we also have operators on a team that can really speak their language and understand what they're looking for in a facility and some of the challenges they have.
"We try to get as much information from the operator as we can. Hopefully there are some existing drawings that will help give us some more information on what the intended operation of the facility is supposed to be, and then we can start looking at, 'Okay, how was it when they opened, or what was it intended to be when they opened?' And then comparing that to what they now want or what their current code is."
The audit report leads to an investigation process in which the designer takes pictures, conducts tests and creates a report on every aspect of the facility. Structures, finishes, mechanical equipment, chemical equipment, deck equipment, life-saving equipment and local code are all in play as the aquatics designer recommends renovations. The repairs typically fall into one of three categories: changes that need to be made immediately for compliance reasons; changes that should be made within two to five years; and those that could wait 10 years before being addressed.
The facility operator will then take the report and the opinion of cost probability to their stakeholders.
"A lot of times, the owner knows they need to repair or replace their pool, and they just need a professional opinion so they can say, 'We got Counsilman-Hunsaker to give us their professional opinion, and they recommend this.' That's what they bring to their stakeholders. They gather funding and support for whatever we recommended in the audit, and then we will move forward with the actual renovation itself."
That process entails that the aquatics designer confirms scope and hears exactly what the owner wants to move forward with. Each project is different, but Riley says the standard timeline is a couple months between first contact and completion of the audit; however long the operator needs to gather stakeholder support; and then typically four-plus months for renovation.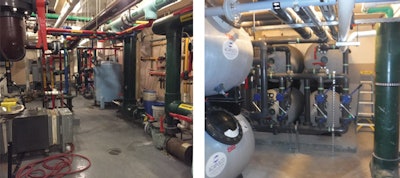 Unforeseen aspects
Those four months — or however long construction takes — is where the surprises typically pop up.
Seris says renovation surprises are the result of wear and tear, and also because up-to-date information isn't always available at the outset of a project. A current project Seris is involved in at Aquaport — a facility in Maryland Heights, Mo., that was built in the 1990s — posed those issues.
There were no good original sets of plans available to Counsilman, while the existing drawings of the facility left a lot to be desired. That required a lot of investigation into the three bodies of water, including a leisure pool and lazy river that "ended up on one operating system with multiple filters that were kind of run as separate systems, but it was all the same water." Therefore, before anyone could put each pool on its own mechanical system, Counsilman had to dig deeper.
"We try to learn as much of the history of the facility as we can in terms of their operations, any renovations or improvements that have occurred," Seris says. "There are always going to be some questions we can't answer until really demolition begins, and contractors get into it and start uncovering things that may not have been known. That might be due to a lack of recent, up-to-date or as-built drawings. Just incomplete information or drawings that aren't up to the level of development that would be necessary for a full assessment. Or a lack of what were the intended operating positions for the pool. Not knowing things like turnover rate, filtration rate and what was intended. So, we can assess the current status on a mechanical system versus what was intended versus what is current code."
Riley and Counsilman-Hunsaker were involved in a project in remote Valdez, Alaska, that went through several unforeseen situations on the way to renovating a high school facility, which also serves as the community pool.
The project started like any other renovation, with Counsilman-Hunsaker completing an audit and a report on the space. The Valdez facility included two pools, a 1,700-square-foot wading pool with shallow water and features such as underwater benches, as well as a 3,150-square-foot, six-lane, 25-yard lap pool with a diving board.
Once the audit was complete, the City of Valdez drummed up enough funding for either the mechanical room or the pools. The city chose the mechanicals, and Counsilman-Hunsaker moved forward.
"We spent four months or so designing a completely new mechanical room," Riley says. "Using obviously the same building space, we removed all piping, all pumps, filters, mechanical systems from that area. Essentially it was a bare mechanical room, and then we designed a completely new system, replacing all the pumps, piping, chemical systems, both pH buffer and sanitizer. And we added a UV system, because this was an older pool and the technology wasn't around at the time [it was built]."
The renovated mechanical room was completed in 2016. The project wasn't done, however, as the following year the City of Valdez opted to retain Counsilman-Hunsaker to renovate the pools. The plan was relatively standard, as Valdez wanted to add new pool finishes, underground piping, a pool deck, a waterslide, a diving board, a climbing wall and new timing systems.
Then came the hurdles.
"We always recommend a water tightness test for the pools and gutter systems before the pool contractor does any work," Riley says. "That creates a baseline of water loss. You never want your pool contractor coming in there, not doing the water tightness test and at the end of construction, the pool's losing a lot of water and the contractor's like, 'Well, that's how it was when we got there.'
"When they did that water tightness test for both pools, they noticed the stainless steel gutters were leaking quite a bit. Stainless steel gutters are so thin that it's really hard to do any repairs on them as is. If you're using a torch to weld something on there, it really just burns right through it. It's very hard to do. In the middle of construction, we had to go back to the drawing board and figure out what we were going to do with these gutters. We ended up fully replacing them instead of trying to repair them, because we thought it was a longer-term solution, and the owner was able to get enough money in order to do that."
Replacing the gutters isn't simple, especially in a place like Valdez, where the remoteness of the location naturally extended the project's timeline. The new stainless steel gutters were custom-made and shipped to Alaska before the project could proceed.
"It extended the project schedule out further than we all had hoped for, but it's what we had to do," says Riley, noting the renovation was completed in the fall of 2019. "It's something we didn't all realize in design, so we all had to live with that. You run into all sorts of unique things when you're doing renovations, and that was one of them for this project."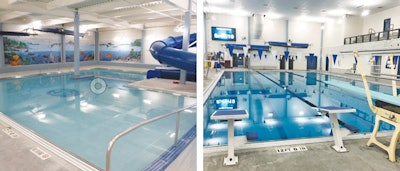 Clear changes
While new gutters aren't necessarily going to be obvious to the pool's guests, some renovation projects clearly change the way a facility will look and feel. Representatives of Natrona County High School in Casper, Wyo., reached out to Counsilman to shorten their pool. The goal was to turn the six-lane, 25-meter lap pool into a 25-yard pool.
"That was a unique challenge, and it's always a discussion whether we want to manipulate the actual structure," Riley says. "When you start manipulating the structure to do a significant renovation, then a lot of health departments are going to want you to follow all the current codes. That's always a question when we go into these meetings with the owners and we say we're going to have to take a deeper look at all your systems and make sure they're up to code, because we're likely not going to be able to grandfather anything in because we're doing significant repairs."
Eaton Middle School in Colorado is also asking to change its pool's dimensions in an ongoing project. As it transitions from a high school to a middle school, Eaton was hoping to renovate the pool. During the audit process, Counsilman noticed that the pool's depths were insufficient for 1-meter diving boards. Counsilman recommended removing the diving board, but Eaton said that it would rather deepen the pool in order to meet today's standards.
"So we had to figure out how we could manipulate the pool in order to reach those depths," Riley says. "We've designed to cut out a portion of the pool floor and structurally design for a new pool floor that meets those depths. We're keeping the pool wall as is, or that's the hope at least, and then making that depth appropriate for a 1-meter diving board.
"Renovations are always a challenge, you never know what you're going to encounter. Shortening a pool was a first for me, and removing a portion of a pool while trying to keep the entire shell intact is also a new task."

Through completion
The renovation process doesn't end when the construction is finished. Once the workers leave the facility, aquatic design companies are still on the other end of the line for anything that may pop up in the redesigned mechanical room or elsewhere in the facility.
"We're fortunate to have some really experienced operators who know how things are supposed to work and are able to really do some trouble shooting and get in there, run the systems and give us good feedback on what they're seeing and what they're not seeing," Seris says.
That operator/designer relationship is crucial in the renovation process, as the operator knows exactly what they are looking for, and the designer knows the steps it takes to get the facility to that point, regardless of what hurdles pop up in the process.
"We stay in touch," Seris adds. "Things might not work quite how it was designed, so we might have to work through some things in the field. The main point is the renovation, and we want them to be happy with that. But if there are some operations that aren't quite right, we want to make sure that everyone is happy with it 100 percent."
---
This article originally appeared in the September 2021 issue of Athletic Business with the title "Overcoming Unique Pool Renovation Challenges " Athletic Business is a free magazine for professionals in the athletic, fitness and recreation industry. Click here to subscribe.