A Touch of Creativity and A Sense of Community Are Keys to Diverse Aquatic Programs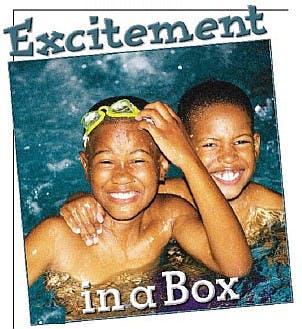 Let's face it - there are far too many family-entertainment options these days to fill the hours between work, school, homework, dance class, soccer practice and other activities. If you're an aquatics manager stuck with a four-sided pool that doesn't come equipped with such waterpark amenities as slides, food vendors and other attractions, then your ability to compete relies solely on programming creativity and a positive rapport between your staff and your community.
Consider the straightforward four-lane, 25-yard pool that most YMCAs and many older municipal centers currently operate - indoors or out. By programming these pools with only one or two activities at a time, operators leave much of the pool's water unused. The first step toward successful programming is moving beyond the idea that different groups cannot share the water. The second step is understanding how to effectively use every square foot of aquatic space whenever possible.
Just as sports fields are divided into spaces to accommodate several activities at one time, a pool can be portioned off for simultaneous use by a variety of groups. To maximize usage, just be sure to book groups that only require water at certain depths. For example, in a traditional four-lane pool, three to five swimming classes could take up the first third of space, a deep-water walking class could be conducted across the width of the pool's middle section, and advanced swimming or water-safety classes could be held in the deep end.
Another way to break up the pool is with lanes, each of which can section off individual activities and provide more definitive barriers.
But before you can even begin to concoct new programming schemes, you need to determine the goals of your facility and the customers you intend to serve. Who is the competition? Why do you consider them the competition? What community needs are those competitors meeting? And what needs are being overlooked? What kinds of programming - beyond traditional group swimming lessons, water-exercise, swim team and open-swim options - can be expanded to better serve your current and future patrons?
The answer to that last question depends heavily on the mission of your facility. For example, colleges typically reserve their pools for students, staff and faculty, although some do accommodate a limited amount of outside programming and classes. The all-too-common result is that the water remains undisturbed for more than half the pool's operating hours. Those are the times to open the facility for community-recreation opportunities or rent it out for special events.
Regardless of whether your pool is part of a college campus, inside a YMCA or on municipal property, when you open it to more user groups, be aware of fair-competition issues. By partnering with local not-for-profit groups for the benefit of the community, you can usually justify your activities, even though yours may be a tax-exempt facility. The economic climate and competitive nature of local for-profit waterparks and clubs may dictate how far you're able to push the issue.
After assessing your facility's user base, take a look at its hours of operation. Some outdoor pools, because of staffing budget constraints, remain open only during the afternoon and early evening. Programmers at these pools are wasting as many as nine hours a day of potential revenue during the summer months, when many taxpaying community members could benefit from alternative aquatics options. Consider subleasing those underutilized hours for a learn-to-swim program, a summer swim league or scuba-diving lessons. Remember, heating, chemical and other operational costs continue to add up whether you have one lap swimmer in the water or 200 kids splashing each other.
This form of thinking outside the box you call a pool can change the way many basic pools operate, thus enhancing programming choices and creating an exciting aquatics environment. Before you develop a slew of quick-fix programs, though, visit a successful waterpark in your area, observe its surroundings and begin making some long-term plans.
At the waterpark, you'll find themed concepts surrounded by attractive signage, live plants and trees, tables and benches. Upon your return, step back and survey your own facility to determine if any of those amenities can be implemented. Cost may be an issue, but perhaps you can start a beautification fund-raiser to help elevate the overall appearance of your surroundings. Many indoor facilities now drape brightly colored nylon cloth from the ceilings to help add more dimension and excitement. This helps deaden sound, too. You may also want to consider commissioning a local artist to paint a mural on one of your facility's prominent walls. Hang towel racks at adult height, provide plenty of comfortable and portable deck seating and purchase brightly colored bins on wheels to store water toys. Ask a local garden shop to donate foliage and perhaps even a few small fountains. Then watch as public perception of your facility gradually begins to improve.
Moving beyond aesthetics to modifying water spaces may be a feasible strategy for some facilities. A traditional four-lane, 25-yard pool with depths ranging from 3 to 9 feet, for example, typically dedicates 60 percent of its space to deepwater activities. It may be time to fill in much of that deep end and turn the entire pool into a shallow-water space for greater usability. Shallow water is more conducive to swimming classes, therapy sessions, family programs - and profitability.
If scuba-diving programs, advanced swim-team practices or other activities require you to have deep water, consider limiting the amount of deep-water space to only meet the needs of those successful ventures. While the expense of filling in the entire deep end may be cost-prohibitive, minor construction can sometimes lead to additional amenities - a rock waterfall in an unused corner of the pool or a bench against an inside wall for deep-water exercise classes, for example.
Either way, the cost of new construction or remodeling needs to be factored into your long-term plan for total utilization of the facility. Keep in mind that the future of aquatics lies with baby-boomer trends, and that means serving the aging population. This is why so many pools built today go no deeper than 5 or 6 feet, allowing for maximum use of the entire pool.
In the midst of making physical changes, don't neglect your locker rooms. Colorful surfaces and walls, along with a few artificial trees or silk plants in one corner, aren't overly expensive measures, but they go a long way toward spicing up a drab dressing room. Consider rotating clean mats in bright colors throughout your locker rooms, eliminating musty smells from water-soaked permanent carpet and avoiding the major costs of replacing the carpet every few years. Wide benches are greatly appreciated by several user groups, as are shower rails and seats, additional ventilation fans and vanities. An attractive locker room will make users want to spend more time at your facility and take advantage of your burgeoning programming options.
Such physical changes to your facility can enhance its standing in your community and perhaps even encourage users to look at your pool and its options in a different light. But once you get community members inside, you still have to entertain them and keep them coming back. That's why new activities are the real keys to success. Listed below are several programming concepts that can enhance any aquatic facility's program roster:
• Private swimming lessons. Learn-to-swim programs are traditionally group-based, but adding semi-private and private lessons can provide the flexible options many of today's parents are looking for in a successful swimming lesson program. To fully capitalize on instruction, add lessons for fitness swimming and triathlon training, which may bring class members back during their free time to swim laps. In an effort to better train candidates for lifeguard duty, consider hosting several weeks of swim-improvement classes prior to holding water-safety classes. This will help guarantee students' success in lifeguard and advanced swimming programs.
• Family fun. Themed events with games, music and other organized activities can bring families out to your pool during the dinner hour. Set up picnic tables throughout your facility so users can bring along their own meals. Promote these special nights through local schools and churches, and you may be surprised by how many participants you get.
• Poolside parties. Birthday celebrations and water fun go hand in hand. Add an activity leader - a local volunteer or a paid staff member - who can lead the children in games and activities, and you've got a stress-free party for the parents and added enthusiasm from the kids. Poolside tables for presents, cake and minimal decorations make for an inexpensive, fun and profitable way to celebrate. One facility charges $25 to reserve its party space (a makeshift area on the pool deck), plus $2.50 per child for a swimming-access wristband. Each party area has tables and chairs decorated with disposable plastic tablecloths, cups, napkins and forks in primary colors. Many parents bring their own decorations to further brighten the environment or to create theme parties. For an additional $35, the facility provides a party-patrol activity leader who also serves as an in-water lifeguard. Parents are encouraged to swim, and those who do pay for a wristband. Admission for the birthday child, and for parents who don't swim, is free. Parties typically last two hours and may be catered by a local pizzeria for an additional fee.
But don't limit such events strictly to birthdays. Parties celebrating the end of a local youth-sports season, as well as post-prom events and lock-ins, also are potential activities that boost revenues. Lock-ins typically are negotiated at a much higher rate than other events, though, because of their exclusivity and the later hours involved.
• Safety days. Purchase Longfellow's Whale Tales water-safety packets from the local Red Cross branch at cost and distribute them to every elementary school in the county. Include details about your facility, and then set aside a specific day in late spring for groups of elementary school students to visit your pool and participate in various safety-related activities that teach the program's necessary skills. Toss in some free swim time to generate community goodwill. With publicity from schools, local media and perhaps a sponsor or two, you can easily introduce your facility to hundreds or even thousands of new users.
• School-based activities. With the increase in more home-schooled students, consider opening part of your pool for a home-school physical education program. This could consist of 30 minutes of supervised swimming instruction or group lessons, and 30 minutes of gym time at your recreation and fitness facility or another one nearby. Such a combination will likely meet your state's weekly physical-education requirements for home-schoolers.
Fun activities for older grade-school children or junior high students include inviting classes to create boats from a predetermined list of materials and then sponsoring a junk-boat regatta at your pool. Styrofoam, inner tubes, wood and other naturally floating materials aren't allowed, but cardboard, duct tape, plastic ice chests and other materials are. A representative from each class then uses a homemade paddle or his or her hands to maneuver the boat across the pool. Prizes are awarded based on creativity, floating ability and fastest times. All participants must wear life jackets to reinforce the concept of safety, and lifeguards are on duty during the races.
Another great school-related activity involves introducing groups of high school students to CPR and lifeguard skills via a 90-minute training session. This orientation can be a fun field trip that also stimulates interest in lifeguard certification and serves as a great recruiting tool.
• Subcontracting. Subcontracting the use of your facility or offering group rentals can be extremely profitable. Depending on the availability of your facility space, you may want to consider subleasing only portions of your pool. High school swim teams pay one facility $5.50 per hour per lane to practice in its pool on a daily basis. They also rent the pool for a number of swimming and diving competitions at $75 an hour for nonexclusive use - meaning that other user groups share parts of the facility - or $100 for exclusive use. Additional rates apply for swim meets because of the need for a timing system, timing-system operators and additional security. The sharing of profits from concessions, merchandise, programs and local advertising are negotiated between all involved parties.
Many medical groups also are becoming interested in aquatic therapy, and they may be willing to pay $30 or more per hour for use of a portion of your pool's shallow area. For more than five patients, consider charging the group $5 per hour per additional patient. Make sure the contract provider offers the appropriate insurance that holds you harmless for the content of the instruction and therapy.
Firefighters, highway patrol members, armed-service groups and dive-rescue teams are other potential users who may want to rent time in your pool's deep areas for training and testing. The U.S. Navy often rents local pool lanes to test applicants and teach basic swimming skills. Other military training groups float squadrons of 50 or more people on inflatable rafts and practice pulling "survivors" out of the water.
The point of all this is that there are many groups interested in leasing your pool - from Special Olympics athletes and trainers, to groups of pregnant women for pre- and post-natal classes, to ministers who request an area for full immersion baptisms. But you'll never know who needs access to your facility's water until you make some concerted efforts to find out.
The key is to break from existing traditional programming. Look at creative ways to invite patrons in and get them hooked on aquatics. Maintain motivation by adding new and different classes with fun names. Teach your instructors to build a strong rapport with users, and focus on customer service. The small details are just as important as the big picture. After all, almost everybody loves the water; the trick is getting them wet first.