Making Room for All Types of Pool Users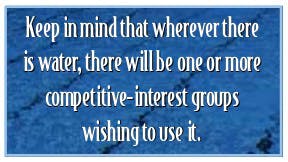 For years, we as a society have committed significant effort and resources to teach each other how to swim. The focus of teaching has consistently led to competitive interest and competition-based involvement. Teaching swimming, not just for safety's sake, but to develop swimmers for competition, is generally the goal of a strong and successful aquatics program.
However, as today's market for the recreational participant intensifies, the need to draw attention to the aquatic opportunities in our communities increases. Traditionally, this has been accomplished at local pools through a range of programming options: learn-to-swim sessions, competitive swimming, diving, lifeguard training and, to a lesser extent, water polo and synchronized swimming.
Many of today's patrons, though, demand both physical activity and entertainment from their experience at the pool. No longer is the pool just a place to swim laps. Pools are becoming social centers, and people in a widening range of age groups are interested in using your pool as long as the facilities are adequate to accommodate them. Even toddlers can enjoy water-play features or beach-entry areas. Indeed, new or remodeled pools featuring these colorful and interactive elements have heightened interest among public recreation users and helped generate higher revenues for municipalities.
Despite this trend toward recreational use of public pools, facility operators must not neglect the competitive constituents within their communities. Competitive programs need to expand at the local level in order for facility operators to fully utilize their daily operating schedules, for communities to recognize some return on their investments in these facilities and for the nation as a whole to be better able to compete in the ever-demanding global sports world.
That toddler who takes to the water fountains will one day outgrow his or her fascination with them. The challenge, then, for the aquatic facility operator is to satisfy growing youths while keeping them continuously involved and interested in water activities. Facility operators should consider expanding current recreational slots to include such simple activities as inner-tube races. Don't be afraid to set up lane lines in the middle of the day. Separate participants into age groups and watch the excitement build on their faces as they race against one another. Those participants who learn that competition in the water can be fun will be back as a member of the swim team or masters swim program.
As interest in swimming and water activities builds, the nation's inventory of facilities becomes strained. An increasing number of communities are developing master plans for growth, and parks and recreation departments are polling residents to help prioritize facility construction. Typically, swimming pools rise to the top of most wish lists.
This surge in demand presents a challenge for communities, which must develop responsible and functional aquatic centers. Usually, communities retain the services of professional aquatic designers, engineers and planners to assist them in making these decisions. It becomes the focus of the aquatic specialist to understand the needs that must be addressed by both the recreation-oriented facility and the competition-oriented facility. It becomes even more critical when these two orientations are contained within one facility or - more challenging still - within one envelope.
Identifying the need for an aquatic facility is the easy part. Lobbying the local parks and recreation department or the local school district to get involved with the concept is more difficult. These entities are most likely to become interested participants when strong, organized and supportive groups are encouraging them. Many times, the driving forces that create the enthusiasm for a new community aquatic facility originate from those people with an interest in the sport of competitive swimming. They may include swimming coaches, water polo coaches, masters swimmers, parents of age-group swimmers and individuals within the diving and synchronized swimming sectors. But even with such organized efforts, the concern almost always reverts to accommodating the non-competitive pool user. Among the major issues are establishing the programs that are to operate within the facility and allocating the appropriate time slots that will satisfy each user group.
Keep in mind that wherever there is water, there will be one or more competitive-interest groups wishing to use it. Integrating these groups into pool programming is often perceived by city or school officials as a major problem. It doesn't need to be. Most competitive-interest groups use the pool from 5:00 to 7:30 a.m. or from 5:30 to 8:30 p.m., when the general public is getting ready for work or sitting down to dinner. Why would a city council, county or school district want to turn its back on revenue from competitive-interest groups when, for the most part, these are the people occupying the water at the earliest and latest hours of the operating day?
In addition, many cities have traditionally closed facilities in the winter because of a drop in the number of recreational users. However, increasing numbers of city facilities are looking into remaining open year-round to accommodate competitive-interest groups. Consider opening the pool to local high school swim teams, which may be looking for an additional pool to accommodate a growing need for water time.
In Torrance, Calif., a community YMCA swim team helped to solicit funds to pay for the added utility expenses for the city pool for the first three winter operating months until programs were established to cover the burden. The funds came from a national company headquartered in Torrance that employs several parents of swim team members. Winter programming began in January 1998, initially making water time available to the aforementioned community swim team, a local masters swimming program and deepwater aerobics classes. Since then, year-round programming has been expanded to include introductory courses in competitive swimming, water polo and synchronized swimming. This past spring, five Torrance high schools that were previously unable to offer competitive swim programs due to a lack of pool access combined to train as one unit in the city pool. Though it formed too late to affiliate with a high school conference, the Torrance team did welcome surrounding schools to the pool for an informal meet during the 1999-2000 prep season, and it hopes to compete as a conference member in the fall of 2001.
Like competitive swimming, water polo has great programming potential. The sport has seen rapid growth throughout the United States, especially with women's water polo debuting at the 2000 Olympics in Sydney, Australia, and with the recent introduction of girls' water polo into the high school dual meet program schedule. According to the National Federation of State High School Associations, 581 U.S. high schools competed in boys' water polo during the 1998-99 academic year (the most recent for which statistics are available), and 506 offered the sport for girls. Meanwhile, colleges and universities are finding that women's water polo can assist with Title IX compliance, and perhaps even spare a men's program from being cut.
So who is developing the participants who feed these organized and competitive programs. The aquatic facility operator should be - by creating new programs and enlisting participants, or by assisting established organizations in their ongoing functions. Facility operators are discovering that nominal fees collected from these independent user groups can keep their pools profitable, not just during peak summertime recreational use, but all year long.
Let's assume you've identified the special needs of your two distinct user groups. The general public has demanded more fun elements: more shallow water, more deck areas, more accessible water through beach entries and deck-level gutters. The competitive interests are in turn demanding larger areas of deep water for swimming, diving, water polo and synchronized swimming. How do these programming needs translate to facility design?
At the heart of a truly successful community aquatic facility is a swimming pool with lanes, diving boards and water polo goals. Great facilities almost always accommodate competitive-interest groups. Generally, it is the competition-based facilities that are focused most intently on distance and swimming standards. The vast majority of competition pools in the United States are 25 yards long, while others measure 50 meters in length. There have also been a number of visionary facility planners who have constructed 25-yard-by-25-meter pools for community use.
Today, the standards established by governing bodies such as USA Swimming and the industry in general are focusing on the international standards of competition. Even the NCAA, which traditionally adhered to the use of a 25-yard short course for intercollegiate meets, introduced 25-meter events at its Division I championships this past season, and several world records fell as a result. This new focus on international standards is a wake-up call to designers and operators to embrace the global competition environment and prepare this country's swimmers for international competition.
The continued interest in faster and faster water will continue to place pressure upon aquatic design specialists, with emphasis on the records and times of the athletes. Every facility used for competition must meet specific dimensional standards in order for records to be verified. The responsibility of the dimensional accuracy rests in the hands of the tile setter who installs the final tile face at each end of the pool or the fabricator who assembles a bulkhead. But it is the responsibility of the design team to ensure that the dimensional standards are met.
Many of the aquatic standards used today relate only to swimming and are still based on a traditional rectangular pool form, even though swimming isn't the only thing being done in aquatic facilities these days. Creative use of nontraditional pool shapes allows a facility to satisfy required standards for usage while still enhancing programming options. For example, an L-shaped pool can meet depth standards established for recreational use with a relatively shallow 3-foot-6-inch entry area but then slope down to 6 feet, 7 inches - a depth conducive to competitive swimming, water polo or synchronized swimming - in the main arm of the L. (It is recommended that a competitive pool have a minimum depth of 6 feet, 7 inches at any end featuring starting blocks.)
Moreover, careful arrangement of separate water areas and amenities serving diverse user groups can help maximize efficiency and safety. The Balfour Road Aquatic Center, which opened last month in Brentwood, Calif., features three distinct outdoor water areas. A 25-yard-by-25 meter specific-use competition pool incorporates temperature settings between 80 and 82 degrees and depths ranging from 6 feet, 7 inches to 3 meters in its diving well. A 4,800square-foot recreation pool with beach entry and water-play features such as rain drops and tumble buckets opens up to a three-lane, 25-yard lap pool suitable for competition warm-ups, adult lap swimming or learn-to-swim programs. The lap pool's connection to the recreation area allows its temperature to reach 84 degrees, a more welcoming environment for children learning to swim. The third water area is another three-lane, 25-yard lap pool with two 20 foot-tall water slides, located at opposite ends of the pool. The pool's flexibility allows lap swimmers and learn-to-swim programs to occupy the water during weekday morning hours, when the facility's slides are not in peak use. As the smallest of the three water volumes, the slide pool can also save on operational costs by serving as the lone open pool during down times in the programming schedule.
User safety is enhanced at the Brentwood facility by a fence separating the deeper competition pool and the two recreation pools, allowing staff to control access to each area, or to close off one from the other entirely. Safe user circulation is also addressed in the water. The Brentwood slide pool, for example, is designed to allow the water areas beneath its slides to be roped off, and pool stairs positioned near the plunge points encourage quick exits from the water by slide users. Such design considerations help avoid potentially dangerous mingling of slide users and other swimmers in the pool.
Of course, staffing plays a major role in pool safety, and competitive areas of a multipurpose facility typically prove far less burdensome on pool staff than recreational components. A single slide may require the attention of two staff members: one to control circulation at the top of the slide, and one to maintain order in the water beneath it. Conversely, an entire swim team working out in the competitive pool and supervised by a coach who is certified by USA Swimming and a member of the American Swimming Coaches Association requires little or no additional attention from pool staff. This provides the opportunity for the scheduler to minimize staff loads during times of pool use by competitive interests. Some local competitive swim groups go so far as to require each of their participants to pay annual dues to USA Swimming, which in turn provides insurance coverage to its members, thus reducing potential liability risks for the pool operator.
In addition, facilities that cater to competitive-interest groups may actually be investing in the future of the pool staff, since many high school and college-age competitive swimmers obtain lifeguard certification and can serve in that capacity at the pool. Some may even become certified in water safety instruction, allowing them to teach learn-to-swim programs during the summer.
Outdoor pools present their share of design challenges, but even more thought is necessary when the action is brought indoors. Indoor aquatic facilities have evolved from rectangular natatoriums housing competitive pools to massive structures with lap pools and leisure components. The demands of both competitive and recreational swimmers can cause congestion. Thoughtful arrangement of the pools, their associated decks, water-play features and design safety features goes a long way toward reducing the workload of pool operators. Functional separation of competitive components from recreational components is highly recommended. A window wall situated between the two areas can facilitate control, safety and visual continuity.
The West Boise (Idaho) YMCA, for example, successfully incorporates a 50-meter competition pool with diving well, a 75-yard training pool, a 1,100square-foot free-form recreation pool with themed play features, and a therapeutic spa. However, costs can prove prohibitive when designing an indoor multiuse facility. Designing a deck wide enough to accommodate a swim meet at an outdoor facility requires little more than pouring extra concrete. A deck width of 20 feet provides ample room for bleacher seating and circulation of meet participants and officials. However, accommodating such dimensions indoors translates into a wider roof span and increased overall building volume, contributing not only to greater construction costs, but also ongoing operational expenses related to lighting and HVAC.
The complexities of designing a fullscale aquatic facility with multiple pools for multiple uses - indoors or outdoors - presents significant issues to the aquatics designer and architect. When approaching a designer, it's to a municipality's advantage to be represented by someone who understands the functional programming issues and the day-to-day operational concerns anticipated for the proposed facility. Good aquatic design is not just structured around the facility and its pool configuration; it must also meet the aquatic operator's intent for the programs to be offered within the facility.
A strong relationship between the programmatic needs and the architectural needs of the facility should be the primary consideration when planning a new facility. It is imperative that the planning team used to complete the process is established early, empowered to make the necessary decisions and provided the means necessary to complete the effort. Work within your community, tapping both your organized and unorganized user groups. Consider a mass mailing of questionnaires or make them available in your existing facilities. Contact other communities for information on construction costs for the projects they have recently completed. Make a concerted effort to evaluate whether the existing facility could be renovated or if the programs and needs of the current users require a complete replacement.
As the demand for leisure pools escalates throughout our communities, remember that the recreational users are only booking limited amounts of a typical daily schedule. Expanding programs to other user groups, primarily competitive-interest groups, will ultimately prove to be the saving grace for the multiuse facility. The competition component of the aquatics world is coming on faster and stronger than ever. Be ready and prepared for these important groups. Creative and complete scheduling will ultimately define the most successful venues.