Pools featuring moving water and play equipment require special attention to keep users safe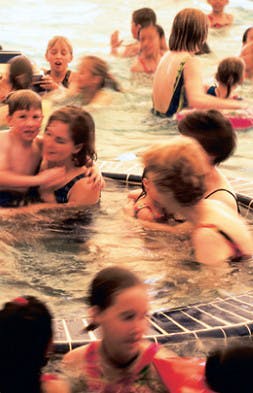 As complicated as aquatic centers have become, they continue to be extremely safe from a design standpoint. Building codes list requirements for lighting, air handling systems and so on, and most designers of public pools can boast extensive knowledge of issues that impinge on users' safety and owners' operational needs. More often than not, when a catastrophic injury or drowning occurs in a pool setting, improper supervision or maintenance is the culprit, not design.
That said, it's clear that some designs represent a greater supervisory or maintenance challenge than others, and leisure pools as a class are easily the most challenging in all respects. Design, which focuses primarily on aesthetics (how a space looks) and plan efficiency (how it works), can also contribute to user safety. When reading a floor plan, it is often obvious which areas will require more intense supervision, or in which direction lifeguards should face when scanning the pool.
That's what we had in mind when we began developing this feature. With the gracious help of three architecture firms, we prepared sample floor plans of three recently constructed facilities and circulated them among risk management professionals to get their take on prevalent safety issues in aquatic centers. Our thanks go to Sink Combs Dethlefs, Barker Rinker Seacat Architecture and Vic Davies Architect Ltd., without whose assistance this would not have been possible.
Leisure pools are, for the first time, undergoing scrutiny by various organizations hoping to settle some of the more vexing pool-related safety issues of our time. The push for separate standards for leisure pools began in 1995, when the National Spa and Pool Institute's public pool standards came up for revision. After three years of exhaustive study and reportedly exhausting debate, NSPI decided (in 1998) that existing standards for rectangular pools simply couldn't serve leisure pools' complicated forms and equipment.
NSPI's recent efforts have dovetailed with those of ASTM International, which as this is written has two subcommittees on the case. ANSI/NSPI-9, as the main committee is called, is currently writing a final document, which will be submitted to the American National Standards Institute, under whose guidance it will be reviewed by public health officials, architects, building code officials, academics, regulatory agencies and safety experts. ASTM's two subcommittees (many members of which sit on both those committees and ANSI/NSPI-9) are slightly behind the NSPI, but both hope to have complete standards on their respective areas of expertise published in 2003.
Wally James, chair of ANSI/NSPI-9 and owner of ConServ Associates in Powder Springs, Ga., nonetheless downplays NSPI's leadership on standards, noting it has taken the organization a long time to reach this point.
"When water parks were first developed in the late 1970s, everybody said it was a fad," James says. "It wasn't going to last, so everybody ignored it and said it was going to go away. In 1984, the then-president of NSPI wrote an official letter saying these pools do not come under NSPI jurisdiction. But then municipalities and others were looking at these pools and were saying, 'We need standards, we need help,' and NSPI didn't have them - and unfortunately, neither did anybody else."
When the standards are completed, local health departments and architecture firms will inevitably bring themselves into compliance with them, even though NSPI has no enforcement or jurisdictional powers. While that may sound as though pools will become even safer than they are now, James believes that the industry already has a good handle on what makes a pool safe.
"Standards aren't a reaction to dangers; the public has not been at risk," James says. "There has been tremendous movement within aquatics recreation toward proper risk management since the early 1980s. The exchange of information over the past 20 years is tantamount to some kind of unwritten standard, which we call 'industry practice.' When we get involved with legal work, we'll sometimes make reference to 'prevailing good and safe industry practice' - lawyers shake their head when we use that term." James laughs. "But it is a real thing. It just hasn't been on one piece of paper yet."
MULTIUSE AQUATIC CENTER
Pool Slope
In the world of water volume, looks can be deceiving. Because this 25-yard-by-25-meter competition pool also serves as a potential location for diving competitions, its volume is three times greater than the adjacent leisure pool, though its surface area is just 13 percent greater. To save on construction and maintenance costs, the pool slopes in two directions toward a 13-foot-deep diving well that is limited to one corner of the pool.
Deep water remains a serious concern to risk managers, both because of lifeguards' potential difficulty of seeing all the way to the bottom and the possibility of swimmers being surprised by the change in depth. Says Art Mittelstedt of the Recreation Safety Institute, "People sometimes get into deeper water than they can handle, swallow water and can't recover themselves, and slide down the slope. And we're seeing more reports of drownings occurring where other swimmers are in really close proximity but don't recognize that the person is in trouble. It's often not a case where you see a lot of waving of arms and so forth - once they swallow the water, they go right down."
Benches Design touches sometimes spring from a combination of a desire for flexibility and a need to meet building codes. The statewide pool code governing this particular pool's jurisdiction requires that deep-water pools be separated from children's play pools. Four rectangular posts necessary to support the roof are thus outfitted with 18-inch-tall benches that go all the way to the floor so that infants are prevented from crawling directly from the leisure area into the competition pool. This was designed to allow for the introduction of a glass partition if the state determined that the bench wasn't sufficient to meet the code.
Zero-depth Entry The location of this zero-depth entry is no accident. While it might make sense to orient this wide space (where deck chairs are often located for parents of small children) near exterior windows or an outdoor patio, safety usually dictates the opposite. The hallway from the three locker-room suites opens at the beach area and, also not coincidentally, in front of the lifeguard station. The shallowest water therefore greets children and their parents.
"I worry about kids who get ahead of mommy and daddy as they enter the natatorium thinking they can go right into the pool," says Marc Rabinoff of Rabinoff Consulting Services. "Locating locker room doors by the deepest water is just about the worst design mistake you could make."
Storage Room There is no formula for deciding adequate storage space for an aquatic center, but even this 21,611-square-foot facility's design architect concedes that this storage room - at 310 square feet - is probably too small given the many activities that could conceivably take place here. Should this facility eventually host high school competitions, there may not be room to store roll-in bleachers for 60 to 100 spectators. A lot will depend on how efficiently the facility operator stores the lane markers, kickboards and many other regularly utilized aquatic equipment.
Guard Room Most pool accidents are the result of improper supervision, not poor design - but still, architects can design pools with supervision in mind. This lifeguard station has direct views to both main bodies of water (the spa is less centrally located), as well as the water-play equipment directly adjacent and the water slide splashdown opposite.
How many lifeguards are necessary on the deck? A pool's design is but one of the variables; standards recommended by the American Red Cross relate not to pool surface area but the number of bathers per guard. Rabinoff estimates that, just based on the size and configuration of this pool, five lifeguards could provide adequate coverage during a normal day, including two working the slide (one at the top, one at the bottom) in tandem. Supervision of slides comes up occasionally in accident cases; some pool operators argue that only one guard (at the top) is necessary on a slow day, with another lifeguard at the deck level taking on a wider-than-normal area when slide users splash down.
Posts Eighteen structural posts in the leisure area support the roof and artificial stonework that - along with murals, a dome, artificial trees and various other effects - carry the theme of Atlantis throughout this aquatic center. The beauty and intricacy of such an environment is matched, perhaps, only by the challenge it poses to lifeguards. Says David Fried of Dep Accident Analysis, "I'm involved in a case in Hong Kong involving a near double drowning in a pool with a similar configuration that was difficult to supervise. You have to have more lifeguards because of the hidden areas."
Teach Pool Even with all the themed elements, this natatorium isn't all fun and games. One feature that really pushes the envelope of design is the teach pool, which is raised 1 1/2 feet above the level of the pool deck so that a coach can kneel and be almost at eye level with swimmers. Users enter by stairs or a zero depth entry, made possible by ramping the deck at the approach to the pool. It's also safer than an alternative method - a poolside trough for the instructor to kneel, into which an oblivious facility user could easily fall.
Wave Pool A wave generator fills this pool with delighted screams - but to supervisory personnel, it's just one more area of concern. Moving water - particularly waves that are strong enough to throw young children into pool walls or each other - represents a dual challenge because of the difficulty in seeing through the turbulent surface to the bottom of this shallow pool. This pool will eventually pose an even greater supervision challenge once the water slide is added. This particular design will utilize splashdown troughs located between the exterior wall (through which the slide snakes) and the pool's edge.
Distractions As if all the fabulous water attractions weren't enough, this facility includes a café and viewing patio located just 8 feet from the water's edge. These facilities' greatest selling point is their endless variety for users, but that same variety really puts lifeguards to the test - particularly young lifeguards who might not be able to resist the "scene" of the café. While risk managers are unanimous in the opinion that these facilities are designed as safely as possible, they're equally as quick to point out that a catastrophic accident only takes a second. Notes Rabinoff, "Every kid, at every age, will reinvent what you put out. You can design the best facility in the world, and they'll still do something to it they're not supposed to do. Supervision of waterplay areas is really critical, because if somebody slips, even for a second, even in 2 feet of water, you can have a broken neck."
Diving Well The diving well is one place where "multipurpose" is no longer designers' mantra, an inevitable consequence of professionals' deepening understanding of the dangers of deep water. A separate diving well makes a lot of sense from a safety standpoint, as the probability of collisions between divers and swimmers is lessened. In addition, separation allows for a relatively shallow, higher-performance competition pool.
There was a time when some industry pros predicted the demise of competitive diving because of the prevalence of diving-related lawsuits. The use of separate pool basins and the greater depths of diving wells are the most obvious indication of the changes that swept pool design 15 years ago as awareness of spinal injuries grew.
Windows This western exposure might have been a problem 15 years ago, but advances in glazing technology are helping designers and supervisors keep swimmers safe even in the glare of direct sunlight. Heavily tinted, high-performance glass, combined with awnings (some of which extend inside buildings to knock down reflected light) allow designers to bring the outdoors in without compromising safety. Extensive use of glass still requires extra vigilance on the part of lifeguards (as well as extra money spent up front). "It's expensive," Mittelstedt says, "but nothing's worth more than a life."
Pool Separations As separation must be achieved between moving water and static water, many mixed-use pools feature thin walls that extend several inches above water level. The tops are beveled to allow water to run off - and to prevent swimmers from practicing their balance-beam moves. Interior pool walls absorb waves and contain, for example, the enormous current flowing out of the water-slide splashdown area. The down side. They're another feature behind which a swimmer could hide from supervisory eyes.
Spa Public spas tend to escape the scrutiny given bigger pools, since they're small enough (500 to 2,000 gallons) to police with relative ease. Also, risk managers say, spas with benches usually keep people sitting in a circle, discouraging misuse. Still, Mittelstedt warns, steps and benches should be marked, and a "No Diving" sign posted nearby. "There are a lot of macho teens who might come out and try to dive into a spa," he says.
Water-play Equipment Water-play equipment has gotten more sophisticated, with platforms for climbing, rope swings, water cannons and even pirate ships becoming a standard feature of leisure pools. Interestingly, years after the proliferation began, two separate subcommittees of ASTM International (one dealing with amusement devices, one with playground equipment) are debating potential safety standards. Being given consideration are both the aquatic aspects of such equipment and certain characteristics shared with dry-land equipment, such as entrapment, entanglement and pinch issues.
Kathie Morgan, general manager of technical committee support for ASTM, can't recall any lawsuits related to these issues, but says it's high time the process got started. "Usually, the Consumer Product Safety Commission brings us incident data on injuries and fatalities, and that's how we get standards activity started," she says. "It takes years, unfortunately, for the CPSC to compile the data, so I can't imagine children haven't been hurt on some of these things."
Pool Deck Five feet, 7 feet, 10 feet between bodies of water, or between water and walls - what's too close for comfort. It depends on the way each space is used, as well as on whom you ask. Five feet between an outer wall and a lap pool (which will primarily be utilized by adults) seems sufficient - but then, you never know whether this area will eventually become a race track for kids.
Another thing you may never know is what building codes require; old codes for rectangular pools specified minimum deck perimeters, but new codes are unlikely to tackle the issue. "Most of the new pools would be illegal because they don't meet the old clearances, but the nature of these attractions doesn't demand that they have those clearances," says James. "The old standard was written for a rectangular pool sitting in the middle of a concrete deck with a septic tank next to it that they called a kids' pool, and a bathhouse where everybody supposedly took a shower. None of that is real life anymore."