On Any Given Day, An Aquatic Facility's Security Can Be Put to the Test. Here's How Operators Ensure Their Facilities Earn a Passing Grade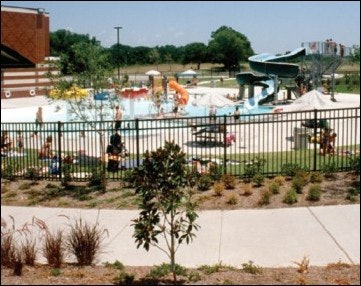 For small children, the first swimming lesson can be a daunting experience. But if they stick with it, they can eventually overcome their fears and master the backstroke, breaststroke and butterfly.
Similarly, aquatic facility operators initially overwhelmed by the task of securing their pools can learn how to keep their heads above water - provided they take the time (before their facility's construction, if possible) to map out a thoroughly detailed security plan. "Sit down with your consultants early in the design process and determine what type of security you're going to need. Develop what's going to be right for that facility," says Alison Osinski of San Diego-based Aquatic Consulting Services. "How many people are we talking about. If it's a little pool where 10 people a day swim, it needs a different type of security from a water park that's got 8,000. Is it likely to draw large crowds that might have gang fights? How difficult is it going to be to keep those people out. Do you need to protect the property or do you need to protect the people who are there. Is there a lot of money changing hands?"
There are myriad questions regarding aquatic facility security, each as complicated as the next. For most, there is no single correct answer. Just as each facility caters to a different clientele, each will have different security needs. And on any given day, anything can happen to test even the most vigilant operations. But by addressing the following six areas, operators can certainly improve their facility's chances for success in crisis situations.
Drop-off Area/Circulation A facility's security assessment should begin outside its walls - more specifically, in the parking lot. Since this is where parents drop off their children for a day of recreation, this area should exude the greatest sense of security. "The drop-off area is really important for any project of a substantial size, particularly aquatic centers," says John Courtney, principal of RJM Design Group in Sacramento, Calif. "Sometimes, you've got kids going to swim lessons twice a day. It's nice for parents to have a drop-off area where they can let the kids out and see them walk straight to the door and go inside."
Dwayne Brinkley, principal of Dallas-based Brinkley Sargent Architects, finds that vestibules serve as safe, comfortable places for children to wait for their parents. "It's a place for kids to sit and watch TV until they see Mom drive up," he says.
For outdoor facilities, Courtney recommends that waiting areas be located within clear sight of the front office, but outside the facility's gates. This way, staff members can monitor those individuals waiting for rides, lock up and go about their closing duties without worrying about unauthorized entry. Courtney also urges facility operators to remember to place at least one pay phone in the waiting area. "That's kind of a nobrainer, but it should be planned for and not put in as an afterthought," he says. "People need to be aware of where it is. A lot of times, kids will be waiting for parents to pick them up, but they may be late and the kids need to make a phone call. Cell phones are great, but they don't always work. It's good to have a pay phone."
These areas should always be well-lit, adds Courtney. But for outdoor aquatic facilities, it's not the greatest idea to leave the pool deck's tall, competition lights on at night for security's sake. One reason is that the lights can disturb neighbors if the facility is in a residential area, plus they can serve to attract curious youths. Shorter bollard-style light fixtures should suffice to illuminate a facility's pedestrian walkways and door entrances (a touch that security or police officers making periodic checks will likely appreciate), without raising unwanted light pollution issues.
Fencing Perimeter fencing is a necessity for outdoor facilities and is a security feature that in recent years has offered operators increasingly varied options.
Before delving into those alternatives, though, it's important for facility operators to check their respective state and municipal codes on pool fencing. According to Osinski, some states require fences only 4 feet tall, while others mandate 10-foot heights. Fence height will ultimately depend on what type of fencing is used, with chain-link, wrought iron and brick being the most common choices.
Chain-link is easy to install and is the least expensive of the three, but in some states, such as Brinkley's native Texas, code requires barbed wire to be attached to the top of the chain link. The barbed wire must extend in the opposite direction of the pool deck at a 45-degree angle to prevent people from climbing the fence. Climbing was fairly easy on older fences with 2 3/4 -inch openings within the mesh, but Osinski says it's much more difficult for individuals to scale newer fences that follow the latest U.S. Consumer Product Safety Commission's recommendation for 1 3/4 -inch mesh (only if the mesh is reinforced with vertical plastic or wooden slats; otherwise, 1 1/4 -inch mesh is recommended).
As secure as it may be, the combination of chain-link and barbed-wire fencing may suggest for some patrons a too-secure (and aesthetically disappointing) environment. In recent years, wrought-iron fencing has emerged as a more attractive alternative. These fences can be powder-coated in multiple colors to blend in with a facility's color scheme, yet they maintain high-level security because they're constructed of vertical bars spaced no more than 4 inches apart. The bars are soldered to two horizontal elements that are often specified to maintain a separation of at least 45 inches (in many cases, the bottom bar must be no more than 4 inches off the ground).
Brick is universally held as an attractive building material and can lend character to an aquatic facility. But brick's high cost makes it an impractical choice for use along the entire perimeter, especially if the facility covers several acres of land. Architects typically utilize brick as a decorative touch - at gates, for example - and use wrought iron for the remaining fences. "You want people to see into certain parts of a park; you don't want them to see other parts," Osinski says. "But you don't necessarily want to wall everything in."
Architects also strive to make the fence blend in with the background as much as possible, to preserve views of the surrounding natural landscape. "When you're there to swim, you're also there to enjoy the grass and trees around you," says James Maland of St. Paul, Minn.-based Bonestroo, Rosene, Anderlik & Associates. Maland curves the perimeter fences at his outdoor aquatic projects whenever possible, which helps make them "disappear," he says. "A fence is most visually prominent when it's in a straight line. We like to make it curvilinear at all stages, to try to get away from square corners and long, straight sections."
Entry/Exit They tend to draw the greatest attention of facility operators, but it's at the entry and exit points where mistakes are most often made, says Osinski. "They have people come and go through the same entrance. That's a bad idea, because you're going to get a bottleneck when you have large numbers. You always want them coming in at one location and leaving at another."
Facility operators have available to them a number of devices - turnstiles, card scanners, panic exit hardware, laser-beam alert systems and metal detectors - all of which can help them regulate control points. But such technology can be rendered useless without an efficient implementation strategy.
Take, for example, the experiences of the staff at the two-year-old Folsom (Calif.) Aquatic Center. The outdoor aquatic facility's entry features two gates, one of which was initially used for season-pass holders and the other for daily-pass patrons. Season-pass holders would pass through the gate on the left-hand side, sliding their pass cards through the turnstile at their leisure. Meanwhile, individuals purchasing daily passes would enter through the right gate, which is adjacent to the ticket office, and conduct their transactions through the office's sliding glass window. All patrons would exit via three self-locking gates located strategically along the facility's perimeter.
But Folsom's staff soon discovered security weaknesses in their entry/exit set-up. The self-swipe system didn't allow staff members inside to view patrons' photos onscreen as they passed by. "Their photo would come up on the screen but we were looking at their back as the photo popped up," says Jocelyn Smeltzer, Folsom's aquatics supervisor. "We didn't even know if that was the person pictured. They could've been using someone else's card. I don't know how often that happened."
There were problems at the exit gates, as well. "As people walked out, a different person would grab the gate and sneak in," says Smeltzer. "We saw it occasionally, enough to know we were probably losing revenue."
Within months, Folsom's staff instituted several changes that remain in place today. The self-swipe system was abandoned and the turnstile was reversed so that it now serves as the main exit. The perimeter gates became emergency exits, each being outfitted with panic exit hardware. Today all patrons enter through one gate and must have their cards scanned at the ticket office window.
Although a better situation than before, the current system is still somewhat problematic, says Smeltzer. Strollers are too wide to pass through the turnstile exit, meaning that parents pushing strollers must leave through an emergency-exit gate with a staff member escort. Also, at peak usage times (holidays and the summer-season opening, in particular), the one-lane entrance experiences high congestion.
This summer Smeltzer plans to purchase a portable card scanner to speed up the lines, and eventually hopes to replace the narrow turnstile with a wider, one-way revolving exit gate similar to those at subway stations and zoos.
Offices Aquatic facilities can bring in thousands of dollars in a single day, making the handling of cash a key security concern. Precautions need to be taken to reduce risk of outside as well as internal theft.
One Brinkley Sargent client had an incident involving an employee who understood the daily counting procedures and hid in the counting room's ceiling space until the coast was clear, then robbed the facility.
Episodes like these have led the firm to retrofit several of its clients' office spaces with one small room for money counting and a separate safe room. Both rooms are monitored by video and can only be accessed by pass code. The doors to these rooms are unmarked.
The counting room is designed so that an employee counts the money on a glass table, reducing the risk of misplaced or hidden bills. Once counting is finished, the employee passes the lock box to a supervisor in the safe room via a narrow pass slot. The supervisor then recounts the money, confirming the total with the employee in the counting room before storing it in the safe.
"Cash management is a big issue and it's becoming bigger. More attention is being given to the people taking care of the drawers," says Brinkley. "It's a fairly easy mark if you don't take control of it."
Locker Rooms An increasing number of recreation centers feature both indoor and outdoor aquatic components. Some even charge separate fees for indoor and outdoor areas, which share locker-room facilities.
It's an effective cost-saving building strategy, but what happens when one part of the facility is open for afterhours formal functions, for example, yet the pool area is closed. "You don't want people wandering into the pool areas when they don't belong in there," says Osinski. "The pool may not be open and staff will think it's locked up, but kids are using those locker rooms and rest rooms, and they can wander right from there into the pool. You have to make sure they can't get in there."
Both the architects and staff of the Oak Point Center in Plano, Texas, have worked diligently to ensure the security of the facility's locker-room areas. Taking advantage of the sloping site, Oak Point was designed so that all of its aquatic components are located on the facility's lower level. Indoors, there is a 50-meter competition pool, a 2,000-square-foot leisure pool, a kiddie pool and the locker rooms. Outside is a 6,000-square-foot leisure pool.
The aquatics area has exclusive use of the lower-level locker rooms; upstairs on the main level are locker rooms for "dry side" activities. If necessary, Oak Point's staff can essentially close off the entire lower level without disrupting other facility operations. The center's main control desk is adjacent to both the elevator and the stairs to the lower level.
There are also control points strategically located to closely monitor the entrances to the aquatics-area locker rooms, which share a vestibule opening to both the outdoor and indoor pool areas. All outdoor pool patrons must check in at a control point located on the pool deck before entering the locker room, while individuals inside must pass a similar desk at the end of the hallway leading to the locker rooms. "Big crowds always present a challenge," says Chris Elder, Oak Point's aquatics coordinator. "But the way we've got everything streamlined makes it a lot easier to handle."
Surveillance Technology in this area has come a long way in recent years, presenting facility operators with a variety of options at both ends of the price scale.
Video surveillance and video monitoring systems have emerged as the market's leading choices. Video surveillance systems are often set up to begin recording and alert either the facility owner or the police when unauthorized after-hours disturbances are detected by the system's cameras. Video monitoring systems differ in that they run live closed-circuit feeds from the cameras to a remote monitor, which can be placed at a control desk or other administrative area. These systems can switch between multiple cameras, showing each location onscreen for several seconds at a time. Each type of video security system can be equipped to sound verbal warnings ("The police have been alerted," for example) and is available with additional recording options, including continuous recording, motion-detection recording and weekly-scheduled recording.
There are drawbacks to each system, however. The monitoring system's snapshot device, because it provides periodic coverage for each camera, could allow the monitoring individual to miss something. One of Osinski's clients missed the breakout of a fight at the facility's entry/exit point because of this feature. "You could see both parties in the lobby area. Then in the next camera shot, one guy's laying there bleeding all over the place," she says, adding that the culprit was eventually apprehended. "Sure enough, the camera didn't get it. It was on something else at the time."
On the other hand, video surveillance systems have been guilty of false alarms, as was the case for several months at Folsom Aquatic Center. Installed as an afterthought, the motion-detecting, eight-camera system turned on at even the slightest visual disturbances during its first few months of operation. These ranged from a torn poster fluttering in the lifeguard office to flapping pool covers on the pool deck to thirsty deer hopping the fence from the adjacent woodlands. "My poor maintenance guy - his wife unplugged the phone because he was getting 10 calls every night," says Smeltzer, who also receives a phone call from the monitoring service and, in turn, notifies the police, if necessary. "We needed to make it sensitive enough to get a person, but not a bird, and that was challenging. I wouldn't say it's perfect yet, but it's a lot better. It's been a useful system and we keep fine-tuning it."
On the whole, the Wooster (Ohio) Parks and Recreation staff has been happy with its video surveillance system, which was installed nearly three years ago at the city's three pools. In fact, the system proved useful in its first weekend of service. Three juveniles broke into the bathhouse at one pool and threw a pressure washer into the water, causing nearly $1,000 worth of damage. "All the police had to do was point to the camera and - whether it caught them on camera or not - the kids confessed on the spot," says Jeff Battig, Wooster's recreation coordinator. "The camera is a deterrent. People don't really mess with it."
According to Battig, it cost his department approximately $10,000 to purchase and install the equipment at all three facilities. A local company donated Folsom's video surveillance system, although the recreation department paid $7,000 for installation and continues to pay $100 a month for the alarm monitoring service.
Officials with the Keller (Texas) Parks and Recreation Department are considering a high-end system that eclipses the technology of both the aforementioned systems. Their 76,000-square-foot recreation and aquatics center doesn't break ground until May, but when it does, the facility could be equipped with a fiberoptics network linking it with Keller's police headquarters. The system would allow police to visually monitor the center at any time, and if a break-in was detected, they could lock down the facility without ever leaving their computer terminal. Of course, says Keller recreation director Dona Roth Kinney, whether the high-tech system is installed will come down to final budget considerations.
Underwater drowning-detection systems are also popping up on the wish lists of aquatic facility operators, although because of these systems' cost - which ranges from $80,000 to $140,000 for equipment and installation - few have actually made it into a facility. "That's the hot thing. You go to any of the conferences and everybody wants one," says Osinski, who adds that the facilities installing such systems are often reacting to recent drowning deaths. "They realize how inexpensive that system is compared to the drowning. The price is still relatively high, but there are pools all over the place that are budgeted to get them this year."
Technological advancements aside, the most significant security strategy may simply be to know your patrons. "Look at your audience: Is it mainly families with young kids, or is this the facility that's attracting rowdy teenagers? Do we need to search everybody's picnic baskets or don't we?" asks Osinski, adding that most pool patrons will likely cringe at such airport-like security measures. " 'Why should I be treated like a terrorist just because I'm coming in someplace to have a good time?' "
Malgosia Atkinson, leisure services manager and division head of aquatics for Durham (N.C.) Parks and Recreation, has made getting to know patrons a number-one priority since a young boy sneaked into and drowned at one of her city's pools last July. After the tragedy, some residents raised concerns regarding the pools' accessibility and fees, hypothesizing that the boy swam at night because he couldn't afford to pay during the day.
It only costs $2 to swim at Durham's pools, but fee waiver programs are available for individuals who can't afford even that amount, and each pool offers free swimming hours once a week. Additionally, Atkinson has empowered her pool supervisors to make judgment calls if approached at the gates by an empty-handed, swimsuit-clad youngster. "I'm not going to let somebody come in and disrupt my operation," she says. "But I will not deny access to anyone who just wants to come in on a hot day and go for a swim. If they behave, we will certainly allow them free access to the facility."