Lifeguarding has lost some of its allure in recent years, leading aquatic facility operators to revamp their recruitment and retention strategies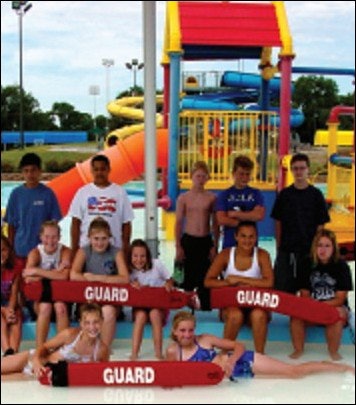 Art doesn't always imitate life, or at least it doesn't for the tens of thousands of lifeguards employed at aquatic facilities nationwide. Unlike the "guards" portrayed on TV ("Baywatch" comes to mind), real lifeguards don't cruise the ocean in high-powered speedboats, nor do they typically hurdle breaking surf on their way to daring rescues. Actually, most lifeguards - even those working the beaches - will never make such a rescue during their careers. Nevertheless, they must be prepared to do so at any time, as well as handle a variety of emergency situations such as severe head and neck injuries, massive blood loss and even cardiac events.
"For my lifeguards, I have the same expectations as I would a firefighter or an EMT," says Gerald Dworkin, aquatic safety and water rescue consultant for Harrisville, N.H.-based Lifesaving Resources Inc. "They have a lot more responsibilities than they used to. Now they have to worry about things like AIDS and Hepatitis B. If you have to deal with somebody who split his or her head in the pool, the only thing protecting you is a swimsuit."
Heightened standards of care have led certifying agencies like the American Red Cross and the YMCA of the USA to increase the amount of training guards must receive. "We're no longer glorified babysitters - well, we never really have been. That's more the public's perception of us," says Deborah Swanson, aquatics director at Fayetteville (N.C.) Family YMCA. "Other people in my facility want my guards to help them move exercise equipment. They can't. Their job is to scan the pool and enact the emergency action plan, if necessary."
The seriousness of a lifeguard's job responsibilities - combined with the $175-to-$250 price tag of training courses necessary to be certified to perform those duties - has put off some potential candidates, many of whom are teenagers looking for an easy way to earn money during their summer vacation. "The bottom line is that to go flip burgers at McDonald's, it doesn't cost anything for training and you don't have nearly as much responsibility," says Dworkin. "Chances are, you're going to pick McDonald's."
During the past several years, many teens have done just that, leveling the aquatics industry with a severe lifeguard shortage. Now, facility operators are fighting harder than ever to keep their current staff members satisfied and attract qualified recruits to replace them once those guards move on to other endeavors.
"For a few years, it was tight. We were hoping that everyone we interviewed would be good, because we really needed them," says Margaret Ingraham, a recreation supervisor for the Santa Cruz County (Calif.) Department of Parks, Open Space and Cultural Services. "And with lifeguards, you can't just hire somebody who's breathing. They need to have the skills."
Swanson, in fact, has noticed that an increasing number of individuals who apply for lifeguard positions are unqualified. "I don't think people understand what good swimming is anymore," she says. "Parents think that if their kids have been exposed to water, or if they can float without drowning, they can swim. They tell me their kids are good athletes; they may even run track. That's great, but swimming kicks your butt. When we interview candidates, we ask them if they can swim a combined 500 yards of good breaststroke and crawl. Some of them don't even know what we're talking about."
Guards hired by Swanson undergo the Red Cross' lifeguard training. In addition to being able to swim 500 yards continuously (200 yards of front crawl, followed by 100 yards of breaststroke and then another 200 of either breaststroke or crawl), the Red Cross course requires lifeguard candidates to surface dive, then retrieve and return to the surface a 10-pound object from a water depth of at least eight feet. Once they pass the pretest, lifeguard candidates are taught water rescue and CPR, as well as how to administer oxygen and use an automated external defibrillator. Upon successful completion of the 40hour course, guards are certified for three years in First Aid and Lifeguard Training, and receive one-year certifications in CPR, AED Essentials and Oxygen Administration.
The training that lifeguards undergo is certainly comprehensive, but it's also fairly taxing on most teen budgets. Swanson tries to alleviate the financial strain on her employees by offering them full reimbursement for the initial training costs if they agree to remain on staff for at least six months. Experienced guards who wish to train newcomers can take instructors' training courses for half the regular price. "I try to think of anything I can, as I'm sure other aquatic directors out there do," says Swanson.
Many times, aquatic directors are able to pull those strings because of strong relationships with their lifeguard certifying agencies. The Red Cross' Reno County (Kan.) Chapter, for example, doesn't charge its local aquatic facilities for the cost of lifeguard training materials if the Red Cross is allowed to periodically use those facilities to host its programs. "Our goal is to teach kids safety," says Marilyn Cade, the Reno County Chapter's health and safety director. "Training facilities, at least in our area, are hard to get ahold of. We have to work together because it benefits both of us."
Resources are also hard to come by in Charleston, W.Va., where Paula Martin is the parks and recreation department's senior programs coordinator and aquatics supervisor. Poor economic conditions in that community led Martin to apply for an $11,000 federal grant to subsidize the cost of training new lifeguards. The money was part of $2.5 million in funding handed down from the U.S. Department of Housing and Urban Development to Charleston's Office of Economic Development for programs in the city's low-income neighborhoods.
The two-year grant mandates that recipients of the $150 training scholarship be Charleston residents from low income families, who once certified agree to work for the city for two years. To maintain morale, throughout the training Martin and her staff took great pains to make sure that the scholarship youths weren't teased by their peers for their lower economic status. "We put them all together in the same class," she says. "The kids didn't know who paid and who didn't."
Wages can also be a sensitive subject, considering the current limitations of most parks and recreation budgets. Moreover, a lifeguard staff, although largely seasonal in nature, can represent a substantial labor cost. During the summer, Martin's department carries a full staff of 34 lifeguards, each of whom earns $8 an hour - which she says is the highest lifeguard pay rate in her area. Swanson, meanwhile, is only able to pay her guards $5.25 an hour (head lifeguards earn $1 more). "We have a really good retention rate. We give our lifeguards a quarter-an-hour raise each summer they come back," says Ted Nelson, aquatics and youth programs supervisor for the Hutchinson (Kan.) Recreation Commission. "That helps us stay competitive, maybe, but it's not the biggest incentive. I attribute that to a good working environment and professionalism."
Likewise, neither Martin nor Swanson believes that it's the pay that attracts their guards or brings them back year after year, but rather a pleasant work atmosphere. "We don't do anything extraordinary, we just run good pools," says Martin. "The guards always tell me that they have a good time working for us and that they hope we hire them back next year." Adds Swanson, "You have to make the job interesting. It can be pretty boring when nothing's happening." For that reason, Swanson encourages her guards to compete against each other in lap-swimming contests during their down time.
Aquatic directors can also boost their retention efforts by showing their lifeguards a proper level of respect and support. "We protect them," says Martin. "I always tell them, 'As long as you're not negligent, we'll back you 100 percent.' "
Even so, for many young lifeguards, money talks. In Santa Cruz County, a sliding pay scale dictates lifeguard wages, which were raised last year after a budget increase. Ingraham believes the increased wages have contributed to greater job satisfaction among her lifeguard staff, which averages between 60 and 80 each summer. But even more important, she says, is the fact that the sliding pay scale spells out for lifeguards a legitimate career path. Santa Cruz County guards - who are paid an entry-level wage of $9.89 an hour - can advance several ranks during their aquatic careers, first to positions as lifeguard instructors and head lifeguards, the latter of which offers benefits. Eventually, guards can attain full-time, benefited positions as aquatic specialists, aquatic coordinators or aquatic supervisors. Supervisors start at $19.80 an hour. "You have to offer advancement opportunities," says Ingraham. "A lot of kids wonder, 'Where do you go with lifeguarding?' "
Even elementary school-age youths who have just begun learning how to swim ask that question of Ingraham. She's been able to answer them, and provide them with a peek at what it's like to be a lifeguard, with the help of an American Red Cross program called GuardStart. Tailored for youths too young to lifeguard (the Red Cross recommends hiring guards no younger than 15), GuardStart prepares 11- to 14-year-olds for certification and employment as lifeguards when they come of age. The program runs for about three weeks and provides aspiring guards a foundation of knowledge, attitudes and skills they will later use on the job. Lessons focus on five main topics: prevention, fitness, response, leadership and professionalism.
What Ingraham appreciates most about GuardStart is its versatility. Although program materials are designed by the Red Cross National Headquarters staff, the lessons can be administered according to the individual aquatic director's discretion. "It's open-ended enough to modify to whatever your needs are. But it's got enough details so that if you're short of ideas, you can just look in the book," says Nelson, who like Ingraham uses GuardStart to develop his future staff. "A lot of kids take GuardStart two summers in a row. They ask us if they can do their favorite exercises again, but we try to change it each summer to give them a different experience."
Ingraham, for example, has the freedom to introduce her GuardStart participants to professional lifesavers, taking them on field trips to fire stations so the youths have an opportunity to interact with and learn from firefighters and paramedics. "We also work on swim strokes and do mock rescues. The program's designed to build self-esteem and confidence. It always sells out. In fact, we have waiting lists," says Ingraham of GuardStart, whose $230 fee covers three weeks of course material, admission to recreational swims after class, and field trip admission and transportation. "It's been an incredible success with the participants, but also with the staff. The lifeguards all want to teach the younger kids, and of course, the kids love it because they get to hang out at the pool."
Nelson has used GuardStart to implement a "shadow guarding" program in which participants, after the GuardStart course is completed, become junior employees under the watchful eye of senior lifeguards. Shadow guards are scheduled to work two- or three-hour shifts ("They clock in just like the guards do," says Nelson), during which they're paired with a senior guard, who takes on the additional role of mentor. "The senior guards tutor them, teach them about trouble spots in the pool, the good parts of the job, the bad parts of the job. They're more like older brothers and sisters," says Nelson. "As a double benefit, the senior guards are honored that we thought highly enough of them to serve as mentors."
To prevent potential liability issues, Nelson's shadow guards are instructed to serve only as assistants to the senior guards, regardless of the emergency. "We've spelled out some guidelines. The junior guard has some degree of responsibility, but at no time does he or she assume the duties of a senior guard," he says. "He or she can help spot things, or even assist patrons on the slides." Ingraham also allows her GuardStart participants to work at the pool during the summer, offering them positions as volunteers or paid aquatic aides. "Aquatic aides help with the swim lessons. They have to be there," she says. "Volunteers run the top of the slides. They don't have to be there, but we schedule them anyway, and if they show up, great."
Nelson believes that introducing youths to the lifeguarding atmosphere at an early age through shadow-guarding programs like his can only benefit aquatic directors in the long run. "We get to see what they're like as employees. Once they come of age, we know them and they know us. It cuts through the initial stuff of having to get to know a new employee," he says. "Not every one of them comes back to work for us. Sometimes they decide they don't want to be a lifeguard. But many do come back."
Take, for example, Nelson's star pupil, who started in Hutchinson's first GuardStart course three summers ago and returned every year, eventually advancing to lifeguard, then to head lifeguard. Two summers from now, after his first year in college, he'll have an aquatic manager position waiting for him. "We have been really impressed with this young man, and we like to promote from within," says Nelson. "We're always trying to look ahead, kind of like a college team that's looking to fill the holes once the seniors move on to the real world."