Like it or not, aquatic facilities require systematic and comprehensive yearly maintenance in order to retain their vitality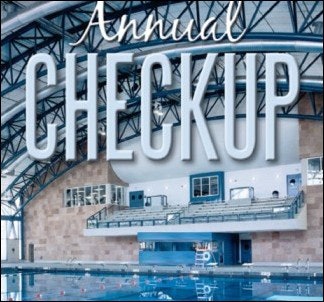 The idea of shutting down an aquatic facility for reasons other than an emergency seems almost incomprehensible. Yet, an emergency situation is exactly what pool operators will eventually face if they don't make time for annual maintenance tasks.
Scheduling and planning this involved procedure is easier said than done, though, as each day that a facility is closed results in lost revenue. But failure to perform annual repairs and maintenance checkups can lead to (among other things) a decline in water clarity due to a buildup of dissolved solids, poor lighting thanks to burned-out bulbs, and loose deck tiles because of eroding grout.
Figuring out when to administer annual care to your facility, what to do after you drain the pool and how to develop strategies to best accomplish those tasks can be challenging. Here's a primer to get you started.
Selecting a time of the year to close your facility and prioritizing the projects that are to be performed during that time is tricky. Begin by reviewing annual schedules to determine the weeks with the lowest usage patterns. These will vary depending on the type of facility. Operators of university aquatic facilities may wish to perform their maintenance tasks during the summer months between either spring and summer or summer and fall semesters, given the reduced student load and general absence of swimming and diving teams during this time.
On the other hand, YMCAs and recreation centers get much busier during the summer months with camps, swimming lessons and open-swim sessions. The weeks leading up to the end-of-the-year holidays in December may be a better time for these facilities to undergo large-scale maintenance tasks.
Whatever time period is selected, it should be adhered to every year. This allows staff members, patrons, teams, coaches and administrators to plan accordingly for a regular shutdown period. After all, no one likes unpleasant surprises - particularly ones that may lead to lengthy inconveniences or financial loss.
Be sure to notify all involved parties well in advance of the planned maintenance. Regular rental groups, instructors and lifeguards should be informed via letter and, if possible, in person. Indicate clearly to all employees whether the shutdown period will result in lost wages. Some facilities give staff members the option of assisting with cleaning tasks. Providing this alternative or temporary employment elsewhere in the facility helps retain personnel who might otherwise have to look outside of your operation to maintain a steady paycheck.
Information regarding the maintenance-related closure should be provided to front-desk employees and guest services representatives to pass on to facility users and callers inquiring about the pool. Including this information on the facility's web site and in its outgoing telephone messages also assists in alerting patrons to the closure. If you distribute a newsletter, explain maintenance protocol in a small story.
A final step in informing patrons is to place pool-closure signs on the deck and in all locker rooms. These should be posted several weeks before the actual closing to allow for as much advance notice as possible. Undoubtedly, someone will claim not to have been informed, but by adhering to these methods, you can comfort yourself with the notion that you tried your best to notify as many people as possible.
Having cleared the pool area of patrons, what kind of maintenance should you do. Here are seven main areas to address:
1. Draining the pool should be at the top of your maintenance to-do list. Doing so eliminates the buildup of total dissolved solids in the water and allows for easier regulation of water chemistry when refilling. Failure to do so may lead to difficulty in controlling pH, which can result in an unpleasant odor and decreased effectiveness of disinfecting agents such as chlorine or bromine. These factors will make your pool a less pleasant place for patrons to swim, and trying to correct the problem later may cost you a lot more than a few days of lost revenue - and probably more than the cost of chemicals and labor required to balance an increasingly temperamental pool problem. That's to say nothing about how ornery your facility's users could get if subjected to increasingly foul environments.
2. Draining the pool also allows for the direct access needed for basin maintenance. Tile should be regrouted, and any loose or broken tiles should be replaced to prevent injury to users and minimize the potential for leaks. Scum buildup should be removed using acid wash. Plaster basins may require paint jobs. It's important to provide breathing protection for workers handling paint or chemicals in the basin. This helps prevent lung damage and lowers the risk of someone being overcome by fumes. If possible, increase air circulation in the indoor pool areas during painting and chemical work by opening exterior doors and allowing inside air to escape. When workers are in the basin, be sure to place a ladder in the deep end. Because the pool bottom can often be slick, crewmembers can easily slip and wind up trapped in the deep end.
3. Plumbing is often overlooked as part of a pool's maintenance project. But pipes, pumps and filter tanks must be regularly inspected to identify leaks. Damaged fixtures can be replaced much easier during this period, because the pool is already drained and the filters are deactivated. This may also be a good time to replace filter media required for sand and gravel filters. These normally have a life span of five to seven years, but if you notice poor water quality soon after a backwash, that may indicate the need for more immediate media replacement. Unlike most pool-equipment replacement jobs, it's best to have the manufacturer or a service agency handle this task to ensure proper installation.
4. Deck fixtures such as ladders, starting blocks and diving boards should be inspected several months prior to the annual maintenance period, and again on a regular basis throughout the year. A hostile environment of humidity, chemicals and constant use can cause these fixtures to weaken and corrode. Inspect diving boards and steps for cracks and test restraining bolts for looseness. If a pre-maintenance inspection reveals damage, order appropriate replacement parts in advance so they're on hand for installation during the maintenance period. If fixtures remain in good condition and don't need replacing, they should nevertheless be thoroughly cleaned. Diving board and starting-block surfaces should be disinfected using a 5 percent chlorine-bleach solution, and stainless steel surfaces should be scoured with steel wool to remove rust and scale buildup.
5. Maintenance time offers a good opportunity to take inventory of current pool supplies and equipment. The number and condition of pull-buoys, lifejackets, kickboards, rescue gear and other equipment can be determined, and tallies can be compared with previous yearly totals to determine the loss rate due to use and theft. If ordering supplies such as pool chemicals and cleaning gear, be sure to check the shelf life of these items first. Many chemicals lose their effectiveness if stored for longer than a year. Others, such as the pH indicator phenol red, may last just a few months. Only order chemicals that you know your facility will use within the next year, and write on the packaging the date that new shipments arrived to provide a frame of reference for their life expectancy. Label such equipment as backboards and rescue tubes with your facility name to help reduce theft.
Worn-out and unneeded equipment can be removed to save space or make room for new acquisitions. Storerooms can also be cleaned and reorganized during the annual maintenance period. These simple tasks make operation of the facility easier and more comfortable for employees and users alike by creating a sense of organization and freshness. A word of caution: If you are planning to give away old aquatic equipment to charitable organizations, your facility may bear some liability should a future user be injured using that equipment. To protect you and your facility, write a letter transferring ownership to the charitable agency. This will reduce your liability by making it clear that your facility no longer has any ownership of the item.
6. Inspect doors, doorframes and walls for damage. Humid environments and corrosive chemicals can create significant structural stress. In some cases, replacement doors, hinges, locks and bolts may be needed. Again, prior identification of the need for new items will be necessary in order to purchase replacements before the maintenance routine gets under way. Even if you don't need to perform structural work on doors and walls, painting them will help brighten the decor and assist in protecting against the effects of chemicals and humidity. Be sure to also carefully inspect walls and ceilings for rot during this period to ensure the structural integrity of the pool enclosure.
7. Repair or replace, as necessary, overhead lights. Use a scissors lift or other maintenance lift device to access burned-out overhead bulbs. Repairs to or replacement of damaged or lost ceiling tiles can also be accomplished during this time. Pools with fans or air-circulation vents often accumulate large volumes of dust on ceiling-level fixtures. Cleaning them creates a more pleasant and sanitary atmosphere, and allows for better air circulation.
How do you accomplish all of this? Large institutions such as colleges, universities, military installations and large municipal agencies may have many painters, plumbers, ironworkers, electricians and carpenters on staff who can complete aquatic facility maintenance. If so, a planning meeting at which the aquatic director, maintenance supervisor and appropriate recreation and/or athletic directors are present should be held several months prior to the projected work period. During the meeting, prioritize projects, determine how they will be paid for and set a timeline for completion. To eliminate any misunderstandings regarding project dates and the scope of the work to be done, written minutes of this meeting and subsequent meetings should be kept and distributed to all attendees.
Unlike large institutions, smaller entities without major support staff may have to contract with individual agencies for some or all of the tasks associated with the maintenance project. This complicates matters and requires greater planning.
The number of days that a facility will remain out of commission is always a chief concern, but it's a tough timeframe to predict the first time around. To help minimize the shutdown's length, stage equipment in one of the facility's storage areas prior to the actual maintenance period. This allows for an immediate start to such projects as filter repair and deck regrouting as soon as the facility is closed. Because it's a time-consuming job, requiring days for larger pools, drainage of the basins should begin as soon as the last swimmer exits the aquatic area. The sooner draining is under way, the sooner projects are started, thus reducing closure times.
Project foremen should be familiar with the facility, including parking arrangements and loading docks for their crew members. Access to the worksite should be clearly understood and keys to the facility issued prior to the project's start date. All aquatic facility staff members should be aware of whom to contact regarding the project. Do not allow contractors into the facility alone after business hours or on holidays; always ensure that a staff member is present who can allow maintenance workers access to locked areas, provide guidance and answer questions. Ideally, the facility director or an assistant should be on the scene at all times, monitoring the work being done.
For the safety of workers and patrons, be sure to post "Danger! Pool Drained" signs on doors leading to the pool area. Maintain facility security just as tightly as if the area were open. A patron, maintenance worker or trespasser inadvertently diving or falling into an empty pool could be injured or killed, opening your facility up to litigation.
In addition to workers and users, local water departments should also be informed of the pool draining. The discharge of up to one million gallons of water could seriously overload sewer systems, creating backups and floods. Remember that pool water must be discharged into storm sewers (never sanitary sewers), as the chlorine destroys the bacteria necessary for treating sewage.
As time goes by, you'll gain greater knowledge and insight into performing facility maintenance faster, easier and cheaper while developing a good idea of how long future shutdowns will last. Create a binder that includes important planning information that can be referenced throughout the year and by new employees. Information should include equipment and supplies needed for maintenance procedures, timelines, and names and phone numbers of important contact persons. Update this manual at the conclusion of each maintenance period to keep the details current and relevant.
Many aquatic facility managers think that they can't afford to close their facilities for the length of time required to properly complete annual maintenance. But failure to do so results in decay of the pool infrastructure and erosion of both its basic and its most impressive features. The end result? Gradually decreasing satisfaction among your patrons and increasing maintenance woes within your pools.
If small problems go unattended, they become larger problems. Eventually, a maintenance shutdown may be necessary because of equipment or infrastructure failure. Unfortunately, in this event, the timing of the closure is left to fate - not you.