A history of AB's prestigious Facility of Merit awards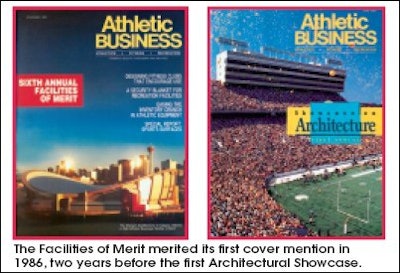 This issue marks the 24th year that AB has presented Facility of Merit ™ awards, which celebrate 10 outstanding examples of sports and recreation facility architecture. As the originators of the awards concept for what was in 1981 a tiny segment of the broader category of public architecture, we had to draw up our own blueprint - determine the criteria, identify architects who could serve as "experts" on an area of specialty that hardly existed, develop a scoring system and so forth. For the first few years, we neither published the criteria nor the names of the judges, nor even the names of the other facilities in competition.
It wasn't until 1988 that we first published a "Showcase on Architecture," which gave our readers a glimpse of all the facilities in competition for that year. That the 24th annual Facility of Merit awards appear in the same calendar year as the 17th annual Architectural Showcase remains a source of some confusion. Every spring, we are inevitably asked by those unfamiliar with the process whether the facilities featured in the June issue are the winners. Just as inevitably, every July we come across a newspaper somewhere in America proudly announcing that a local architecture firm has "won" by being included in the Showcase.
Things are even more confusing now that other magazines are jumping on the sports architecture bandwagon. One competitor (Rec Sports & Fitness) has begun running a Facility Showcase every July (albeit with just six facilities this year), and another (Recreation Management) just published its 2nd Annual Innovative Architecture & Design Awards. In the latter case, similarities with AB abound, from the seven judges to the listed criteria to the projects shown, three-quarters of which also appeared in AB's Showcase.
Since these other efforts have been launched, we have begun fielding an increasing number of questions both from facility owners and architects about the ways in which the Facilities of Merit program differs from other awards programs. This much is clear - there's a lot about the process we use, and the process of judging sports architecture in general, that is misunderstood:
• How do facilities get nominated? They're not; projects are submitted by architects and, occasionally, facility owners, and all projects appear in the June Architectural Showcase. There is an entry fee to help defray printing, production, mailing and judging costs. (By contrast, an appearance in Recreation Management, since it lacks a separate "showcase" issue, is free to winners only. "Winner" profiles appear side by side with "Highlight" profiles, which look like honorable mentions but are in fact non-winning projects for which the submitting firm has opted to pay a fee to showcase.)
• How is the judging handled? Every summer, we convene seven judges in Chicago to pore over site plans, floor plans and photos, and to openly and vigorously discuss the projects.
• How are judges selected? Interested architects and consultants judge on a rotating basis, and the editors try every year to achieve something approaching geographic and experiential balance.
• Do judges judge their own work? No. Judges recuse themselves from evaluating any project on which they have worked. Even still, the editors go out of their way to choose judges with limited numbers of projects in that year's competition.
• Are the submittals judged anonymously? No. All the entries are judged after already having appeared in the June issue, and many if not most judges are extremely familiar with their peers' work.
• How long does the process take? Two days. The first day is spent winnowing 100 or so entries to a manageable number (usually about 30).
• What is the standard for a winning facility? There is no set standard, no "number." The Day One survivors are evaluated using six criteria, and then the judges "vote" individually for 10 winning facilities overall. Collective results are then tallied and posted, and through continued discussion the winners are chosen.
We've arrived at this method of judging over a period of years and feel it best serves the firms that submit projects - but not everybody agrees with us. For example, the AIA (American Institute of Architects) feels strongly that award submittals be judged anonymously, on the theory that judges should be as objective as possible. We feel transparency works better, and gives all the judges the same knowledge. In addition, with all the judges in the same room, and with the raw numbers used as guideposts only, it is simply not possible for one judge to influence the outcome. (A common misperception is that judges' facilities win an inordinate number of Facility of Merit awards, but the numbers don't back that up: In a typical year, panelists will have 14 total projects among 95 in competition, of which two will win.)
A similar criticism holds that judges work better in isolation, beyond the influence of their fellow panelists. For the first several years of the Facility of Merit awards, AB boxed up and sent all the submittals to each judge in turn (as Recreation Management does), but the problems with this soon became obvious. Numbers shouldn't be the final word; no one can say that a facility scoring 89.4 is an award-winning facility, while another scoring 88.7 is not. We feel that, as with jury deliberations, spirited discussion is a vital part of the process, allowing each judge to go to bat for a particular project's merits, or to point out an operational detail that the other panelists may have missed.
Unfortunately, any awards program honoring architecture involves making subjective judgments about aesthetics. In this way, architecture is no different than gymnastics or figure skating, with all the potential to generate (as those sports have) lingering judging controversies. The pictures count for a lot, and the quality of the pictures is important, too. But that doesn't mean that, as critics sometimes charge, architecture awards are "just a beauty contest." To the extent that they can, the Facility of Merit judges make determinations about (among other things) how buildings fit into their surroundings, how well or how poorly they operate, how they meet the clients' goals and how they will stand up to the test of time. When they choose to honor a building, it may be because the building plan is particularly innovative, or because its construction was particularly cost-effective, or because the design is particularly grand - or simple.
In 1981, a note accompanying the first publication of the Facility of Merit awards insisted that it "is not an architectural contest." By 1991, the explanatory note read that the projects "are not judged on architecture alone." The makeup of the judging panel changes from year to year, the criteria have changed gradually over time, but in the end the process every year produces a list of sports and recreation facilities of the highest quality. Turn to page 66 - you can make your own judgments.