At an annual Oklahoma City event, lifeguards put their skills to the test.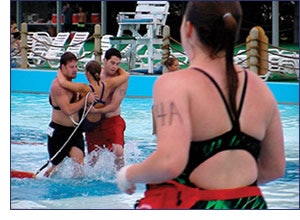 Without fail, they show up every year-the kids who have all the wrong ideas about what qualities make a lifeguard a winning lifeguard. It's a good thing, then, there are people like Chris Moler, who next month will help stage the 20th annual Southwest Regional Lifeguard Games, held at Oklahoma City's White Water Bay, a Six Flags-affiliated water park. Moler, the Games' volunteer director and owner of aquatic consultancy STAAR Solutions, is more than ready to show this year's crop of "stud ducks," as he calls them, what lifeguarding is really about.
Lifeguarding is not "about speed and being buff," Moler says. "It's about knowing what you're doing."
Southwest Regional Lifeguard Games contestants should beware, because Moler knows what he's doing. He and the staff at Oklahoma City Community College-which hosts the event and where Moler was formerly director of recreation and community services-have spent the past two decades fine-tuning an all-day program featuring as many as eight events that test a guard's full skill set. Sure, trials of strength, speed and endurance figure prominently into the schedule, but so do events that measure guards' knowledge of basic and advanced lifeguard rescue techniques and their ability to recognize various emergencies. And then there are events that assess a lifeguard's entire complement of skills all at once.
Take, for example, Moler's favorite event, the Swim-Tow-Rescue. This four-person relay race takes place in a wave pool, requiring the first guard to swim a distance of at least 50 yards through choppy waters to one of his or her team members, who plays the part of an incapacitated, or passive, victim. After the first rescuer has towed the victim to safety on the pool deck, the victim becomes the next rescuer, and he or she dives into the pool to save a third teammate. This series is repeated once more, before the event's final stage, which requires the four-person team to assemble on the pool deck to identify and treat two additional "victims." One victim (a mannequin) requires the attention of three guards, who administer CPR (in the past, this event has tested guards on various treatments, including oxygen and AED administration). Meanwhile, the fourth team member treats the second victim (a Games volunteer), who is suffering from an injury unknown to the contestants. "The other person has to figure out what the injury is," says Moler. "It could be anything from a bee sting to bleeding to broken bones to an epileptic seizure. Every year it's different."
And that only describes what is taking place with one team. Add to this commotion four more teams navigating the pool and deck area during this same event, and it's easy to understand how quickly competitors' stress levels can rise-and how crucial it is for them to remain focused. "We judge how well they meet the objective in terms of efficiency, teamwork and time," says Moler. "They have to be able to recognize what's happening and be the first one to get there, because if they don't get it right, their time doesn't make a bit of difference. They're not going to get the points. But if they dealt with the injury correctly, even though their times may have been slower than those of some other people, they get a perfect score."
Rarely are all Southwest Regional Lifeguard Games participants trained in the same discipline. Coming from a variety of privately and publicly operated aquatic facilities in five states (the event regularly draws teams from Texas, Arkansas, Kansas, Missouri and Oklahoma), some contestants have been taught the Ellis & Associates way, others are American Red Cross guards, and still others are YMCA- or StarGuard-certified. That said, all Southwest Regional Lifeguard Games organizers and judges-many of them volunteers from the Oklahoma City area-are certified lifeguard instructors in at least one lifeguarding program. Having cross-trained officials on hand allows for a fair judging process and for the design of events based on common elements of the four major training programs.
But creating events that fairly and accurately assess the skill levels of guards with different training backgrounds involves a bit of tinkering. Many events of the Southwest Regional Lifeguard Games have evolved as the result of trial and error. Others haven't required Games officials to make modifications, but have instead improved over the years with the help of advances in life-saving technology. "Twenty years ago, we used to have to put a towel around the head for an immobilizer. It used to take contestants 10 to 12 minutes to do spinal," Moler says of the Games' second event, the Spinal Injury Management Activity. "Now we have all these great backboards, and guards are doing the event in about three minutes-from the time they get in the water to the time they exit."
What has also changed throughout the Southwest Regional Lifeguard Games' history is its number of participants. It has grown from an eight-team event in 1985 to one that now regularly hosts 24 teams of six senior lifeguards (ages 15 and up) and 12 six-guard junior teams (ages 11 to 14). "Back when we started this, junior lifeguards didn't even exist," says Moler.
Today, junior lifeguards are an integral part of such competitions, which are also taking place in other parts of the country. Each July, lifeguards employed by public recreation agencies in the greater Bay Area are invited to attend the Northern California Lifeguard Games. Now in their 16th year, the NorCal Games attract an average of 30 teams from 25 agencies, says Todd Halvorson, a recreation program specialist with the city of Walnut Creek, which organizes the event.
Lifeguard competitions are still in their infancy in Orlando, Fla., where Tom Werts, an aquatics specialist with the American Red Cross of Central Florida, has for the past few years been trying to establish an annual event for both senior and junior guards. While support for a junior guard event remains elusive, Werts says that he often invites local aquatic directors to bring youths enrolled in their junior lifeguarding programs to watch the senior guards compete at the Orlando games. "It's almost like a recruitment event for them," he says.
Media coverage, too, can serve as a valuable publicity tool. Moler says that each year the Southwest Regional Lifeguard Games are well covered by local TV news outlets. For that, he's thankful and satisfied, because the event operates on a break-even budget. The $100 registration fees paid by each team just barely cover staging costs. "If we make $300 or $400 off the event, that's awesome," says Moler.
The true purpose and value of lifeguard competitions such as Oklahoma City's Games have nothing to do with revenue generation. "It's designed to promote the profession of lifeguarding," says Moler, noting that many pool managers offer a trip to the Lifeguard Games as a reward to their hardest-working guards. "If you want to be on the team and go to Oklahoma City, you have to show up on time, volunteer for the crappy shifts and do well during in-service training. Pool managers don't necessarily send their best guards to make sure they bring home a medal. They send the guards who've earned the right to be on the team."