Heeding member suggestions, a Wisconsin health club launches its own water park.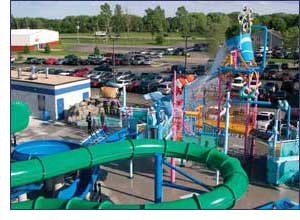 No health club operator in the nation paid closer attention to Doppler radar last summer than did Pete Simon. "I was on weather.com every day, over and over, watching the clouds move," says Simon, one of the owners/operators of Prairie Athletic Club in Sun Prairie, Wis.
On June 1, Simon's club opened what some consider to be the most extensive outdoor recreation offerings ever assembled on health club grounds. The $3 million renovation's centerpiece is Dolphins Cove, a 36,000-square-foot water park featuring more than 800 feet of high-speed slides, a lazy river and some 30 pieces of interactive water-play equipment, including one attraction that dumps 250 gallons of water from a height of 20 feet every 10 minutes. Considering the recreational outdoor pools commonly found at health clubs, Prairie Athletic appears to be charting new industry waters.
"There are clubs that have invested in outdoor facilities, but there aren't many" that have done so on the scale of Prairie Athletic Club, says Bill Howland, spokesperson for the Boston-based International Health, Racquet and Sportsclub Association, adding that the reason typically given for such investments is that "families that would not normally join private clubs needed somewhere to go as a family in the summertime."
For a club that aggressively markets itself as a family destination point -- devoting significant attention and resources to ballet, gymnastics and parent-child group exercise classes, among other offerings -- a water park seemed like the logical next step for Prairie Athletic. "I think what makes us love our jobs is seeing families hanging out here on weekends and weeknights," Simon says. "When we started seeing that families weren't here as much in the summer because Johnny is now 8, and he and his buddies want to do something more than just swim in the same pool all the time, it bothered us. We felt like we weren't doing our jobs. That's when we started thinking, `We need more. What's going to keep Johnny here for another four years?' "
The answer to that question began to appear repeatedly in the Prairie Athletic Club suggestion box two years ago. While the upper Midwest may seem like an odd location for an outdoor water park, Sun Prairie is situated roughly an hour's drive due south of the self-proclaimed indoor water park capital of the world -- a small but popular resort community called Wisconsin Dells. Some club members expressed regret that enjoying a water park experience meant not only traveling a substantial distance, but paying daily access fees that rivaled their annual club dues. "Why not build a water park at the club?" they asked.
Simon admits that club administrators didn't take the idea seriously at first. Then, in the spring of 2003, the club surveyed its members, asking if they would be willing to pay for a water park if one became a reality. The response was positive, and construction began in earnest that fall. By the park's opening last June, some 1,000 families had upgraded their memberships to include water park access, for an additional monthly fee of $12. The club has capped monthly fees at $99, regardless of family size and desired privileges.
Having members locked in for an entire year eases some of the club's ongoing revenue concerns, but the water park's first summer of operation -- one that yielded only three 90-degree days and record rainfall totals between June 1 and Labor Day -- proved draining. The number of days during which inclement weather forced the park to close far eclipsed the dozen or so that Simon considered "good water park days."
"Seventy-five degrees is great for fishing and golf, but it's no good for a water park," he adds. "The members are paying for the park whether it's nice or not, but ultimately we count on concessions and we count on the people staying members. One thing we can guarantee is that people who don't use the club don't continue their membership, and it's no different with the water park. There are probably going to be more people who won't be back for the water park this year than we anticipated."
Meanwhile, overhead costs associated with the park -- which included tripling the number of active lifeguards, staffing each of three concessions areas, and heating and pumping 9,088 gallons of water per minute (at a season-long utility cost increase of $27,000) -- remain the same whether the park is crowded or not. "For liability reasons, it's hard to open only part of the park; if the park's open, it's open," says Simon. "You may have 13 guards and all this water running for two families, and it's misting outside. The tough call that we always have to make is whether or not to be open. We tried to open for at least part of the day most days, but the tough part was there were just so few good days."
Other than the weather, which members realize is out of Prairie Athletic Club's control, complaints among first-year water park users included the club's decision to occasionally welcome non-members into the park -- sometimes by the busload. The club sells a limited number of day passes, and is considering group sales during off-peak hours for this coming season. "It's a small community, and we want the public to be able to come in on occasion," says Simon. "But that's definitely not our focus. We don't want long lines on a regular basis. We're really trying to make it comfortable for the members first."
Proximity to the Wisconsin Dells and its collection of 17 indoor water parks presented not only the impetus for the Dolphins Cove development but also an ongoing challenge -- what Simon calls the "wow factor." "Most water parks understand that their guests may visit them once a year. They need to wow them for one day, and they're hoping that those people spend a lot of money that day," he says. "We're just not going to wow them every time, so I think the little things, like service, are critical." That means easy check-in, friendly lifeguards, quality food and overall cleanliness, Simon adds. "You do the things you always did, and the same things that were important still are."
To combat the club's site constraints while still providing an entertaining experience, water slides were specified with straight run-outs at the bottom as opposed to larger pool splashdown areas, according to Scott Stefanc, project designer for Water Technology in nearby Beaver Dam. Meanwhile, the lazy river added even more freeform interest to the site. "You can get those going in multiple directions within a footprint," Stefanc says. "And because it's a consistent depth, you don't have to deal with the grade changes that you would on a typical pool."
One obvious advantage Dolphins Cove has over other water parks is convenience. On a sudden impulse, member families can spend an hour at the park before nightfall any day of the week -- or every day of the week. "Our families love it," Simon says. "It was the first year, and they were so excited they swam when it was 72 degrees."
But what about single members or couples without kids? To minimize the mingling of hardcore fitness buffs and hyperactive preadolescents, the water park's design incorporates a separate entrance and changing areas located at the rear of the club. Says Simon, "We try so hard to be the athletic club to the person who just wants the fitness, but we also want to be a family center, a place to go where you can hang out with your kids."
Has Prairie Athletic Club been quick to catch the wave of the future? Some industry insiders remain skeptical of the club-based water park concept. "I don't think it's a trend," says Glenn Colarossi of Colarossi Spa & Health Club Consulting & Management in Stamford, Conn. "What business are we in? Are we in the amusement park business or the health club business?"
Prairie Athletic Club, at least, has successfully blurred those lines to some degree. Roughly 30 seniors walked against the current of Dolphin Cove's lazy river last summer during regular morning exercise classes. And there's no denying the positive fitness impact the club's water park has had on local youths, including Simon's 6-year-old son. "I don't know how many times he has climbed those stairs, but it's no miracle that he's skinny," says Simon of the park's slides. "That's a lot of work. You're burning calories dragging that tube up there."
As for the club's financial health, Simon views the water park less as a profit center and more as a value-added amenity -- even a potential competitive advantage. Prairie Athletic's original business plan for the water park project placed its break-even point at three years, but last year's unseasonal weather calls for a slight revision of that forecast. Even so, Simon sees sunny days ahead.
"Last year was good, but it wasn't as good as it could have been," he says. "I think last year told us that if we get some good weather, the future could be great."