A flood of equipment options - from high-tech robotics to time-tested manual tools - is available to keep commercial pools operating efficiently and looking their best.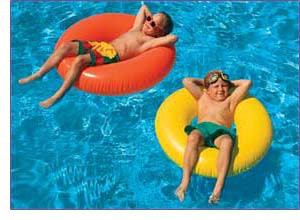 Pool operators are part-time chemists. They are in near-constant sensitivity mode, acutely aware of the delicate balance of sanitizers and other pool additives that ensure their water is resistant to bacteria's invisible threat and safe for steady public use. But these same operators must also be as cognizant of the signs of pool-water uncleanliness that they and, more important, their patrons can actually see. While bacteria-induced illness is one sure way to give a swimmer pause before returning to a given body of water, so is the presence of silt along the pool bottom and dead insects on its surface.
Keeping pools clear of dirt and debris starts with smart design. After all, the best way to prevent the accumulation of foreign matter is to never let it enter the pool in the first place. For indoor pools, this means positioning shower facilities -- stocked with soap and complete with signage mandating a soapy shower before pool entry -- between the changing area and the pool entrance. While pool patrons are the number-one carrier of foreign matter into indoor pool water, some aquatics experts estimate that fewer than 1 percent of all patrons actually shower before using a pool. Whether or not soap is used by those who do shower is anybody's guess.
The introduction of some human by-products (such as hair, lost adhesive bandages and lint from swimwear) is virtually unavoidable, but such impurities as body oils and cosmetics can easily be mitigated via a simple soapy shower. Water-aerobics instructors and other pool personnel should make every effort to verbally enforce shower rules -- not just that patrons shower, but shower properly. Says a representative of one major pool equipment manufacturer, "I firmly believe that a mandated pre-entry nude shower using soap is the single most important change our industry could make. This requirement would positively impact the formation of chloramines and improve indoor air quality, as well as help in preventing recreational water illnesses by minimizing the amount of transferred bacteria from bodies to the water."
Of course, patrons carry the same bodily impurities into outdoor pools, where showering is considered even less common. But outdoor pools must also battle what nature throws at them. Design should include such considerations as positioning the pool so that leafy shade trees -- if any exist or are specified -- are at a suitable distance from the pool surface and downwind, surrounding the pool with fencing of sufficient height and mesh to prevent off-hours trespass of both humans and animals, and specifying pavement, stone or high-quality sod instead of mulch for landscaping elements. The pool deck should be kept clear of loose debris and bird droppings, so as to prevent their migration into the pool via wind or patron foot traffic. Concessions areas should be confined, and the sale or carry-in of products in glass containers should be strictly forbidden. (Should glass enter a pool, the recommended procedure is to drain the pool, clean the pool bottom, change the filter media and refill the pool.)
Inevitably, though, dirt and debris find their way into outdoor pool water, compromising its chemical balance by requiring chlorine and other sanitizers, as well as pool filtration equipment, to work all the harder to eliminate their presence. Prompt removal of the foreign matter, then, becomes critical to keeping both the pool's proper water treatment and aesthetic appeal intact.
Plenty of tools exist to assist pool operators in keeping their water sparkling clean, and the technology found in some of today's pool maintenance equipment is nothing short of space age. Robotic vacuums, for example, are a sort of underwater cousin to NASA's Mars rovers -- traversing pool bottoms and walls automatically or by remote control. Almost all feature rubber tank-like treads and cylindrical scrubbers, while some add the power-washing capability of high-pressure water jets. As these technologies advance, manufacturers have striven to introduce more-efficient model designs with fewer moving parts.
Automatic vacuum programs allow for an Olympic-size pool bottom to be cleaned in 12 hours or less (some companies claim less than five), with various models of various sizes (up to 30 inches wide) filtering between 4,000 and 10,000 gallons of water per hour. Considering that commercial pools are vacuumed at least weekly, if not daily, the labor savings can be significant.
Some units come with an optional infrared obstacle-avoidance system, and others can accept an air-sensor accessory that detects zero-depth entry areas in child-play areas and along pool entry ramps. In both cases, these units automatically reverse direction and continue cleaning.
The remote function allows for poolside manipulation of the unit for quick spot cleaning when time doesn't allow for a full program to be run. Remotes also may be necessary to navigate robotic units along pool walls, steps and inclines, although some models are programmed to climb walls automatically with (for example) every seventh cleaning pass. A robotic cleaner even exists that uses mathematical algorithms to calculate pool-floor dimensions and then programs itself to follow the most efficient cleaning pattern possible, reducing total cleaning time to as little as one hour while conserving energy. Says another major pool equipment manufacturer representative, "Consumer robotics is coming of age, expanding beyond military and entertainment applications to more practical functions that prove increasingly useful and affordable for day-to-day activities."
Indeed, robotic technology designed primarily for the residential pool consumer may hold future promise for the cleaning of commercial pools. One particular cleaning unit serves the dual role of vacuum and skimmer, using varying jet propulsion to alternately hug the pool floor and rise to the surface based on a timed program.
Automation aside, a wide selection of sophisticated manual vacuum systems also is available to commercial pool operators. These include lead-weighted flexible polyethylene vacuum heads that fit on the end of telescopic poles and those made of chrome, bronze and anodized steel that are towed by one or more individuals using a rope. The flexible vac heads are ideal for low-flow suction applications and travel on polyurethane wheels that are height-adjustable (depending on desired level of suction) or can swivel (for ease of mobility). These heads range in width from 14 to 42 inches, with flexible debris-guiding strips and as many as three suction ports, pulling material both large (leaves) and small (silt) equally well from the entire width of the head.
Portable, self-contained electric vacuum systems employ as many as three cartridges housed in a deck-mounted canister to filter and return up to 8,000 gallons of water per hour directly to the pool. This not only eliminates unnecessary wear on the pool's main circulation mechanicals (and in fact can complement the main filter during heavy bather loads or replace it temporarily in the event of a mainline failure), but also eliminates the need to backwash the main pool filter after vacuuming, preserving heated and treated pool water in the process. Backwashing is further abated by treating the pool water with liquid enzyme additives or by treating the filter media (an estimated 80 to 90 percent of all commercial pools use sand) with a chemical rinse specifically designed to dissolve scale, rust, hair, cosmetics, body oils, suntan lotions and other impurities that accumulate in the sand and compromise its effectiveness.
Self-contained vacuum systems often come equipped with their own hair and lint strainers, but traps designed for leaves, twigs, acorns, hairpins, pebbles, coins and other large debris can be added to systems that employ the pool's main filtration system, catching such items before they reach the skimmer or pump basket. Another type of self-contained vacuum system, powered by either gas or propane, has been designed to float on the water surface, allowing manually guided vacuum hoses to reach every inch of particularly large pools, including those found in water parks.
Complementing the high-tech equipment are pool maintenance tools that have stood the test of time. These include pole-mounted, flat-faced skimmers, which clear the surface of floating debris, and bag-like leaf rakes, which troll the pool bottom for sunken debris. Both come in a variety of shapes and sizes.
One twist on the traditional skimmer has emerged in the form of a wide-mouthed scoop, propelled through the water from behind by an individual walking in shallow water or swimming through hard-to-reach deep-water areas. If released while skimming, the 5-foot-wide mouth tilts upward, retaining all debris collected within a vinyl-coated mesh net. Advanced leaf rakes, meanwhile, employ water pressure provided by either a garden hose or an automatic pool cleaner hose to lift debris off the pool floor and into the trailing collector bag, which is manually pulled along the bottom on wheels.
A garden hose can also be used to power- wash dirt and debris from pool decks, thus preventing their migration to the water. When attached to a water broom, a garden hose's potential water pressure increases threefold. Steel and brass broom heads ride on ball-bearing casters, come in 36- or 48-inch widths and generate 40 psi of water pressure in five- and seven-nozzle models and 60 psi in a nine-nozzle model -- requiring a fraction of the time and water to adequately clean the deck surface when compared to using a garden hose and simple push broom separately. Unsightly standing water on decks can be controlled using several different types and sizes of roller squeegees.
Back in the water, traditional bristle brushes have their rightful place, and many varieties exist to facilitate specific aspects of pool cleaning. There are brushes specially sized for gutter cleaning, brushes with rounded heads or angled necks for corner cleaning, and brushes that feature a reverse-side squeegee. There are stainless steel brush bristles for cleaning algae stains and crimped plastic bristles for acid washing. Brushes affixed to the ends of telescopic poles can now be fitted with large fins to provide 10 times the downward force on the brush head as it makes contact with the pool's floor and walls. Isolated stains may be attacked using scrub pads, emery boards and pumice blocks. Replaceable nylon scrub pads, in particular, are ideal for hand-held or pole-mounted scouring of a pool's waterline and gutters.
Clearly, as the pool equipment market is flooded with maintenance tools offering time-tested reliability or the latest in technology, pool operators stand to benefit from the vast selection offered by a wide variety of manufacturers. There really is no right or wrong way to keep pools clear of dirt and debris. While one manufacturer touts an energy-saving "breakthrough in robotic technology," another insists that "nothing replaces manual labor -- good old-fashioned brushing and vacuuming."
One major pool equipment distributor cautions that while it's easy to get excited about new developments, potential buyers should do their research before making each purchase. "We don't usually sell equipment the first year or two that it's out," he says. "Make sure that you talk to a number of people that have it and are using it. If somebody is still using something after three years, it's a pretty good indication that it works."
In the end, it takes a combination of wisely chosen equipment, intelligent pool design and strict enforcement of showering rules to ensure that pool chemicals and mechanicals function efficiently, keeping water clean and inviting.