Keeping rehab clinics-and their patients-in good health requires aquatic facility operators to proceed delicately and, in other cases, aggressively.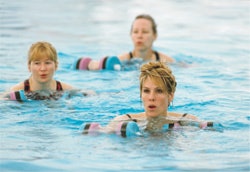 Calling Brad Swendig an aquatic therapy visionary might be a stretch. After all, he didn't really employ much strategy when he decided to use the pools at the Texas-based nonprofit City of Midland Aquatics Inc. to help adults rehabilitate chronic pain, arthritis and other mobility-limiting conditions. At the time, back in the early '90s, his actions simply were borne of necessity-a way to generate revenue for a fledgling facility that initially offered learn-to-swim and competition programs only-not of an effort to redefine the industry with what would eventually become known as "aquatic therapy."
"After I started as a swim coach, it soon became clear that there is a whole lot more to water than I realized," says Swendig, who since 1984 has been the executive director and president of COM Aquatics (which despite its name, is not affiliated with Midland's city government). "By 1993, I really felt like we were reaching a saturation point, so I asked myself how many people in this town of 100,000 would actually participate in aquatics. We needed to find something that had more potential for growth."
So Swendig started adding more pools, including a 30-by-75-foot, 3 1/2-foot-deep therapy pool and a similarly sized 6-foot-deep aerobics pool. And early next year, COM Aquatics will open a $1 million, 7,000-square-foot therapy center stocked with standard land-exercise equipment separated from the therapy pool by a glass wall. "I think we're going to see a lot more patients and doctors who want to use our facilities now, just because it's so difficult for some people to go to two locations," says Swendig, who enlisted a group of 16 area physicians to serve on an advisory board for the new therapy center. "Ultimately, those people who come here are going to move into our traditional group exercise classes. Our goal is to make that transition as seamless as possible."
Aquatic therapy-in-water treatment that uses the warmth and buoyancy of water to increase circulation, strength, endurance, balance and range of motion while decreasing tissue swelling, protecting joints and reducing stress-requires the skilled services of a trained physical therapist or physical therapist assistant. But what many operators of health clubs, municipal recreation centers, YMCAs and other aquatic facilities with either warm- or cool-water pools fail to recognize is that individual and small-group rehab (or aftercare) programming can be overseen by an aquatic exercise specialist or even a properly trained swim coach, lifeguard or other staff member.
"I would probably faint if a health club contacted me and asked what it could do to help our patients when they were done with therapy," says Andrea Salzman, founder of the Aquatic Resources Network in Plymouth, Minn., and an aquatic therapist herself. "The thing we hate most as therapists is that when we discharge our people, we feel like we're letting them down because there is no space for them in our own pools, and the transition to a community pool is such a difficult one mentally."
But the same strategies and techniques that facility operators use to make cancer patients, mature adults and rehab patients feel welcome in their buildings' strength-training and cardiovascular-fitness areas also apply to aquatic spaces. Similarly, aquatic therapy and aftercare require entrepreneurial outreach, marketing, commitment and compromise-regardless of whether a facility partners with individual therapists, local clinics or regional hospitals to host therapy sessions, or develops its own post-therapy programming.
That's what Mick Nelson did. "People were coming to us with physical ailments that were a little more complicated than we'd seen in the past and that we felt needed to be treated by a qualified therapist," says Nelson, who converted the third-generation aquatic center he owns in Danville, Ill., into WaterWay Therapy in 1992-one of the first privately owned and operated Medicare-approved outpatient aquatic physical therapy centers in the country. "So we started looking very seriously at how we were going to address that need. We hired two physical therapists. They were the therapeutic professionals and we were the water professionals, and we put the two together to make a great team."
In 2002, Nelson added more than 15,000 square feet to his facility and absorbed WaterWay Therapy into the newly christened Poolside Health & Wellness Center, which offers full-service land and water therapy, and hosts a swim team and learn-to-swim programs. Therapists at that facility quickly became among the most recruited in the area. Nelson, now club facilities development director for USA Swimming in Colorado Springs, Colo., still runs Poolside Health & Wellness remotely, but he's negotiating to sell it to a local hospital partner.
Nelson doesn't recommend aquatic facility owners abandon the programming that has made them successful in the past. But like Swendig, he sees a natural connection between water and physical therapy. "Nowadays, most insurance programs only allow patients five or six visits to a therapist, and then they're supposed to be healed-which is truly not the case," Nelson says, adding that when they get out, they need a place to go where they can continue exercising, whether at a health club or a recreation center. "They can do their routines on their own or under the supervision of an aquatic personal trainer-not a therapist. It's the exact same model you'd use for promoting land therapy."
Says Salzman, "If you have pools with water temperatures that are 86 degrees and warmer-and you're not thinking post-therapy is a perfect fit-you're making a marketing error."
The first step toward incorporating some form of aquatic therapy programming is evaluating a facility to determine whether it can effectively handle therapeutic pursuits. If all pools operate on a single filter system, it will be difficult to control water temperatures (ideal conditions for aquatic therapy are typically between 88 and 94 degrees, although some therapists say orthopedic, spinal cord and back therapy can be done in water as cool as 80 degrees if patients don thermo-wear). On the other hand, if varying temperatures can be regulated in different pools; if an aquatics director is willing to add a pool ramp and stock the facility's storage closets with water-walking gear, foam barbells and flotation devices; and if there are blocks of time in the facility's daily schedule when one or more pools sit empty, it may make sense to reach out to the therapeutic community. (Keep in mind that Medicare rules do not allow patients to be treated in a public pool at the same time it is in use by non-therapy patients, which essentially means that a pool must shut down for the duration of a therapy session. For a complete briefing on Medicare's policies regarding leased or contracted facilities, visit aquaticnet.com/medicarerules.htm.)
According to Nelson, chances are that therapists and clinicians will jump at the opportunity to strike a deal with your club. "A lot depends on the way business is done by the medical entities in a certain area," he says, stressing that health maintenance organizations limit their patients' care options. "Down south, there are nothing but independent docs who don't have much to do with HMOs. If there are independent docs, there are independent therapists. If there are independent therapists, there is a market."
Develop a trial arrangement and see how that works. If the relationship proves workable, draw up a contract. "Contracts can be done very easily, and they can also be a real pain in the neck," says Ruth Sova, president of the Aquatic Therapy & Rehab Institute in West Palm Beach, Fla., and founder of the Nokomis, Fla.-based Aquatic Exercise Association. "There are a lot of therapists out there who will come to work for you as an independent contractor, and it's very simple to do."
The nature of aquatic therapy will require the contract between a facility and a therapist to be a little more elaborate than a standard one between a facility and, say, a personal trainer. In addition to determining whether the therapist will lease pool space, pay the facility on a per-patient basis or take a percentage of the profits generated by an aquatic therapy program, other issues to consider include scheduling, pool shutdowns, Medicare restrictions, dealing with the results of increased bather loads and potential liability. Sova suggests a contract that includes insurance coverage for both the facility and the off-site parties. That way, should an injury occur during a therapy session, sole responsibility would not necessarily rest with the facility operator.
"There are all kinds of things that nobody thinks about before they go into that relationship," Salzman cautions. "It's a catch-22, because if therapists bring up these issues beforehand, sometimes they can scare the pool operators away. But you need to sit down and hash them out in the beginning. Ninety percent of the time, there is not going to be an issue, but for that other 10 percent, you want to have a contract that addresses specific situations."
Aquatic therapy patients-often men or women over the age of 40-quickly become creatures of habit. Salzman tells the story of a former client who, at the conclusion of the older woman's therapy treatments, was provided with the phone number and address of a nearby health club that would welcome her into its aftercare program. Several weeks passed, and when Salzman followed up with her, the woman had made no attempt to visit the club, using the excuse that she had lost the facility's phone number. "People let any little thing stand in their way," Salzman says.
Aquatic therapy and post-therapy patients should be treated just as respectfully as any other prospective member. Arrange an orientation visit, provide a tour of not only the pool and locker room areas but also of the rest of the facility, and offer coupons or discounts for group aquatic exercise classes. Also, consider hiring or training an aquatic personal trainer to help give that new segment of business the attention and credibility it deserves and to bridge the gap between aquatic therapy and traditional aquatic exercise and swimming. "Once these people go back to their docs for periodic check-ups, the docs will start sending more patients to you, because they'll see that what you're doing is making a difference," Sova says. Some facilities have gone a step further, she says, and hired away from clinics and other sources licensed aquatic therapists, who often charge hourly fees of more than $100 to work individually with post-rehab clients, injured weekend warriors, and kids and adults with disabilities.
Unlike partnerships with swim teams, which often approach facilities looking for pool time, a facility operator will likely have to initiate the relationship with a clinic or hospital, because aquatic therapy isn't the main focus of those facilities. "This is a service you need to sell them on," says Nelson, who adds that historically land-based therapy facilities have approached aquatic exercise in a primitive manner by trying to teach land-based exercises in a water environment. Early on, some even allowed patients to take metal dumbbells into the pool, unaware of the natural resistance that water provides. "I just don't think they understood the use of water."
For COM Aquatics, understanding the use of water-and, more important, who uses it-has made a huge impact on its operation. Today, COM's therapeutic services are among the facility's top net-profit generators, while competitive swimming and diving (once its main missions) rank near the bottom. "It was just figuring out what works," Swendig says. "I started all of those classes to generate income. When they went well, I built the therapy pool, and when that went well, I built the therapy center. It has not been the result of some grand plan that I had."