Keeping rehab clinics-and their patients-in good health requires aquatic facility operators to proceed delicately and, in other cases, aggressively.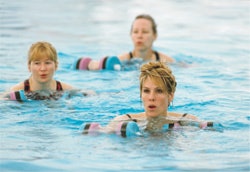 Calling Brad Swendig an aquatic therapy visionary might be a stretch. After all, he didn't really employ much strategy when he decided to use the pools at the Texas-based nonprofit City of Midland Aquatics Inc. to help adults rehabilitate chronic pain, arthritis and other mobility-limiting conditions. At the time, back in the early '90s, his actions simply were borne of necessity-a way to generate revenue for a fledgling facility that initially offered learn-to-swim and competition programs only-not of an effort to redefine the industry with what would eventually become known as "aquatic therapy."
"After I started as a swim coach, it soon became clear that there is a whole lot more to water than I realized," says Swendig, who since 1984 has been the executive director and president of COM Aquatics (which despite its name, is not affiliated with Midland's city government). "By 1993, I really felt like we were reaching a saturation point, so I asked myself how many people in this town of 100,000 would actually participate in aquatics. We needed to find something that had more potential for growth."
Log in to view the full article