Today's pool renovations are driven not only by physical needs, but by functional desires.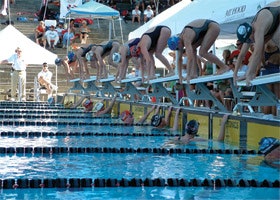 Brandon Drawz stood in the bleachers as the 50-meter outdoor pool before him was readied for a five-day Speedo Championship Series event to be held there beginning July 10. It wasn't long before his inner pride bubbled to the surface. "Wow! This looks like we're at the Olympic Games," proclaimed Drawz, director of aquatics and recreation at Mt. Hood Community College in Gresham, Ore., to no one in particular. "It's awesome."
The real metamorphosis - the one that made possible the hosting of top collegiate and Olympic swimmers in the first place - had ended only days earlier. In the five months spanning February and June, the 30-year-old MHCC pool had seen a good portion of its deck raised two and a half feet, and its nine cramped lanes converted into a competition-comfy eight. In the end, the renovation was driven less by physical necessity (although, Drawz admits, "Our gutters were in desperate need of repair") as functional desire ("We wanted to bring back major meets here, so we needed to get as close to a world-class facility as we possibly could."). The project's final cost of $1.7 million included some $300,000 worth of state-of-the-art scoring and timing equipment, as well as a fabric dome to extend the programming calendar from two and a half summer months to year-round (save two weeks for maintenance and dome erection/removal). Says Drawz, who used revenue projections from the expanded programming schedule to justify the overall investment, "We could have put this thing back together willy-nilly, but we chose to do it all in one fell swoop."
It's a decision facing the operators of aging aquatics centers everywhere: Can we buy another season with a plaster patch job? Do we need more amenities? Is it time to bulldoze the thing and start from scratch? At the municipal pool level, life-or-death repairs often lead to more visionary renovations. "The reason city council members reevaluate aquatics isn't because they don't have a zero-depth beach or a water slide," says D. Scot Hunsaker, president of the St. Louis-based aquatics consultancy Counsilman-Hunsaker. "The reason it gets on the radar screen is because the pipes are falling apart and the filters are failing, and they're not going to be able to open next year. Once they start talking about it, they get into these programmatic and functional elements, and then they start to realize, 'If we're going to do this, let's do it right.' "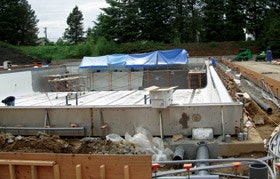 As in any field, aquatics professionals have learned from their industry's past imperfections, particularly relating to the materials used to build and renovate pools. Nearly indestructible PVC piping has replaced corrosion-susceptible cast iron. Filters have incorporated fiberglass to likewise fight corrosion. Low-carbon 316L stainless steel gutters have won favor over those made of 304 stainless steel, which despite the name has proven to discolor over time. Even granite is being introduced as a grating solution around pool perimeters in commercial settings. With such durable materials now becoming the norm, owners can expect some 50 years of solid aesthetics and service out of a pool and its various components.
But specifying better materials for the pool environment is only part of the renovation equation these days. Codes relating to pool depth beneath starting blocks and diving platforms are under near-constant review, and a competitive pool can be deemed too shallow for starts and dives, and thus rendered functionally obsolete well before it begins to fail physically. On the other hand, the same pool may be hard to program because the deep end (even if it's no longer deep enough for diving) and transitional slope consume too much of the pool bottom, leaving little shallow water for leisure use and learn-to-swim programming. Several options short of complete replacement exist to address such concerns. "That rectangular box doesn't have to be abandoned," says Mike Walsh, president of Natare Corp., an Indianapolis-based pool construction and renovation company that offers, among other products, PVC lining systems. "PVC lining has provided a lot of opportunities to take older pools and make them shallower, make them deeper, add to them or subtract from them, because with a PVC lining system, you can make a watertight termination in an existing pool."
That was the case at MHCC, where a PVC liner allowed the water level near starting blocks to increase from 3 1/2 feet to the recommended 6 feet. The liner also facilitated conversion of the pool's lane widths by simply covering the nine tiled lane lines with PVC, which was then marked for eight lanes. But the convenience doesn't end there. "Another advantage with the liner is I don't have to paint my pool," Drawz says. "I did that every year, and it took a full week."
Particularly applicable to seasonal outdoor pools, PVC liners help protect the shell from structural damage caused by freeze/thaw cycles, even while covering up the unsightly evidence of past spalling and cracking. "Concrete can and does expand and contract from winter to summer, and a 50-meter pool may move three or four inches," says Jason Mart, CEO of RenoSys, a pool renovation company also located in Indianapolis. "One of the beauties of a PVC membrane, and this is true of ours or anybody else's, is that it can stretch to 10 percent of its length. It's attached with an adhesive, but it can move much more than the concrete can."
Recent improvements in the formulation of PVC liners have made them more durable and more resistant to the bleaching effects of pool chemicals and ultraviolet light, allowing manufacturers to extend the typical warranty from 10 years to 15. Moreover, a proprietary cleaning solution was recently introduced to the PVC liner market, allowing for approximately 5 percent of a liner's 60-millimeter thickness to be removed on site, thus restoring the colorfast material's original aesthetics. This practice, which sometimes amounts to a renovation of a renovation, is expected to double or even triple the useful life of a membrane.
Initial liner installation, a process of heat-welding seams between overlapped 6-foot-wide sections of PVC, has also progressed. It used to be that the dozen or so seams required to line a 50-by-25-meter pool were welded by hand, a labor-intensive process given that each seam measures approximately 165 feet in length. Today, on-site robotics are used to weld seams in a fraction of the time and with greater precision, making the whole project more affordable for the end user. Says Walsh, "A lot of the very time-consuming detail work has been taken out of the process."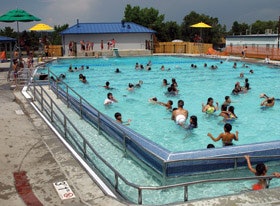 In cases of extreme pool shell degradation, or in the event of a monumental shift in programming mind-set, PVC-clad stainless steel panels can be used to replace existing concrete pool walls. "In situations where you need to do a major renovation to the pool - you want to make it shorter, you want to make it wider or you have massive deterioration going on within the walls to the point they're not adequate to accept a PVC lining applied directly to the wall - you can go in with PVC-laminated stainless steel and literally build a pool inside a pool," Walsh says. The panels measure roughly 1/8-inch thick, come in varying widths depending on the pool shape (narrow sections are sometimes used to negotiate curves, though true radius pieces are available), and are backed by structural supports that are either attached to the existing wall (creating an open maintenance chase) or backfilled. The PVC is either factory-bonded to the stainless steel panels or applied on site with adhesives. The PVC coating on preclad panels is welded together on site to form a watertight joint, which is then coated a second time for a smooth finish. While RenoSys offers both types of lamination, Mart prefers the on-site variety since the liner covers each bolted seam, thus creating a seamless appearance while mitigating the risk of leaking.
"PVC-coated stainless steel pools have been used in Europe and other regions of the world for more than 40 years," says Kevin McGrath, CEO of manufacturer Myrtha Pools USA in Sarasota, Fla. "It is only within the past few years that the advantages are being recognized here in North America."
Still, the application of PVC-coated stainless steel as a renovation tool remains somewhat of a rarity. Hunsaker, whose firm is currently involved in some 200 active projects, says he has not yet been associated with such a renovation. Neither has Matt Freeby, project leader at aquatics consulting firm Water Technology Inc. in Beaver Dam, Wis. - though Freeby wouldn't rule out the possibility. "If I have a concrete base that I can attach panels to and change the configuration and programming of the pool, then I think it makes sense," he says. "But if I'm doing an extensive structural renovation on a pool, seven times out of 10 I'm going to tear it out and start over."
"It's not uncommon for the cost of renovating a facility to be more than 50 percent of the cost to replace it," adds Hunsaker. "When you get into those kinds of numbers, does it make sense to invest in a structure that's 40 years old and still be saddled with all the decisions made 40 years ago about what a community pool should be?"
In that sense, relatively new pools sometimes make better candidates for renovation. "We may evaluate the finishes and the mechanicals and see they are in great condition, but nobody's coming to the pool. So we're adding things like a lazy river or a smaller leisure pool next to it," says Water Technology's business development coordinator Melinda Kempfer. "Shallow water is the most profitable. We find that people spend more time in 12 inches or less, so we're also adding zero-depth entries to existing pools. If the pool structurally can't be added onto like that, we'll add spraygrounds that don't have any standing water. Recreation needs have changed. When I was a kid, Dad used to throw nickels to the bottom of the pool, and that was our fun. Kids these days just have much higher entertainment expectations."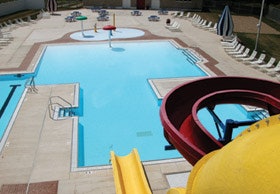 Drawz remembers diving into the MHCC pool's 3 1/2-foot shallow end as a youth swimmer. Now he watches kids launch their Olympic dreams from the newly raised deck of that same pool. Nearby, three existing bodies of water of varying sizes and depths allow for the kind of programming flexibility that made the 50-meter pool renovation feasible. By devising a 10-year business plan that mixes community programming and college classes with competitive events like the Speedo Championship Series, Drawz has ensured a bright financial future for the decades-old vessel. "I worked really closely with USA Swimming's facilities design department to make sure we had everything we needed to host the highest-level meets," he says. "We can basically host any meet in the country at this point."
That's good news not only for MHCC, but for Gresham at large. "We win because we make money, but the real winner is the community," Drawz says. "On a weekend when we host a large meet, it's a million dollars into the local economy. It's not a college football game, but for a swimming pool, that's a big deal."