A low-maintenance alternative to pools, spraygrounds still require operators to keep close tabs on mechanical systems and even end users.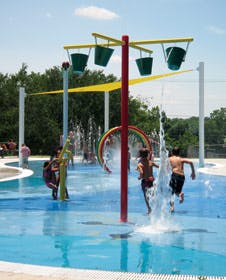 At one time, the Dallas Park and Recreation Department operated more than 60 neighborhood pools. When Dave Strueber, assistant director for the department's west region, arrived 11 years ago, that number was closer to 30. Today, it's four. And within the next half-dozen years, those too will spiral down the Big D's wastewater pipeline.
"Basically, we called them bathtubs," Strueber says of the dozens of facilities already demolished. "They were fill-and-drain pools. There was no filtration system, and we had to have the staff to put the chemicals in every morning and pull the plug every afternoon - an incredible amount of upkeep and maintenance."
As a community aquatics alternative, Dallas turned to spraygrounds - park areas offering interactive water play features, but no standing water. The city installed its first four facilities five years ago, and another three since. Its 2006 bond program has earmarked funding for the construction of three more spraygrounds within the next four years. "With spraygrounds we don't have any staff, so there are tremendous savings," Strueber says. "Our lifeguards were earning more than $10 an hour to be at a bathtub where most of the time there was no one there."
Now, Dallas residents can't get enough of their spraygrounds. When one was being planned for the city's Lake Highlands North Park, a group of mothers rallied to raise additional funds for extra amenities, including an adjacent shade pavilion suitable for birthday party rentals. "That place is rocking from daybreak to sundown, every day of the week," Strueber says. "It's just a huge magnet for that community, and folks from all over the city are coming there now. We want to model the rest of our spraygrounds after Lake Highlands North."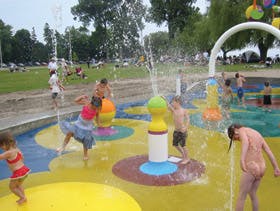 The concept of kids interacting with airborne water is hardly new - think sprinklers on sun-baked suburban lawns or open fire hydrants along simmering inner-city streets. The spraygrounds industry itself is more than 20 years old, and growing at an estimated 17 percent annual clip. It's not uncommon for large municipalities like Dallas to install several spraygrounds at a time (Strueber estimates its next three projects will each cost between $300,000 and $500,000), often replacing standing-water recreational vessels in the process. The simple reason? "They're popular," says Cheryll Peterson-Brachle, who heads the recreation division in Omaha, Neb., where the latest of four spraygrounds built since 2000 drew 43,000 visitors last year. "Attendance is huge, and they're easy to maintain and operate."
Few would disagree, but industry experts warn that a sprayground still requires diligent operational oversight to function properly. "There's a misconception among a lot of operators that it's a hands-off, self-cleaning device," says Doug Whiteaker, a principal at Beaver Dam, Wis.-based aquatics consultancy Water Technology Inc. "You do have some mechanical systems, and depending on the complexity of the sprayground, those systems can be quite sophisticated."
On one end of the sophistication spectrum is the potable water approach, whereby municipal water feeds the sprayground features and then drains into the storm-water system, never to return. On the other end are spraygrounds that recirculate water through filtration and chemical sanitation systems not unlike those found in pools. In fact, the typical water turnover rate in such spraygrounds - 30 to 60 minutes - is the same for most wading pools, according to Whiteaker. "The unique thing in this type of sprayground is the water is stored underground in a vault, so it's not standing open," he says. "But the water still gets sprayed up in the air before it traverses over the concrete and back to the storage vault, so you're going to have an opportunity to introduce contaminants."
Tests of such vaults at Seneca Lake State Park in New York revealed in the late summer of 2005 that the park's sprayground had been contaminated with the parasite cryptosporidium, contributing to an outbreak that sickened thousands of people. Effective this past January, all spraygrounds in the state must employ the extra - and expensive -measure of ultraviolet light disinfection (see "Chemical Reaction," March, p. 36).
While considered much simpler to maintain and operate, potable water systems come with their own potential drawbacks. Because such systems may expend as much as 10,000 gallons of water per day (depending on the sprayground's number of features and its hours of operation), they typically aren't embraced in drought-prone regions of the country. "There could be a public outcry if you were just taking that water and wasting it while people are on water rationing," Whiteaker says.
Wisconsin is no Nevada when it comes to climate, but the city of La Crosse, Wis., nonetheless combats high water usage with a sprayground activated during predetermined operating hours by patrons' push of a button. "We found out about this option in our research and loved the idea, because I was petrified of the potential water bill," says La Crosse superintendent of parks Garland Amunson. "But the kids come up, push the thing, and the park runs depending on the minutes set. When it shuts off, the kids push it again." Adds city engineer Greg Kozelek, "On cool days with no activity, it doesn't run at all."
Water-conscious hot spots - Houston is one - may set their push-button systems to operate in three-minute bursts, but trial-and-error observations led park operators in La Crosse to keep water flowing for 15 minutes at a time, while nozzles were adjusted to produce more light mist than heavy spray. Even with this measured approach, Amunson reports that Copeland Splash Park expends slightly more water than the fill-and-drain wading pool (maximum depth: 14 inches) it replaced. But there are savings in the form of the $6.50-per-hour seasonal help no longer needed to watch over the old pool for eight hours a day, seven days a week, and the chlorine no longer needed to treat it.
And the railroad-themed sprayground, which opened in 2003, is clearly more popular. "This thing is busy all the time," Amunson says. So busy, in fact, that new play features were added this spring to the Copeland location, while an entirely new facility opened in a separate city park. (Like a lot of municipal spraygrounds, the La Crosse facilities are available free of charge.) Given the heavy use, park crews check daily to see that drains are clean and that nozzles are free-flowing - maintenance procedures that are described as "minimal" by both Kozelek and Amunson, who feared (unjustifiably, so far) inevitable abuse and eventual breakdown of the push-button bollard technology.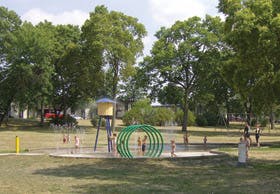 Operators of spraygrounds using recirculated (even heated) water, meanwhile, face the myriad tasks typically associated with pool care. These include regularly checking the strainer basket for large debris such as hair, lint and Band-Aids, as well as cleaning or replacing cartridge filters or backwashing sand filters - processes that might need to be addressed weekly, if environmental conditions dictate. Proximity to debris-creating trees (such as cottonwoods) or dust storms can mean considerably higher maintenance. In addition, water quality should be manually tested twice a day, according to Whiteaker.
Regardless of which type of water (potable or recirculated) feeds a given sprayground, routine maintenance of the play features may involve adjusting nozzles and feeder valves to ensure effective but safe water flow. Says Steve Wagner, vice president of sales and marketing for Englewood, Colo.-based equipment manufacturer SCS Interactive, which makes a water gun called the Blaster®, "The water flow needs to be strong enough so that if I'm a kid and I aim the Blaster at my dad, I can hit him. But I don't want to hurt him."
Of course, there are superficial considerations, too, including equipment damage caused by vandalism or other activity that has resulted in rough or sharp surfaces. "Those would have to be evaluated on a near-daily basis to ensure that public safety is maintained," says Whiteaker, adding that if polyurethane-bound rubber safety surfacing is used, it may need periodic patching and an annual recoating.
Other seasonal maintenance may involve winterizing the system by removing all water, and perhaps even replacing it with antifreeze, then tuning it up again in the spring. All manufacturers' recommendations regarding shutdown and startup should be followed. "We get calls every year starting in January and continuing through May for spare parts," Wagner says. "Every once in a while somebody asks us to come in and help make sure everything is working."
Replacing existing play features with new ones or interchanging features between separate spraygrounds within the same community park system represents another seasonal operations consideration - one made possible by the modular designs of today's equipment. Says Wagner, who recommends sprayground operators receive manufacturers' training on how to switch out their structures, "Municipalities have come to us with the request that the water features that we develop be expandable and modular, so that in the future as more tax dollars become available, they can expand their units to meet the growing needs of the community."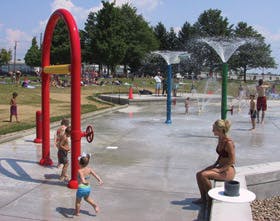 As interest in spraygrounds continues to grow unabated, one final but important operational question lingers: Is enough being done to meet communities' safety needs?
While the American Red Cross does not keep data on sprayground-related injuries, it does recognize spraygrounds' increasing popularity. That's why the organization developed a shallow-water attendant course that in January became part of the ARC lifeguarding program.
"The course teaches all of the same skills a lifeguard would learn, such as CPR for the professional rescuer and first aid, except that it does not teach the course participant how to do deep-water rescues," says ARC communications specialist Greta Petrilla. "Although the chances of drowning at stand-alone spraygrounds with no standing water may be slim, people have drowned in buckets and puddles of water. And there are other safety issues to consider - slips, falls, horseplay - that may warrant having the area supervised by someone who is a lifeguard or at least trained in first aid and CPR/AED."
To be sure, the park and recreation departments in Dallas, Omaha and La Crosse are not the only ones opting against full-time staffing of their facilities. Indeed, codes regarding sprayground supervision vary from state to state. At the very least, sprayground web sites and park signage may recommend that children be accompanied by adult supervision. For most industry experts, though, staffing is still preferred. "Just use your imagination," says Melinda Kempfer, Water Technology's business development coordinator. "One of these spraygrounds out in the middle of a park without any supervision and you have teenagers there, you have people with dogs there - I mean, there are a million different things that could happen that you don't even want to think about. You don't have to pay guards, necessarily, but you should have some kind of presence in these parks."
Adds SCS Interactive's Wagner, "These municipalities make their own decisions, but when we sit down with customers and they ask, 'What do you think?' I say, 'At zero depth, your supervisory personnel requirement certainly goes down, but I don't think it goes away.' I think the primary consideration of any owner has to be the safety of children and the comfort of parents."
Few argue the point that spraygrounds offer an alternative to swimming pools that's financially more feasible for community operators while inherently safer and seemingly just as much fun for community residents. And though they can't replace pools in every respect, one could argue their inability to host learn-to-swim programming is countered by their ability to readily accommodate children who can't swim and have neither the means nor the inclination to learn. When asked if she has ever seen a sprayground fail to make a splash, Kempfer says, "No. It's amazing. Kids have so much fun with the bells and whistles on these things, and the parks are always full."
In the face of all that fun, however, operators can't lose sight of a season's worth of work. "You don't just put them in and come back on Labor Day," Kempfer says. "They still require attention, just not nearly as much as is required by a pool."