A low-maintenance alternative to pools, spraygrounds still require operators to keep close tabs on mechanical systems and even end users.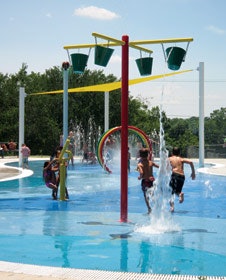 At one time, the Dallas Park and Recreation Department operated more than 60 neighborhood pools. When Dave Strueber, assistant director for the department's west region, arrived 11 years ago, that number was closer to 30. Today, it's four. And within the next half-dozen years, those too will spiral down the Big D's wastewater pipeline.
"Basically, we called them bathtubs," Strueber says of the dozens of facilities already demolished. "They were fill-and-drain pools. There was no filtration system, and we had to have the staff to put the chemicals in every morning and pull the plug every afternoon - an incredible amount of upkeep and maintenance."
Log in to view the full article