L.A. residents protest lack of access to a recently built Olympic-size swimming pool.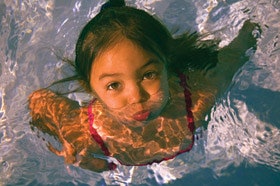 An Olympic-size swimming pool recently built in an urban Los Angeles area that's largely deprived of public recreation facilities made waves this summer with its neighbors - but not the cool, refreshing kind.
The Los Angeles Unified School District opened the $160 million Miguel Contreras Learning Complex, named after a labor union organizer, in September 2006. The campus - which has relieved overcrowding at a nearby high school and has been lauded as a model of urban school financing, design and education programming - houses four small learning academies along with multiple competition athletic fields, a gymnasium and a stadium. Not the least of the campus' amenities is its Olympic-size pool, one that has its Belmont neighbors (on the west side of downtown Los Angeles) feeling they've been left out to dry.
The pool was closed to the general public during its first full summer of operation (a typical SoCal scorcher) and organized groups of L.A. residents staged a late-summer protest, gathering at the locked gates of the Miguel Contreras campus dressed in bathing suits and wielding such symbolic items as beach towels and deck chairs.
The City Project - a nonprofit group made up of attorneys that aims to improve the quality of urban L.A. life by focusing on issues related to parks, recreation and health facilities and schools - was largely behind mobilizing area residents to the Miguel Contreras campus. An open letter to L.A. Mayor Antonio Villaraigosa on the group's web site urged, "Don't wait until the children have lost another summer with nothing to do in this park-starved community."
Jose Morales, a downtown street tamale and corn vendor who lives near the campus, told the Los Angeles Times, "I'm frustrated. My three kids are sitting two blocks from this pool. They're hot - it doesn't make any sense to keep it closed all day long."
The mayor did ultimately run damage control. While the Contreras pool remains gated, the mayor's office paid for buses to transport children twice a day to L.A. municipal pools for the rest of the summer.
But school officials contend the Contreras pool was never closed - rather, it was being used for its express purpose of educational programming during the campus' summer school session. City officials, meanwhile, have told local papers that the pool was never intended for public use, and lacks necessities like adequate locker room or rest-room space. Gil Duran, an aide to the mayor, told the Times that the pool's Olympic-style design alone suggests it isn't meant for mass use. "An Olympic pool is not for splashing around in the shallows," he said. "This is a more complex issue that involves public safety and liability. You don't stick little kids in a deep pool."