Retractable skylights and enclosures not only bring the outdoors in, they let the indoors out.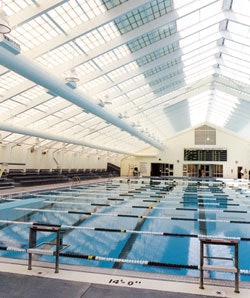 Midtown Community Center's eight-lane, 50-meter pool is housed within a structure made of translucent panels, some of which are attached to a motorized cable-and-pulley system that allows the roof to be opened, exposing pool users to all that the Newport News, Va., summer sky has to offer. "The nice thing is it's sunny, and it just makes people feel good," says Danita Fox, the center's aquatic program coordinator. "It makes you feel like you're outside."
In fact, retractable roofs and enclosures serve not only to bring the outdoors in, but to let the indoors out. "Side walls with doors and screens are going to give you ventilation, but opening roof panels are best at expelling heat," says Cynthia Caldwell, marketing manager for Garden City, Ill.-based pool enclosure manufacturer CCSI International Inc. "It's a similar effect to opening the sunroof of a car."
"The real added benefit is being able to ventilate," adds Mike Crowder, national sales manager for Structures Unlimited Inc. in Manchester, N.H. "When you chlorine-shock a pool, all those chloramines are going to be in the air. But if you open up all your side doors and windows and open up that roof, you get a beautiful venturi effect that takes the chlorine-laden air and pulls it up and out very rapidly - within minutes. It just creates a much healthier environment for the swimmers and a less corrosive environment for the building."
Some retractable panels operate vertically from the gabled peak of a roof structure, sliding down tracks on both sides of each panel and over the fixed part of the roof to open as much as 50 percent of the total original surface area to the natural elements (some systems may incorporate screens to prevent the introduction of birds and insects). Others slide horizontally as flat panels or barreled roof sections. "Each one is designed to be as waterproof, permanent and structurally sound as the rest of the roof," says Doug Roberts, president of Rollamatic Roofs Inc. in San Francisco. "The only difference is these parts move. We put them on roofs in hurricane areas."
Still, how many operable panels a system can accommodate may depend on local building codes and potential loads, says Crowder. "It's going to be a much different number in Syracuse, N.Y., for instance, than in Phoenix, Ariz., because of the snow considerations," he says.
Panels can be opened manually, in some cases, but models that employ motorized direct-drive or cable-and-pulley systems are more popular for their ease of use. Some can even be equipped with sensors that operate the panels automatically depending on light levels and precipitation.
Insulated polycarbonate in a variety of translucent tints allows for a comfortable environment, even when the panels are closed, according to Caldwell. And unlike glass, the material is self-cleaning. "It doesn't show spots, tree sap or bird droppings," she says. "If it was glass, you'd have to go up there with Windex."
When closed, the panels prevent debris from reaching the deck and pool water, reducing manual cleaning and filtration requirements. They also serve as a passive solar collector. "Only in the coldest months of the year do you need additional heat in the building," Caldwell says.
A mechanical roof will require some annual maintenance, such as ensuring tracks are free of leaves, twigs and other debris, and that all moving parts are lubricated and functioning properly, according to Crowder.
Another operable pool enclosure option just rolling into the North American commercial aquatics market forgoes roof panels for entire sections of telescoping building structure. If panels act like a car's sunroof, this system turns the pool into an all-out convertible.
Building walls attach to the pool deck on a sequence of side-by-side rails, sliding easily enough to allow one individual to push each arching bay (which, depending on the width of the span, may weigh well in excess of a ton) into the next bay, and so on, until the pool is fully exposed. Even the structure's end walls can be moved backward to expose additional pool decking. "You are actually buying an enclosed pool, but you don't have to be inside," says Gem Comu, president and CEO of Vancouver, B.C.-based Libart Enclosure Systems Ltd. "You basically just push it open."
A full enclosure can measure up to 50 by 120 feet. Larger pools may require up to three telescoping components - one in the middle and two at each end. The self-cleaning rails securely lock the enclosure sections down to prevent wind damage, and are easily retrofitted onto existing pool decks, so long as the foundation is stable enough to support 300 pounds per square foot. Slightly damaged decks can be trenched for the pouring of new rail footings. In addition, the enclosure's glazing blocks 100 percent of UV rays, allowing the temperature inside a closed structure to be as much as 25 degrees cooler than the outdoors, according to Comu.
For pool operators with retractable roof panels or telescoping enclosures, it's good to be in control of climate change. "Generally, clients keep our structures closed maybe 80 to 90 percent of the time. It's keeping the pool clean and safe, from a liability standpoint, and saving energy and chemicals," says Comu, adding that cost ranges from $50 to $80 per square foot, depending on the size of the enclosure. "But it's important to be able to open one or two or more modules, just to get the fresh-air feel."