In a stark economic climate, municipal aquatics providers strive to find the right mixture of sport and leisure.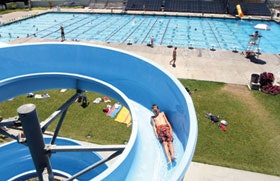 Unfortunately for municipal aquatics providers, the concept of market demand can be quite literal. Competitive swimming proponents may demand an Olympic-size pool, and young families a low-priced leisure-swimming facility. Other vocal citizens or political leaders who may view aquatics activities as superfluous in light of other pressing budgetary issues may simply demand no new operating expenses.
No matter the direction, there's always a contrary current.
"Municipalities are working hard to develop a recipe that meets their financial goals, but it's unusual for a municipality to make aquatics programming decisions based upon money alone," says Scot Hunsaker, president of St. Louis-based consultancy Counsilman-Hunsaker and Associates. "Usually, what they're trying to do is blend the different uses - competitive, recreational, wellness programming - and trying to make them fiscally sustainable."
The challenge is that market demand for facilities and programming often doesn't play well with financial sustainability. That discord is perhaps best exemplified in the 50-meter, Olympic-size pool, which is both a passionate rallying point for competitive swimming advocates and a notorious drain on a park and rec agency's annual operating budget. "Invariably, when you're planning for pools, the competition people come out of the woodwork. They show up strong to the parks and rec meeting or the city council meeting with their kids who say, 'We need this 50-meter pool because I want to be the next Michael Phelps or Amanda Beard,' " says Randy Mendioroz, principal and founder of Carlsbad, Calif.-based consultancy Aquatic Design Group. The reality, he adds, is that a 50-meter pool is only used for competitive purposes by an average of about 5 percent of the local population, whereas a leisure facility will have much broader appeal.
Thus, the operator of a long-course pool often ends up being the loser in a political game of "hand-grenade catch," says Mendioroz. And despite repeated warnings to local political leaders about the financial realities of a 50-meter pool, Mendioroz says "institutional memory is very short" when annual budget cycles are involved, and, too often, pool operators are unfairly blamed for the expenses. "It's eventually going to blow up on the parks and rec director. It's unfortunate."
In Roseville, Calif., a 50-meter competition pool - complete with bleacher seating for 2,000 spectators protected by photovoltaic solar-paneled shade structures to reduce utility costs - opened several years ago as the first Olympic-size venue in the greater Sacramento area (estimated population, 2.1 million). The parks and rec staff successfully positioned the facility as a premier regional competition venue, and it has played host to local, state and national events. There's a joint-use agreement with the school district, whereby operating expenses are shared, and various swim clubs rent the facility (one group pays a whopping $70,000 a year to call it home).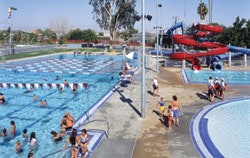 Despite these and other attempts to cut expenses and generate revenue, city leaders from the beginning of the aquatics complex project have known that the pool was going to be a "financial loser," says Mike Shellito, Roseville's community services director and assistant city manager. Thus, he says, "You have to design things that are going to generate income - entertainment features like water slides or water playgrounds." Specifically, the complex also opened with a 150-foot water slide, a zero-depth-entry pool with a water playground and a café. Says Shellito, "Our thinking was, 'We have to marry a great competitive facility with a great waterpark.' The competitive pool doesn't really make money day-to-day - although it does on the tourism side when we're holding events - it's the leisure pools that really produce that revenue stream."
Mendioroz says competition-only facilities historically achieve about 50 to 60 percent cost recovery in a given year, meaning for every $1 million needed to operate the pool, it's generating $500,000 to $600,000 in revenue. With 750,000 gallons of water and 12,300 square feet of surface area, one Olympic-regulation pool costs $250,000 a year in chemicals and utilities alone. "That's a lot of 50 cent or $1 admissions," says Mendioroz.
But add leisure elements, and the numbers start to look a little sunnier. "Our experience has been that as you approach a 50-50 split between the competitive, or rectilinear, pool water and the leisure, or curvilinear, pool water, you can increase your cost recovery by 20 to 30 percentage points," says Mendioroz. "And with no competitive or fitness swimming, and just strictly a municipal waterpark model, you're looking at 120 to 140 percent cost recovery."
As Hunsaker notes, facility type and programming mixes vary by community, and occasionally communities may even be willing to subsidize gaps between a given aquatics center's expenses and revenue in an effort to meet a programming demand. However, he says, municipalities are best served to plan for an ever-evolving market by choosing a site that can be expanded upon. "Don't build out on day one so that you can't add on in the future," he says. "You don't want to end up saying, 'It is what it is and we're done for the next 50 years.' "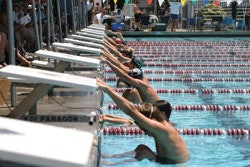 Naturally, adding leisure components in the design phase to what may have once been a competition-only plan exponentially increases the initial capital outlay. "Most cities we work with don't have $15 million or $20 million lying around," says Mendioroz. "For most of them, $10 million is a big number, so the challenge is how you fund the thing initially."
And any aquatics complex model that blends competition and leisure elements requires plenty of serious number crunching. "You have to do all the market research and come up with the right business plan to make sure that you can operate a facility with no tax support, and I think most public agencies don't do that well enough," says Shellito. "I think a lot of agencies just sort of build, and then try to figure out how to run it. You've got to approach athletics as a business sometimes, and I don't think we do that often enough in the public sector."
For starters, says Mendioroz, "You've got to have a market that will support the scale of your investment. You need bodies that are going to come to your facility from throughout a 25-mile radius."
The good news is that most municipalities can be relatively confident that their piece - however small - of the leisure swimming market will be relatively protected from new competition from the private sector. "It's a very mature industry right now," Mendioroz says. "We've got more than 300 waterparks in this country. Any wide spot in the road has a waterpark." And as Shellito points out, municipal agencies aren't necessarily in the business of providing cash-cow waterparks. "We don't have 10 water slides and a wave pool," he says. "We're not trying to compete directly with them."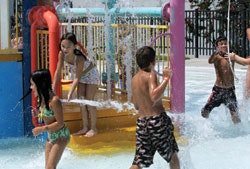 That doesn't preclude municipalities from borrowing from the waterpark concept. "The average admission price for one of these places is $25 to $30 - that's a $100 bill for a family of four, just to get in the gate," Mendioroz says of private waterparks. "If you're building a $5 million, $10 million or $15 million public facility, you can have a lot of the same elements as the private waterpark, but scaled down. Instead of a 40-foot-tower, it's a 20-foot tower; instead of a wave pool, it might be a lazy river; it's designed to support an in-park capacity of 1,500 or 2,000 people as opposed to 7,500 people. As a result, you can charge $6, $8, $10 or $12 to get in, and it's a bargain for most families. They'll come to your facility once a month, whereas they might go to a Raging Waters [a chain of California waterparks] once a season."
Many industry experts also believe that the recent and continued growth in the waterpark resort industry will similarly affect the design and scope of municipal aquatics centers. "I think the destination resort industry is changing the municipal aquatics vocabulary, much as the waterpark industry did when we started seeing zero-depth-entry beaches, waterslides and current channels," says Hunsaker. "Municipalities didn't start building waterparks, but they did start picking out certain waterpark elements that fit their community and the expectations of their residents. We might look to the destination resort industry for a menu of options of things to include."
Many of those menu items are simple design details - such as materials and color schemes - that can make the facility exponentially more appealing to consumers without breaking a project's budget. Shellito recommends aquatics providers account for small investments in comfort-giving and entertainment elements such as chaise lounges, speaker systems for music and announcements, and shade structures in order to provide people of all ages - "not just kids," he says - a reason to visit for extended periods of time.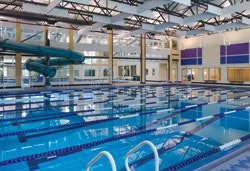 Shorter lap pools paired on site with some leisure components can satiate multiple segments of a water-hungry public.
Shellito's department is banking on attracting a range of regular visitors to the city's new $13 million indoor aquatics complex, construction for which began in March only after city leaders and other residents were assured that the facility would generate enough revenue to cover its annual operating expenses. That, too, required a bit more money up front, as the plans now include a polycarbonate enclosure with a retractable roof, solar panels and built-in compressors - which combined will contribute to water temperature control and enhanced ventilation, reducing the need for natural gas and electricity. "We had to spend a bit of money to put this green technology in that will allow us to heat and cool the building and the pool," says Shellito.
But in order for the facility to break even once it's open, more was considered in the design than just cost savings. It's also designed to generate some serious revenue by capitalizing on the city's unique position within the local aquatics marketplace. "We own the swimming lessons business," says Shellito. "In Roseville and the greater area, we probably get 90 percent of the market." Thus, the design calls for one eight-lane, 25-yard pool that will accommodate competitions as well as lessons for more experienced swimmers. It also includes a 1,500-square-foot pool with a maximum depth of 3.5 feet (as opposed to the 4.6 feet minimum depth required for competitive swimmers' flip-turns) that will be used almost exclusively for swimming lessons and aquatic exercise and senior programs. The complex should help accommodate the more than 1,000 potential paying learn-to-swim customers that had to be turned away by the city last year due to lack of adequate space (more than 7,000 swim students were served).
It's that kind of successful programming that can give municipal aquatics providers a foothold in a shifting aquatics landscape. As Hunsaker notes, "The whole key to having a successful aquatics center is having it be a three-ring circus. Every hour that the pool sits empty or just has one or two people swimming laps is a missed opportunity."
Shellito expects Roseville's continued and unique focus on providing swim lessons to continue to pay dividends at other city-run aquatics facilities. "Because we own that market, that is repaid in loyalty to us," he says. "We're creating some really important relationships in the community, and I think private-sector facilities rarely have that kind of opportunity."