New federal safety regulations send ripples through the aquatics industry, and more may follow.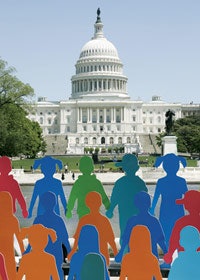 As is the case with most pool and spa safety regulations, the Virginia Graeme Baker Pool And Spa Act is rooted in tragedy. In June 2002, seven-year-old Virginia Graeme Baker was enjoying a Maryland pool party at one moment, and suctioned to the bottom of a spa's main drain the next, entrapped and dead soon thereafter.
The Act, designed to permanently prevent the risk of suction entrapment, was ratified last December, but not in time for Abigail Taylor. In June 2007, the six-year-old Minnesota girl sat on a pool's main drain and had part of her intestinal tract ripped out by the force. She later died as a result of a cancerous condition commonly caused by organ replacement.
The technical components of the Act are not exactly revolutionary; in fact, the American Society of Mechanical Engineers/American National Standards Institute standard they follow was published to little resistance last March. What is unusual is the legislation's scope. In an industry that has been regulated almost exclusively at the state and local levels, the Virginia Graeme Baker Act passed through the United States Congress and was signed by President George W. Bush on Dec. 19. And though slow in coming - the Act was first conceived by Baker's mother, Nancy Baker, in 2002 - public pool operators were given just one year to comply.
"There's been nothing like this ever before," says Tom Lachocki, chief executive officer of the National Swimming Pool Foundation. "This legislation reaches down to every public pool and spa in the country."
Lachocki, for one, believes that the legislation might be just the first representation of a federal-level trend in which calamitous events combined with increasingly widespread sensitivity to public safety issues drive new and more far-reaching regulations. "We are less tolerant than ever of when things go wrong at public facilities, and with that the risk of liability continues to increase," he says, noting recent industry safety and environmental issues including bacteria outbreaks, indoor air-quality and energy-inefficiency. "Our industry really needs to take the initiative to address these issues, or we're going to be in a position where we're forced to by legislation."
Many pool operators have already felt that force. In January 2006, an emergency rule issued by the New York state health department required the use of ultraviolet disinfection systems at all sprayparks. The rule addressed a Cryptosporidium outbreak originating at a state park spraypark that sickened thousands of people and was followed by a class-action lawsuit (see "Chemical Reaction," March 2007, p. 36). It also created some havoc among pool operators, who scrambled to find funding and compliant products to meet the requirement. Last August, more than 1,000 people in Utah were affected by a Cryptosporidium outbreak that was believed to have originated in public pools and sprayparks. While no new equipment was mandated, the state's temporary solution - to ban children age five or younger from public pools in 10 counties - was detrimental to many facilities' summer revenue stream.
"A lot of states don't like to do emergency rules, and Utah doesn't require UV now, but they had to do something," says Tracynda Davis, NSPF's director of environmental health programs. "When you have states dealing with such big outbreaks, the public and the board of health are eventually going to say, 'You have to do something.' Events happen locally, things move along with media reports, and there will be an outcry."
Lachocki believes an upward trend in such outbreaks could be an indicator that widespread legislation mandating preventive measures such as UV systems is on the way. "The Centers for Disease Control and Prevention is implementing an electronic reporting system so that states can conveniently report a bacterial outbreak," he says. "When that type of system has been implemented in other areas - say, food or drinking water - the number of documented outbreaks jumps up. It may not be that there are more outbreaks, but it's just easier for states to report them. That's going to show up in the news."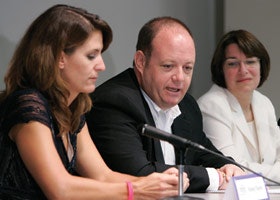 Just six months before the Virginia Graeme Baker Act was ratified, and 18 months before its scheduled enforcement, the parents of six-year-old Abigail Taylor were mourning their daughter's death, which was caused by main drain evisceration.
The news played no small part in making suction entrapment - which is responsible for just nine deaths since 1999, according to the latest statistics compiled by the CDC - the stuff of federal law.
For starters, Virginia Graeme Baker was the granddaughter of former Secretary of State James Baker­­. But that's perhaps the least significant element of the tragedy. "It's a very visual and emotional thing when you see these little kids and their faces, and it gets a whole lot worse when you dig in to see why this happened, and you read the Consumer Product Safety Commission reports," says Steve Barnes, safety and compliance chairman of the Association of Pool and Spa Professionals Technical Committee. "You've got the heartbreak, the sensational story and the news media - and you've also got the fact that it's preventable. We know how to prevent entrapment. You add those together, and it becomes an unstoppable force. That's when the lawmakers get involved."
The new law requires that every public pool in the United States be equipped with AMSE/ANSI A112.19.8-compliant drain covers by Dec. 19. (If a facility is closed for the season, the standard must be met before the pool or spa reopens.) The standard relates to structural integrity, the possibility of body and hair entrapment and entanglement, and maximum flow rate. The law also makes exceptions for "unblockable drains," which the CPSC - the agency responsible for enforcing the Act - has interpreted to include drains that a) meet the AMSE/ANSI standard, and b) may be 18 by 23 inches or larger, long channel-style grates, or large (29 inches or longer) outlet grates. The CPC has also stated that drains that are separated by less than three feet are to be considered under the law as a single main drain.
"Look at your main drain or drains," advises Barnes. "If it's 18 by 23 inches or smaller, it needs to be replaced. If it's larger than that, then it probably needs to be looked at by a certified engineer based on that standard." Lachocki also warns operators that even if their main drains appear to be compliant, they still must be checked. "People may just think, 'Oh, we'll be okay,' and they may not be," he says. "Every facility owner has an obligation to learn exactly what the requirements are, evaluate their system and make the changes as appropriate."
The Act's punitive provisions alone make it worth investigating. As opposed to state and local pool codes, the Act is being enforced under section 19 of the Consumer Product Safety Act, meaning operators, administrators and technicians can be held criminally responsible for a facility that doesn't comply. The current maximum penalty for one or more violations is a $1.825 million fine - with Congress currently considering legislation that could substantially increase that figure - and a willful violation of the drain cover standard will be punishable by fines and/or imprisonment.
Main drain entrapment has already put one pool professional in hot water. On July 22, a Connecticut pool contractor was charged with manslaughter in the death of six-year-old Zachary Cohn, who drowned last summer after he allegedly removed a main drain cover at his family's backyard pool. According to ABC News, police say David Lionetti's company, Shoreline Pools, violated state laws related to main drain safety. "This is the first time a swimming pool contractor has been arrested in the United States for violating the building and safety codes concerning swimming pools," Paul Pennington, a spokesman for the Pool Safety Consortium, told ABC, which was preparing to air an investigative special on pool drains just two days after Lionetti turned himself in to police.
Lachocki believes the federal enforcement measures are thrusting virtually all pool professionals into similarly uncharted waters. "In the past, public facilities have always been prepared to deal with risk and potential liability," he says. "The new twist is that they'll still have to deal with those things and also a potential criminal offense. 'My company could get sued' is a lot different than 'I may go to jail.' " As Lionetti's case exemplifies, the rule applies to manufacturers, distributors and technicians, too, and no non-compliant drain covers are allowed in the marketplace after the December deadline.
Further, the Act requires that pools or spas with a single main drain that is not "unblockable" be outfitted with at least one of the following types of safety systems: a vacuum release system that ceases pump operation, reverses flow or otherwise provides a vacuum release when blockage is detected; a suction-limiting vent system, often called an atmospheric vent; a gravity drainage system utilizing a collector or surge tank; an automatic pump shut-off system; or some other type of drain-disabling system.
Many experts believe the demand for these products - especially the compliant drain covers - will for the next four months far outpace manufacturers' collective supply capabilities. "It's going to be important throughout the summer and fall for facility owners to talk with their vendors about what drains are actually available," says Lachocki.
Barnes, who also sees the legislation from the perspective of manufacturers through his role as Pentair Product Manager for Safety and Compliance, says many of the company's engineering resources were already reallocated to focus on the new standards when they were still in draft form. Even so, he says, some ambiguity about what products will ultimately comply with the act has created a time crunch. "Normally, manufacturers get a couple of years to look at a new standard, design to it, certify to it, and then these things trickle into the marketplace," he says. "The Virginia Graeme Baker Act says, 'We need it next year.' That has rushed us as a manufacturer immensely to try and get the product. We need every hour the Act makes available to us, and that gives the installers the last 10 minutes to install them."
Barnes says the approved contingency options for pools with a single main drain have added even more confusion surrounding the Act. "There are no standards, codes or descriptions of how to comply," he says. "We are scrambling to write standards for this stuff. We want to make sure to do this right and we want it to be safe, and we also don't want to put suppliers at an economic advantage or disadvantage. Having hard deadlines and rushing is not the best environment in which to do that, because typically the same people who are on the standards-writing committees are also people with the companies that are trying to comply. I know personally that I am being pulled in two directions."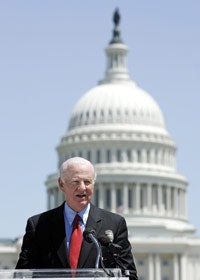 Suction entrapment - which led to the 2002 death of seven-year-old Virginia Graeme Baker, the granddaughter of former Secretary of State James Baker, above - is the focus of a federal law that affects every public pool.
Since it effectively preempts state and local codes, the Act has also caused considerable debate over the federal government's pool- and spa-related regulatory power. "In the pool industry, we simply don't see a lot of legislation coming down federally," says Robert Kappel, board president of the Professional Pool Operators of America and a regional sales manager for Siemens Water Technologies Corp. "Many people say the federal government should have one set of pool regulations for the entire country. Japan has that; a lot of European countries have that. But then again, our country is built differently. We look to states' rights and abilities to come up with their own rules and regulations. For the most part, states do a pretty good job of that."
Minnesota, Abigail Taylor's home state, became the first and thus far only state to adopt the terms of the Virginia Graeme Baker Act as state code during its 2008 legislative session. (A large portion of the Act deals with residential regulations and encourages states to adopt or exceed the Act's standards in order to validate enforcement.) "Things moved very fast for them, and I think it's because of Abigail's story," says NSPF's Davis. "Every state probably is on board with wanting to comply with this, but you can't just snap your fingers and change state laws. Those drain covers are just now coming into the market, and rule-making and rule-changing take years."
Lachocki acknowledges that state codes vary widely throughout the country, many states will resist the concept of sweeping federal pool and spa regulations. "A certain practice may be illegal in one state, and in a neighboring state it may be a requirement," he says. "Even if the CDC has a set of standards, states that already have a mature code are not going to want to just drop it and adopt something else." Despite such tension, Lachocki is in the camp that believes the industry would benefit from a well-researched, science-based set of nationwide pool standards. "In a relatively small field, it might be better to have a broader consensus as to what a standard should be, rather than having many jurisdictions working independently trying to solve the same problem."
Kappel, however, who was recently involved in rewriting the Wisconsin pool code, points to the delicate balance between the regulation of issues such as safety and efficiency and how it might affect a wide range of local stakeholders. "I come from a place where the less the state or federal government become involved in regulation, the better, because it just gets terribly complicated and onerous," he says. "But at what point does the government have to do something? With Virginia Graeme Baker, the suffering is immense, and what value do you put on the life of a child who is eviscerated? But then again, it only happens once or twice a year. To dramatically change the industry because of those one or two instances, you have to ask, 'Is it justified?' That's why we have lawmakers - to wrestle with those questions."
Barnes, for one, believes that any time a pool- or spa-related calamity - Cryptosporidium, evisceration or even the long-term environmental degradation aided by unnecessary energy consumption (see "Pools Turning Green,") - can be prevented by new safety products or technology, legislation at some level will soon follow. "Think of someone allowing their kid to run around in the back seat of their car and they get in an accident," he says. "Does that personal and tragic story make the news? Beyond locally, the answer is no. The difference there is that we've already done things to make cars safe for kids, but if people don't buckle up, what can you do? If you look at Abigail Taylor, you see that she was supervised. There were lifeguards around. She and her parents were innocent. They thought the pool was safe."
Pools Turning Green With a nationwide emphasis on energy conservation, many experts believe that green could be the color of the next trend in pool-and-spa-specific regulation. "It's already on the horizon," says Steve Barnes, safety and compliance chairman of the Association of Pool and Spa Professionals Technical Committee, and Pentair Product Manager for Safety and Compliance.
California has taken the lead in such legislation, and already mandates efficiency standards for pool appliances and plumbing systems. Most recently, the state required that all in-ground residential pools be outfitted with variable-speed pump motors. New Jersey, Connecticut, New Hampshire, Oregon, Colorado and Texas are other states that either have adopted or are reviewing pool pump efficiency legislation.
"States are already looking at similar legislation, so the APSP is in the process of producing a swimming pool and spa energy-efficiency standard," says Barnes. "The pool industry has sold on horsepower for many years, and we're still selling retiree grandmas in Florida the equivalent of a Corvette engine for their little Hyundai of a pool. What you'll find is that the smaller pumps, or variable-speed pumps, often have the ability to do the very same job for 90 percent less energy."
Barnes points out that standards alone don't represent law. "But if it's already mandatory in California, and if Texas or Florida or any other state is going to mandate energy efficiency, we'd like to have a good standard out there that's going to create a level playing field so we don't end up with a different motor requirement in every state," he says. "Automotive emissions standards can vary state-by-state, so the manufacturers have to make different cars. We want to avoid that."