Technologically advanced suits have sparked discussion and controversy in the world of competitive swimming.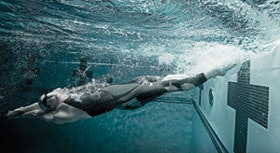 High school coaches accused of cheating? College coaches predicting bankruptcy for their programs? Major newspapers alleging "technology doping"? Welcome to the new era of competitive swimming.
The sleek, low-drag and water-repellant swimsuits worn by Michael Phelps and other elite swimmers who shattered dozens of world and Olympic records in Beijing last summer are now plunging deep into collegiate, high school and youth swimming ranks, as Speedo's LZR Racer®, blueseventy's nero and similar suits are making a huge splash.
"This is one of the more significant technological advances that we'll see in swimming," says Becky Oakes, who oversees the National Federation of State High school Associations' Swimming and Diving Rules Committee, which in August deemed the controversial suits legal for competition. "It has created a considerable amount of discussion in the swimming world at practically every level."
The suits' high price tags and low life expectancies are fueling that discussion. They can cost upwards of $500 each and reportedly last only a few meets before losing their effectiveness, but swimmers who wear them are posting faster times than ever - convincing coaches, parents and swimmers that the suits are necessary in order to stay competitive. "Look at the equipment in other sports," Oakes says, referring to baseball bats, tennis racquets, lacrosse sticks and golf clubs. "As technology improves, a lot of those items are going to be purchased on an individual basis, and some participants will have them and some won't."
"It's pretty clear-cut," said Georgetown swim coach Steven Cartwright, when interviewed by The Washington Post. "You're going to have a situation of haves and have-nots. You have athletic departments that can afford these suits and athletic departments that can't."
Sue Winckler, coach of the DeForest (Wis.) High School girls' swim team, experienced that disparity in November at the state meet, as she fought off criticism from other coaches claiming the suits were illegal. "One coach accused me of cheating," Winckler told the Wisconsin State Journal. "There's nothing wrong with the suit. It's just who gets it sooner. I was educated about it and some weren't, and they were mad."

Although Speedo, for one, has offered more than 400 colleges and universities discounts on the LZR suits for conference and national championship meets, one anonymous official of a top-ranked swimming program told the Post that the suits "are still costing a fortune. I'm concerned about that. The last thing we need is to lose programs over suits."
The National Collegiate Athletic Association, after banning the controversial suits at the 2008 championships (reportedly because they weren't widely available at the time), will allow them this year, according to Leslie Danehy, who oversees the rules for NCAA men's and women's swimming and diving. USA Swimming has outlawed the suits at its sanctioned 12-and-under events, but it's becoming more common to see older kids competing in them. The NFHS, meanwhile in ruling the suits legal, cited a lack of scientific proof that they significantly aid in speed and buoyancy (despite a tsunami of anecdotal evidence).
Still, opinions about the suits' effectiveness vary greatly - "I think it's more mental than anything else," one high school girls' swimming coach says - but the NFHS and other governing organizations might have to reconsider their positions on the issue sooner rather than later. Some observers claim that ongoing research at Indiana University and elsewhere already indicates that swimmers who wear the suits are being directly aided by technology.
And while manufacturers have for years raced to bring innovation to the competitive marketplace (see "Swimsuit Issues," Dec. 2005, p. 66), all of this could lead to the development of an international standard for swimsuit material and construction. "If something new truly goes against the real spirit of the rule and does something above and beyond the fundamental premise of the sport," Oakes says, "then you have to look at the rule again."
In the meantime, she suggests that high school and youth swimming coaches, regardless of whether their programs and participants are able to afford the high-tech suits, not discount the value of hard work. "No piece of equipment, no suit in and of itself, is really going to establish whether somebody is or is not successful athletically," she says. "The keys are still proper training, technique and execution. Those are at the heart of success."