The launch of one company and the re-emergence of another have breathed new life into the concept of computer-assisted drowning detection.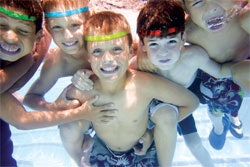 The numbers are enough to take one's breath away. Drowning is the second leading cause of death among American children ages 1 to 19, with at least one drowning occurring on average in the United States every day. According to the U.S. Consumer Product Safety Commission, 88 percent of child drowning episodes occur under adult supervision.
One such drowning - involving a 9-year-old boy at a murky Redding, Conn., pond staffed by camp counselors and six lifeguards - demonstrated all too clearly to three enterprising adults that human supervision just isn't enough. Over the subsequent four years, the new business partners developed and patented the Wahooo Swim Monitor System, a submersion sensor worn around the head that triggers strobe and siren warnings in receivers positioned along the perimeter of ponds and pools (as well as lifeguard pagers) once it has spent a predetermined amount of time underwater. In the event a submersion is detected and the victim's whereabouts are unknown, rescuers can sweep the water with handheld detectors that pinpoint the sensor's location with LED indicators.
Tom Healy, cofounder and marketing director of Aquatic Safety Concepts LLC, which launched the Wahooo system at the General Assembly of YMCAs in July, says that what he learned about the failed life-saving effort in his hometown prompted him to seek a better solution. "They enacted the state-of-the-art search and rescue for dark water. Do you know what that is? They link arms and walk in a human chain until someone steps on the body," says Healy, whose product is designed for application in clear, dark or moving water. "Our system is really a paradigm shift. With it, the distress signal that the swim band sends out not only notifies the lifeguards that they have a swimmer down too long, but it becomes a beacon to help find the swimmer in seconds instead of minutes."
Helping lifeguards "see what they can't see" has been the goal of another company, Poseidon Technologies Inc., since it introduced camera surveillance to pools in the late 1990s. Developed in France, the technology is credited with saving 19 lives worldwide in guarded pools over the years by detecting the downward trajectory of a body in trouble as it heads for the pool bottom. If the body remains motionless for 10 seconds, an alert is communicated via lifeguard pager and coordinates of a victim's location are posted on poolside LED displays.
Slow to receive widespread acceptance in the United States (nearly half of the 50 domestic installations are concentrated in Atlanta, not far from Poseidon's U.S. headquarters in Marietta, Ga.), the technology has struggled at times to stay afloat for a number of reasons. First, it's expensive. Operators of a six-lane, 25-yard pool can expect to pay upwards of $150,000 in hardware, software and installation costs. (By comparison, the Wahooo Swim Monitor System costs roughly $30,000 installed.) In addition, the transition from European pools, with typical depths of two meters, to the shallower pools of North America was not without its hiccups. Underwater cameras tended to be blocked by bodies loitering in the shallow end, and above-water surveillance was rushed to market before it was ready, according to Bill Whitehurst, who has headed Poseidon's North American market development since January 2009. Consequently, several of the first Poseidon installations here were removed. Moreover, Poseidon's parent company assumed operational control from France, and North America didn't see a single new installation from 2006 to '08.
Tabbed to help resuscitate the brand's flat-lining North American market prospects, Whitehurst's efforts have been buoyed by the fact that both the technology and its annual maintenance now cost roughly half of what they did only four years ago. In addition, Poseidon, which is now owned by Maytronics Ltd., an Israeli company best known for its line of Dolphin robotic pool cleaners, has partnered with three leasing organizations to help clients spread the initial cost as monthly payments over three, four or five years, versus an entire outlay due in nine months.
Poseidon recorded its 19th save in Japan on Oct. 15, yet not a single save has occurred in United States. And that, as much as anything else, has made selling the product domestically a challenge. "If Poseidon had a documented save in the U.S., it would be more important to the prospective customers here," Whitehurst says. "If somebody gets saved in Japan, that's nice, but it's not the same as the YMCA in Birmingham, Ala., having a save because they had a Poseidon system."
There have been near-drowning episodes in Poseidon-equipped pools, Whitehurst adds, but each time the on-duty lifeguards proved a successful first layer of defense. A common misperception is that lifeguards, already susceptible to boredom and distraction (the American Lifeguard Association has identified texting on the job as a major concern), will let down their guard when given the luxury of a computer-assisted backup system. "We've had several instances where the lifeguard actually beat the system by a couple of seconds," Whitehurst says. "That we haven't had a save is a credit to the staff, training and lifeguards in these facilities."
Tom Griffiths, president of Aquatic Safety Research Group and champion of Poseidon's first installation on a U.S. college campus (Penn State University) in 2003, likewise sees the technology as a human performance enhancement. "Do you want to be beaten by a computer?" he asks.
Writing for Athletic Business in 2004, Griffiths predicted that drowning detection technology would soon change the standard of care in public aquatic facilities. He still believes that to be the case, though it's taking more time than anticipated. "It will as soon as a save is made," he says, "which will be soon."
Adds Tom Lachocki, CEO of the National Swimming Pool Foundation, "The reality of our world is that it is and will probably continue to be increasingly litigious, and that the standards in our industry will continue to go up, partly because it's the right thing to do and partly because if you don't do the right thing, there are consequences - not only for the people who are injured and their families, but there are also financial consequences."
On Oct. 7, the family of 6-year-old Yiana Ballard, who sank unnoticed to the bottom of a District of Columbia-operated indoor pool and drowned in June, filed a $75 million lawsuit against the District alleging negligence (as well as mistreatment by D.C. police of Ballard's parents in the tragedy's aftermath). At an Oct. 19 press conference, family members announced that a portion of the potential compensatory and punitive damages recovered would fund lifeguard training at the pool.
"I've had so many cases this summer where even the best-trained lifeguards still missed it," says Griffiths, a frequent provider of expert court testimony who cites a July incident involving two Pella, Iowa, high school students who drowned simultaneously in a pool staffed with 10 on-duty lifeguards. "We're using life-saving technologies in cars, planes and trains, but we're still not using them enough in swimming pools. I'm trying to encourage the use of technology, because otherwise we're going to continue to fail." When asked if plaintiffs are pointing to the existence of drowning-detection technology in their negligence claims, Griffiths adds, "They are, especially plaintiffs' experts."
And that should serve as a wake-up call to pool operators everywhere. Lifeguards are irreplaceable, but they are limited by human nature and therefore should never be considered above the assistance only computer technology can provide. "We view anything that works as beneficial to the industry," says Healy, who is exhibiting the Wahooo Swim Monitor System this month at the Athletic Business Conference & Expo in San Diego. "We think there's definitely a market for Poseidon in the commercial environment. We are just going to be an alternative to that, or perhaps a supplement. We always sell these programs and systems as incremental layers of protection."