As both a professional pool designer and the parent of two competitive swimmers, Matt Freeby attends several swim meets every year and keeps a mental list of competition venues he prefers to avoid.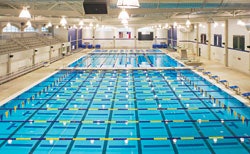 Competitive natatoriums with expansive decks and elevated seating provide ample space for swimmers and spectators. (Photo courtesy of Aquatic Design Group)
As both a professional pool designer and the parent of two competitive swimmers, Matt Freeby attends several swim meets every year and keeps a mental list of competition venues he prefers to avoid. Those natatoriums are usually located in high schools or YMCAs and have a conspicuous lack of spectator seating - meaning parents and other swim fans who can't find any room on the available bleachers or benches often spill out onto the crowded deck and into the facility's entryway. Freeby, project leader for Water Technology Inc., a Beaver Dam, Wis.-based aquatic planning, design and engineering firm, has even attended meets to which the local fire marshal has been dispatched to disperse spectators from entrances and exits.
"Decks, a lot of times, can be an afterthought," Freeby says, which often results not only in limited seating and storage issues but overcrowding among swimmers, coaches, officials and timers - all of whom must share deck space during swim meets. "I fault a facility if it is hosting a meet and there is not enough space for swimmers on the deck. I don't think people who are noncompetitive swimmers have an understanding of the scale of competitive swimming and the impact it has on a facility."
Providing ample deck space can significantly impact the bottom line of a facility's construction budget, too. "What if $300,000 needs to be shaved from the project?" Freeby asks. "Well, making that nice 10-foot deck around the pool eight feet instead seems to make a lot of sense; you can make the argument that it's only two feet on each side. But collectively, that's a lot."
Eight feet might still be considered generous, given that most state health codes require only four to five feet of deck space around the pool's entire perimeter - barely adequate to accommodate a lifeguard and a rescued swimmer. "That's not even enough room to walk around the darned thing," says Randy Mendioroz, president of Aquatic Design Group, a design and engineering company in Carlsbad, Calif. He recommends 10 feet of pool deck as the "bare-bones minimum" for two people to walk abreast around the perimeter of a lap pool. If the natatorium is intended to host competitive events, 15 feet of space from the pool wall to the facility's wall is suggested, and preferably 20 or more.
Many recently designed and built natatoriums opt for aluminum bleacher systems with three to five rows along one or more walls of the facility, and each system typically takes up eight to 10 feet of space. "That's somebody's token attempt at providing spectator deck seating," Mendioroz says. "Even if you have 15 feet of deck space, you're reduced to five or seven after those bleachers are added. The problem we have, frankly, is that facility operators always wait until the last minute to hire the pool guy. By then, they've already developed the floor plan, and they're not going to change it. There's so much inertia toward revising that floor plan to accommodate ample deck space - and its accompanying costs - that decks invariably get sacrificed."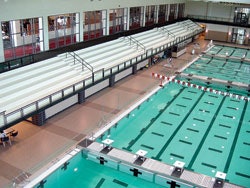 Elevated spectator seating allows fans to enter from above the bleachers, preventing blocked views. (Photo courtesy of Aquatic Design Group)
Ideally, school boards and other organizations that oversee the planning and design of competitive natatoriums should include at least one member of the aquatics staff to help answer such questions as:
Will lane lines be stored on reels that can be wheeled over to the corner of a deck, or will they be piled up in a storage room located off the deck?
Where will other equipment used for swimming lessons and swim-team practices - kickboards, fins, pull buoys - be stored?
Do coaches plan to conduct dry-land workouts in the natatorium or in another part of the facility?
Will pool lifts be used?
Will there be enough room between the starting blocks and the natatorium's wall for members of a four-swimmer relay team to stand?
Where will tables for the public address announcer and timing system operators be located?
Mendioroz likes to circulate a "design program questionnaire" to his clients to stimulate deck discussions, asking them to consider a variety of programming options - from competitive swimming, diving, water polo and synchronized swimming to learn-to-swim lessons, lifeguarding and scuba-certification classes, and special-needs programming.
The need for deck space is not as critical in facilities that will be used primarily for leisure and recreation purposes (more on that later), but one of the most effective ways to make room in a competition venue for spectators, swimmers and everyone (and everything) else is to elevate the seating. That approach worked extremely well at the temporary Charter All Digital Aquatic Center constructed in the parking lot adjacent to the Long Beach (Calif.) Arena for the 2004 U.S. Olympic Team Trials, and it's a design approach heavily favored by both Mendioroz and Freeby that can be incorporated into many one-and-a-half- and two-story natatoriums.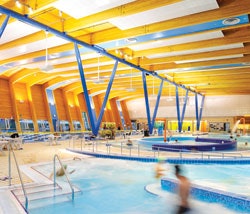 Decks for indoor multipurpose aquatic centers demand versatility, with ample room for furnishings and user traffic. (Photo by Hubert Kang, courtesy of Hughes Condon Marler Architects)
At the time trials, the first row of spectator seating was located about six feet above the pool deck and separated from the water's edge by 15 feet - allowing fans to see over all the individuals on deck but still interact with swimmers. At the same time, that approach keeps spectators off the deck, where they could distract swimmers, question officials' calls and interfere with coaches, and it allows for top-level entry so fellow fans do not block spectator views.
"One of the lessons we learned from being involved with that project is that six feet is just about the right elevation above the finished deck," says Mendioroz, whose company was part of the design team for the 2004 Olympic time trials. "It provides an intimate feeling while still preserving the line of sight. You go too high, and you lose some of that intimacy. The other nice thing about that has to do with spectator comfort. The air temperature on deck in an indoor facility can be between 80 and 82 degrees. Elevated seating allows you to create a zone for air conditioning that you can blow on the spectators as the heat rises."
Of course, not every facility lends itself physically or financially to upper-level seating - making on-deck spectator space a must in some competitive venues. But what about the rest of the week (or month), when facilities are not hosting events? "Pool decks need to be highly flexible and multipurpose," says Darryl Condon, managing principal at Hughes Condon Marler Architects in Vancouver, B.C. "We try to design the facilities so these spaces can be utilized in a variety of ways. In addition to typical seating, some of the interesting examples I have seen include relaxation areas, dry-land training, food service and even an Internet café. The key is to make things portable enough so that during a competitive situation, the areas can be easily cleared."
A similar clearing of the deck is recommended for indoor leisure pools. "Leisure is the wrong word, because there is nothing leisurely about what is going on in those facilities," Mendioroz says. "So we have a tendency not to put chairs in an indoor leisure pool environment."
He recommends 10 feet of deck space around the pool's perimeter, mainly for user circulation. Operators of children's learn-to-swim programs are telling architects and consultants that they no longer desire parents to sit on the deck and observe classes. Instead, an adjacent corridor or room with chairs and windows - a "cry room" for parents, as Mendioroz calls it - prevents interaction between parents, their children and the instructors.
For indoor leisure pools that still place a priority on deck seating for parents, as well as for active participants taking a breather, Condon suggests an impressive amenity that nevertheless could very well break a project's budget. "The most comfortable pool decks in indoor facilities are those that include radiant heating within the floor system," he says. "There is additional cost associated with adding this system, typically between $50,000 and $150,000, but it helps to add flexibility and user enjoyment of deck spaces."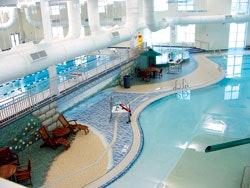 By placing few chaise lounges on deck, leisure pool operators encourage users to get into the water. (Photo courtesy of Water Technology Inc.)
Although on-deck storage needs for indoor leisure facilities are about 25 percent of those at competition facilities - portable cabinets and caddies can be used to house water noodles, balls and other play items - indoor water parks naturally require more space and furnishings to accommodate all-day users who usually arrive with large, overstuffed beach bags in tow. "The classic example of what not to do in an indoor water park setting is to have your concessions area located right by the entrance doors. Nobody's ever going to eat there, because that area will be jammed with people storing their belongings," Freeby says, recalling at least one facility designed exactly that way. "The theory was that the concessions would serve patrons of the water park and an adjacent game room, but the facility had to put up signs saying that space was reserved for concessions patrons only."
The length of time patrons stick around also drives deck space allocation at outdoor leisure and water parks. Many users plan to stay all day, with a large percentage of them opting to lounge rather than play. So chaise lounges and tables (two items rarely seen in large quantities on indoor leisure pool decks these days) need to be plentiful, as does shade.
The pressure to meet the deck demands of outdoor patrons is lower than it is for indoor users, because outdoor facilities often are not as constricted by land and construction budgets. "That's one reason why there's a tendency to see much more pool deck at outdoor facilities," Mendioroz says. "With an indoor facility, every square foot of pool deck you have means you must have a square foot of building over the top of it."
When designing any indoor deck area, Freeby suggests erring on the side of too much rather than not enough, arguing that it's easier to fill additional space than go without it when that space is really needed. For example, if a facility without a wet classroom plans to offer lifeguard, scuba or other certification classes, the deck needs to accommodate the classroom portion of those programs. Lectures can still be given and written exams can still be taken in an on-deck environment, but Freeby suggests considering what other aquatic programs will be coinciding with that activity. "What if there is a water aerobics class with loud music going on at the same time? Will spectator bleachers work as a learning environment?" he asks. "Those are all parts of programming a deck that need to be addressed."
But often the main obstacle remains simply convincing facility operators that adequate room in the budget should be left for smart deck design. "The most compelling reason is usually the level of competition that the operators wish to host," Condon says, summing up the process. "Once we have established the competition level, the deck widths are generally established. We are careful to point out the strategies that are incorporated into the design to make the decks flexible and multipurpose. It's an ongoing challenge."