In a community-wide effort to provide the benefits of a swimming and aquatic competition venue for local residents, the city of Polson, Mont., located 50 miles north of Missoula, recently opened its newly completed Mission Valley Aquatics Center.
Photos courtesy of Rowley International
This article originally appeared in our sister magazine, AQUA Magazine.
In a community-wide effort to provide the benefits of a swimming and aquatic competition venue for local residents, the city of Polson, Mont., located 50 miles north of Missoula, recently opened its newly completed Mission Valley Aquatics Center. Designed by Greg Cannon of Rowley International (Palos Verdes Estates, Calif.), the project is designed for year-round, multipurpose use in a region where places to swim indoors are scarce.
In an era when far too many municipal pools are being closed or falling into disrepair, it's a wonderful breath of fresh air to participate in creating a brand new aquatic facility in a place that's never had one before.
Our firm, Rowley International, had the pleasure of designing and engineering the Mission Valley Aquatics Center in Polson, Mont., which now offers a range of aquatic-related activities to local residents.
Part of the motivation to build the facility was the community's location on the shores of Flathead Lake, a huge body of water in a truly beautiful natural setting surrounded by high-end residences. The lake is used heavily during the summer and organizers saw a need for a place where residents can learn how to swim and hold various events.
We were able to take part in the process in the early stages - always helpful - and in this case, our initial discussions centered on fundamentals, including the size and physical orientation of the pools, equipment and overall system design. Taking part in those formative discussions gave us the best opportunity to help the community group establish realistic fundraising goals and in general deliver exactly what the clients wanted.
FOR ALL SEASONS
The building itself was designed by Michael Absolonson of Architects Design Group of Kalispell, Mont. The design style suggests a mountain lodge, with a steep roof design to help contend with snow loading, all of which looks right at home in the surrounding area.
The natatorium features a number of large windows and has a spacious feel. The space features expansive decks for competitions, along with locker rooms, community meeting rooms and a large lobby.
Again, because we were involved early on, we were able to offer a number of suggestions including humidity control, HVAC requirements, moisture barriers and acoustic considerations. Those issues were particularly important from a value-engineering standpoint and in terms of functioning in a climate where outside temperatures can fall to 20 degrees below zero.
The aquatic components - a competition pool and a smaller therapy pool - were relatively straightforward and to a large extent, the overall design lacks many of the bells and whistles often found in other aquatic centers these days like waterslides and interactive features. However, the absence of those items allows for a clean, beautifully simple design.
Because the facility is intended for multiple uses and, at times, high bather loads, the aquatic design and engineering was created with both program flexibility and superior water quality as top priorities.
The swimming pool construction was handled by The Pool Company out of Tacoma, Wash., and the general contractor was Swank Enterprises, a local firm. Both did an impeccable job and were great team members; the project proceeded with very few delays or hitches.
The building's outer shell and roof were built first, which allowed the construction process to continue through cold weather so there was no starting and stopping due to the often frigid climate. The entire facility was built in roughly one year, a fairly short time frame for a project of this size.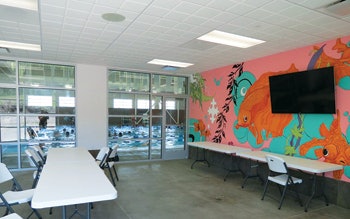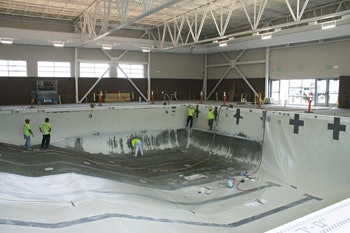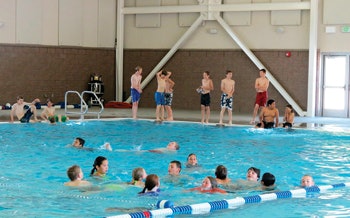 POOL SYSTEMS
The major feature is the eight-lane, 25-yard competition pool used for swimming, water polo and diving events as well as training, recreational swimming and learn-to-swim programs. It's 12 feet deep, making it suitable for 1-meter diving, up to 4 feet deep in the shallow end, with a large stair area for easy entry and egress. The pool is very traditional in appearance, very utilitarian and designed to be used by a lot of people day-in and day-out for a long time.
One element that does add some visual pizzazz is the perimeter overflow edge treatment. Water flows over a tile edge and into a grated gutter system. It's a great looking detail, and we favor this type of design for a number of big reasons:
Not only does it add a nice contemporary architectural look with the water level an inch above the deck, perimeter overflows minimize waves and create a consistent racing environment across all eight lanes. Because the surface is slightly higher than the deck, sight lines are improved compared to vessels where the water level is recessed below the deck, which blocks them. Also, the design makes it easy for kids to climb in and out of the pool, which is also aided by the bullnose, handhold tile we specified for the edge.
As mentioned above, the system is designed for heavy use, especially in the winter when the lake is frozen. The surge capacity in both the gutters and a 9,000-gallon surge tank was designed to accommodate more people than will ever use the pool at one time. We engineered the circulation system with fast a turnover rate - 266,700 gallons in five hours - using a high-efficiency pump by Paco and high-rate sand filtration with an automatic control system. (The filter is programmed to backwash at night when there's less volume flowing through the local sewer system.)
The chemical treatment system includes both UV and ORP-controlled chlorine injection (calcium hypochlorite) and pH/alkalinity control using both CO2 and muriatic acid. In recent years, we've become strong proponents of UV systems for the way they break up chloramines, which in turns helps with air quality in fully enclosed natatoriums. And UV is a great method for killing pathogens causing waterborne illness, making it perfect for high-use pools.
There are split, unblockable main drains, 24-by-48 inches and VBG compliant, as always.
STURDY CONSTRUCTION
The pool has a robust structure. As is true of all projects we design, we used comprehensive geotechnical information to ensure the structures would exist indefinitely without any worry of failure down the line. In this case, the soil is mostly loose gravel and sand, which wouldn't serve as a good form for the concrete.
That meant the site had to be over-excavated and the pool shells were formed with wood. The floor of the competition pool was poured in place to give the builder a solid surface on which to work, and then the walls were later shot with shotcrete.
We used a key joint in the areas where the floor transitions to the walls. It's a simple detail where the builder places a 2-by-4 around the edge of the floor to create a slot, which accepts the bottom of the wall, creating a strong and leak-proof mechanical bond.
The return inlets are all situated on the bottom, which minimizes currents by evenly distributing the return flow across the floor, an important detail for creating even racing conditions for all eight lanes. (Pools with side inlets create currents that can handicap swimmers in the outside lanes.)
Typical of many competition pools, the surface is comprised of white plaster and tile lane markers. We specified a full complement of racing blocks, diving boards, lane lines, backstroke flags and water polo goals.
The warm-water therapy pool measures 18 by 23 feet with depths ranging from 3-to-5 feet to accommodate different types of therapy. The system for this pool differs from the competition pool in that it uses skimmers instead of a perimeter overflow system. It's sanitized by UV and uses a saltwater chlorination system instead of chlorine injection.
We opted for chlorine injection in the larger pool because we wanted to be able to dose the pool with chlorine very rapidly during times of extremely large bather load. Because of the therapy pool's smaller volume and lighter bather load, we were confident the saltwater system would keep up with chlorine demand.
The deck surrounding both pools is made with poured-in-place concrete and broom-finished to prevent slip and fall incidents. The therapy pool is fitted with an ADA-approved hydraulic lift for handicap access.
OPEN DOORS
All the hard work and dedication of the municipal consortium of community members, led by Tana Seeley, finally paid off when the pool opened its doors to the public on May 21. The event was widely covered in local media and was quite the stir among Polson's community of 5,000 residents. As planned, the facility is already being heavily used with new programs coming on line throughout the summer.
For our part, it's always a source of pride to know our work has helped bring together all the fun, good health and community involvement that comes with these types of facilities. The Mission Valley Aquatics Center encompasses the benefits that make public aquatic centers so valuable for all communities, from the biggest urban settings to remote small towns like Polson.
Comments or thoughts on this article? Please e-mail eric@aquamagazine.com.