This article appeared in the May issue of Athletic Business. Athletic Business is a free magazine for professionals in the athletic, fitness and recreation industry. Click here to subscribe.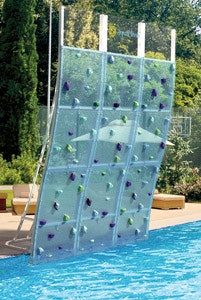 AquaClimb
With its four-meter height, AquaClimb® Kurve gives adults, teenagers and kids a deep-water solo climbing experience. Designed to represent water in a continuous concave wave shape, the blue obscuring panels allow natural and artificial light to pass through but blur the view from behind the wall, giving climbers a sense of privacy. Kurve can be installed on either an indoor or outdoor pool deck where the water depth is eight feet or greater. A single hinge point allows for easy installation and a smooth climb.
www.aquaclimb.com
(800) 956-6692
---
Aquatic Access Inc.
Aquatic Access Inc. designs and manufactures ADA-compliant, portable, water-powered swimming pool and spa lifts. Their simple designs are smart, reliable and easy on the earth, the staff and the budget, requiring no batteries, daily charging, remotes, contacts, actuators, gears or other expensive components. Fresh water flowing in and out replaces evaporation for free energy. Custom designs are offered for access from docks to water.
www.aquaticaccess.com
(800) 425-5438
---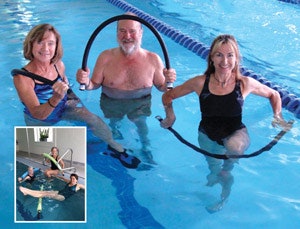 Body Bar
The lightweight and flexible AquaFLEX is a variable-resistance, buoyant training tool that helps develop muscular strength and endurance, core conditioning and dynamic flexibility. The NoodleFLEX combines the dynamic, bendable and resistive qualities of AquaFLEX with the drag properties and added buoyancy of a pool noodle. The NoodleFLEX can be used in both shallow and deep water without the need for an additional buoyancy belt. Both products are available in multiple sizes, and various teaching resources also are available.
www.bodybar.com
(800) 500-2030
---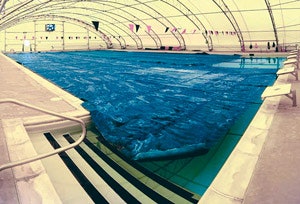 ClearSpan Fabric Structures
ClearSpan Fabric Structures provides design-build solutions for any aquatic center need. Abundant natural daylighting makes the atmosphere inside a ClearSpan structure enjoyable for employees and patrons. The climate-responsive quality of these buildings keeps them cooler in the summer and warmer in the winter, reducing energy consumption. Sound-absorbing fabric covers and walls reduce outside noise and echoing.
www.clearspan.com
(866) 643-1010
---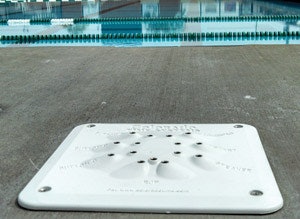 Colorado Time Systems
Colorado Time Systems' titanium deckplates will enhance any pool. The domed topography sheds water from the top of the deckplate and allows for better signals, and the titanium connections are designed to withstand corrosion. The robust plug combines speed-light and relay-judging signals, and plates will not yellow in the sun.
www.coloradotime.com
(800) 279-0111
---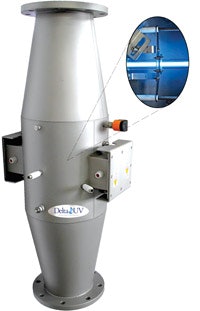 DeltaUV
Properly sized secondary sanitation systems ensure correct disinfection dosing in aquatic facilities, and the popular EM series medium-pressure commercial UV water treatment system now comes in eight different sizes. Accommodating flow rates from 100 GPM to 4,000 GPM, treatment systems destroy organic matter and eliminate dangerous chlorine byproducts (chloramines) that lead to stinging eyes, skin irritations, asthma and allergies. Chemical usage is reduced while providing continuous disinfection to eradicate waterborne pathogens.
www.deltauv.com
(866) 889-8765
---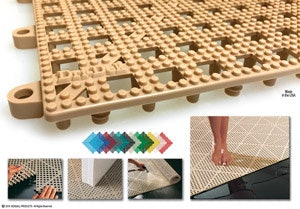 Dri-Dek
Dri-Dek's anti-skid, self-draining surface keeps floors dry. Made from antimicrobial oxy-B1™ vinyl to help control infectious bacteria, mold and mildew, Dri-Dek is perfect for pool areas, showers, locker rooms and barefoot walkways. Interlocking tiles easily snap together to form a custom surface of any length, width or shape.
www.dri-dek.com
(800) 847-9341
---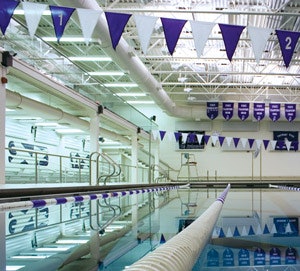 Eckel Industries Inc., Acoustic Division
Eckel's high-performance Eckoustic Functional Panels (EFPs) increase spectator enjoyment and improve instructional communication in aquatic facilities by effectively controlling noise and reverberation. The patented, fire-resistant panels can be spot located on walls and ceilings, and customized colors and finishes complement any architectural layout and design. Available in moisture-resistant coated aluminum, Eckel EFPs are perfect for a damp, chlorinated environment. Their superior sound absorption and durability make them a practical and economical acoustic solution.
www.eckelusa.com
(617) 491-3221
---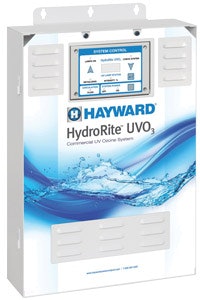 Hayward Commercial Pool Products
HydroRite™ UVO3 Commercial UV Ozone serves as a secondary disinfection system, as recommended by the Model Aquatic Health Code guidelines. The system delivers a powerful trio of disinfectants — UV, ozone and advanced oxidants — that work synergistically to deactivate more than 99.9 percent of harmful chlorine-resistant microorganisms. The NSF-certified HydroRite UVO3 is an easy-to-use and affordable all-in-one UV and ozone solution.
www.haywardcommercialpool.com
(800) 657-2287
---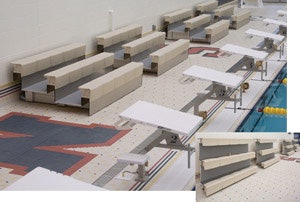 Hussey Seating
MAXAM 1™ portable bleachers deliver flexibility, portability and safety anywhere, including natatorium or pool deck environments. Designed for one-person transport and operation, MAXAM is the first and only closed-deck portable bleacher with ergonomically contoured polymer seats. Its intelligent design and multi-directional casters fit easily through standard door frames and in common freight and large-capacity passenger elevators. Additional features include customization and a five-year, factory-backed warranty.
www.husseyseating.com
(207) 676-2271
---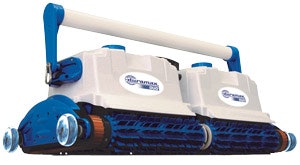 Lincoln Aquatics
The automatic self-propelled and self-contained vacuum from Lincoln Aquatics operates without the use of the labor traditionally required to physically clean a pool. Simply place the vacuum in the pool, let it work and then rinse the filter assembly when finished. This allows the staff to tend to other duties while the pool is being cleaned. The automatic vacuum is not only easy to use but ensures better cleaning compared to manual-operation vacuums.
www.lincolnaquatics.com
(800) 223-5450
---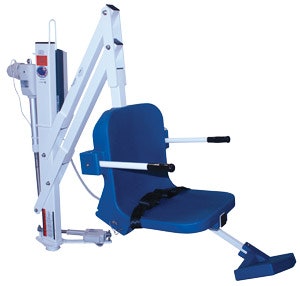 Pentair Commercial Aquatics
The AquaTRAM® 90 ADA-compliant lift rotates 90 degrees left or right for easy pool access. The improved lift reach clears spa benches and most gutter types. Featuring rechargeable, battery-powered operation and a 300-pound lifting capacity, the lift retrofits easily into existing anchors and can be removed without tools.
www.pentairpool.com
(800) 284-4151
---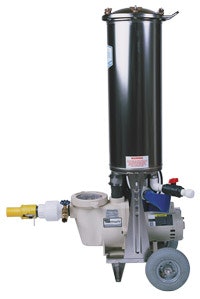 Recreation Supply Company
Recreation Supply Company's electric- and gas-powered filter vacuums combine portability with high-powered suction and large-capacity, single-filter cartridges. Filter vacuums are built with dependable Pentair and Harmsco components and a stainless steel cart.
www.recsupply.com
(866) 831-0048
---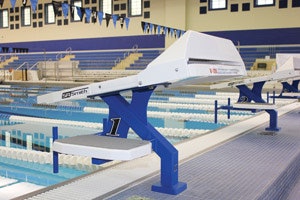 S.R.Smith
New Velocity starting blocks from S.R. Smith feature a large, sleek fiberglass footboard that provides outstanding strength and durability. The unique TreadTrue™ surface provides excellent grip and slip-resistance. The track start adjusts to five positions and has the ability to neatly tuck away if desired. To eliminate platform movement, the powder-coated stainless steel frame is secured with the patented RockSolid™ anchor.
www.srsmith.com
(800) 824-4387
---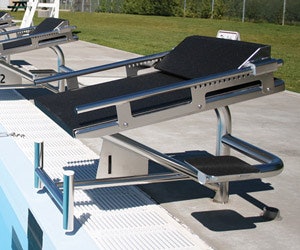 Spectrum Aquatics
Applying the latest in approved technology, the Xcellerator starting platform features an adjustable track start wedge and handgrips to give swimmers an extra boost by allowing the knee to start at a 90-degree angle. The superior grit-finish top reduces slipping, while the H-style backstroke bar gives backstroke swimmers numerous gripping options.
www.spectrumproducts.com
(800) 791-8056
---
Read More from AB: Equipping Pools for Competition

RELATED: Find more solutions for your facility in the Buyers Guide

---
This article originally appeared in the May issue of Athletic Business with the title, "Spotlight: Aquatic Components"