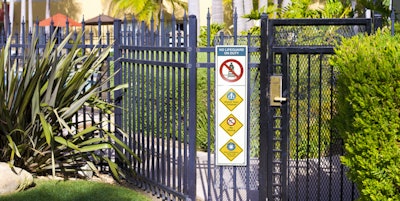 This sponsored content was provided by Clarion Safety Systems. What is sponsored content?
About 10 people die of unintentional drowning every day in the United States, according to the Centers for Disease Control and Prevention. Water presents a very real hazard. As with any risk in a facility, when a property has a pool, its potential hazards and information on how to avoid those hazards must be communicated to people as part of the facility's legal "duty to warn." When it comes to your water safety program, correctly designed signs are key to keeping swimmers safe from harm and facilities free from lawsuits. The challenge is that most pool safety signs in use today don't comply with the latest best practice safety sign design standards. This means the vast majority of pool owners are missing the opportunity to effectively convey critical safety communication to pool users, which unnecessarily risks accidents and costly litigation.
The Problem with Minimum Requirements
State and municipal codes and regulations often define the safety messages to be displayed in and around public, commercial and community pools – resulting in long "list of rules" signage. These text-only signs may meet minimum state requirements, but they easily go unnoticed by swimmers and often fail to call attention to the most important safety messages. Tragic accidents occur when these types of messages go unheeded. Consider the potential outcome of a child left unattended, a non-swimmer not wearing a life jacket, or someone diving into shallow water. When it comes to improving the visual display of safety information, it's necessary to go beyond the minimum requirements and use the latest warnings technology: the U.S. and international best practice safety sign design standards.
Defining Effective Safety Communication
The American National Standards Institute (ANSI) and the International Organization for Standardization (ISO) are the two standards-making organizations that define industry best practices. When it comes to safety signs, the ANSI Z535 standards establish a "national uniform system for hazard recognition" and ISO has established global best practices that use graphical symbols as key components. Over the years, the ANSI Z535.2 standard for workplace and public area safety signs has evolved to include principles derived from two sources: human factors research into how people comply with visual messages, and case law that has defined what constitutes an adequate warning. More than just "identifying the hazard," the newer ANSI sign formats:
Describe the hazard and how to avoid the hazard
Better accommodate symbols, and
Properly use a risk-based severity level matrix for choosing the right signal word (i.e. DANGER, WARNING or CAUTION)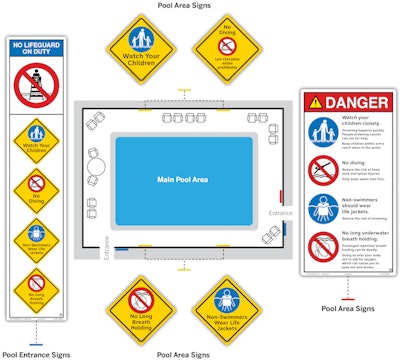 The ISO standards in the field of safety signs have, on the other hand, developed a sophisticated yet easily understood use of color-coded ISO-formatted symbols to call attention to a wide variety of safety-related messages, including safety symbols applicable to a broad range of aquatic water activities. Use of these symbols helps to convey safety information across language barriers, making signs global in their communication objectives. In short, use of the ANSI and ISO standards-based design methodologies will help make a facility's pool safety sign system state-of-the-art.
Implementing Best Practices to Increase Safety and Reduce Risk
To communicate safety effectively, it's necessary to understand that a pool's safety signs work as a "system" of signs to inform guests of potential hazards and how to avoid them. The process of defining this system of safety signs begins with a risk assessment that identifies the core safety messages needing to be conveyed. For most pool facilities, these core messages include "Watch Your Children", "No Diving", "Non-Swimmers Wear Life Jackets" and "No Long Breath Holding." Next comes choosing the right signs to communicate the selected core messages. The final step in planning a new sign system is to determine how placement and repetition can be used to give pool users multiple opportunities to see and understand the signs.
To summarize, a state-of-the-art pool safety sign system should consider these five key qualities:
1. Compliance with the latest best practice ANSI and ISO safety sign standards so pool users are given the information they need to make good decisions to avoid potential hazards.
2. Use a "systems" approach that repeats a carefully selected set of core safety messages at various critical points in the aquatic environment.
3. Include graphical symbols to increase noticeability and enable universal comprehension.
4. Customize signage, when necessary, to meet the needs of a particular aquatic environment.
5. Translate messages, when necessary, to meet the needs of non-English reading audiences.
Ultimately, it's up to the aquatic facility to determine the scope of the safety messages needing to be conveyed and how best to convey those messages to expected pool users. However, finding the right partners to provide guidance on best practices will help achieve the goal of risk reduction. When lives are on the line, there's no room for anything less.

---
Derek Eversdyke is Director of Facility Safety Products at Clarion Safety Systems where he collaborates with workplace safety professionals on sign systems that can help reduce risk and protect people. Learn more about Clarion's innovative, best practice pool safety sign systems here.