In developing a multi-use aquatic center, designers and operators are often met with a fundamental challenge — how to combine the demands of performance-based competition with those of community-based leisure offerings under one roof. To put it another way, how can your aquatic center train athletes, teach tots and entertain thrill-seeking bathers all at the same time?
Two projects recently undertaken by our design firm and local partners have addressed this challenge.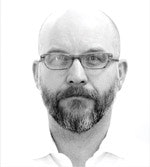 University of British Columbia Aquatic Centre
At the time of the UBC Aquatic Centre's 2013 conception, the existing varsity aquatics program had just sent more athletes to the 2012 London Olympic Games than had any other site in Canada. At the same time, development of lands surrounding the campus for new student, faculty and market housing had contributed to the university becoming one of the fastest-growing communities for families and youths in greater Vancouver.
The university had become its own municipality, responsible for a full range of services. This means not only providing memorable aquatic leisure and entertainment activities between classes for 50,000 students seeking memorable social outings — the kind of on-campus experiences that world-class institutions need to attract the best students and faculty internationally — but now community-based recreation, as well.

University of British Columbia Aquatic Centre Vancouver, B.C.
Leisure square footage: 19,300 (includes 25-meter pool and diving)
Competition square footage: 21,850
Cost: $34.5 million (Canadian)
RESEARCH CONTEXT
First, a survey of both campus and civic aquatic facilities throughout Canada and the United States revealed that these facilities were geared almost exclusively toward either competition or community, and the ones that did combine both programs were found to have clear drawbacks, significantly limiting their ability to deliver one or the other program to its full potential.
On American campuses, there appeared to be an extreme focus on competitive aquatic programming — often with multiple training basins, significant grandstands, event infrastructure and associated performance support spaces. Given the emerging trend for greater campus recreation and "aquatainment" offerings, it seemed leisure-focused aquatic spaces were often developed as distinct but cojoined aquatic halls or as entirely separate facilities.
On Canadian campuses, aquatic spaces were comparably focused as highly functional but "cold dark-blue rectangles" of competitive training programs. There was, however, noticeably less event capacity. These facilities creatively offered programming flexibility for other leisure-based group activities but none provided the leisure features that are now considered standard within community-based aquatic spaces: lazy rivers, Tarzan ropes, basin variety, water spray features and the like.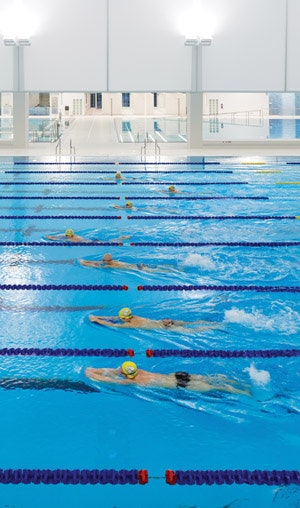 COORDINATED USE
What we have seen as a regional trend over the past decade is that municipalities throughout Western Canada have become pioneers in developing integrated competition and community-use facilities, showing numerous examples of successfully combining 50-meter competition programs with leisure-basin community offerings within a single aquatic hall. Understandably, due to the community bias of these facilities, it was found that various competitive aspects — such as event hosting and training functions — were significantly restricted at these venues due to acoustic, operational and user-space challenges.
For the University of British Columbia, the competitive aspect was a key driver for the facility, and in no way could it be compromised. The project was mandated and has now been seen as the state-of-the-art campus competition facility in the country.
The extremely tight budget for the project limited any opportunity for isolating the programs — they needed to be together, under one roof. It was also clear in the client's agenda (and a truism seen in other Canadian examples) that combining multiple pool basins, varied user groups and flexible programming opportunities delivers the highest-value space by increasing participation, excitement and interest. Multiple water bodies and aquatic features viewed in close proximity also create a collective "wow factor." From the university's perspective, a child from a learn-to-swim program watching an Olympic athlete train and imagining, "Maybe someday that could be me," would be the ultimate indication of success.
But how to design, program and plan to overcome the limitations associated with such close quarters? The following seven points illustrate some of the key strategies employed at the UBC Aquatic Centre to successfully merge the client's goals within the tight budget constraints that many campuses and communities typically face:


Programming flexibility
The requirement to co-program elite-level training and competitions with daily community use led to a square plan with a two-sided natatorium. On one side, the 10-lane, 51-meter-by-2-meter deep basin with a moveable 1-meter bulkhead offers opportunity to host FINA and NCAA aquatic events and training.
The community side houses three basins — lap, leisure and hydrotherapy — for variety and flexibility of community programming. This space includes fun features for students, teens and children, such as a Tarzan swing, a current channel (for both fun and therapy), spray features, a hot tub, a sauna, a steam room, a water basketball court, and 3- and 1-meter springboards.
While a moveable floor in the lap pool did not fit the budget, the basin and tunnels have been designed to accommodate one in the future to further provide programming flexibility. The leisure basins intentionally do not take on curvilinear shapes, but rather retain rectilinear planning to allow for maximization of learn-to-swim programming, while still providing variation in depth, islands and other planning to offer exploration opportunities and intrigue.

Clear planning
The lobby, which contains the building's single point of control, provides participants and spectators access to either the dry corridor or the viewing and bleacher spaces.
Spectators can bypass the lobby and intuitively enter the bleachers from the exterior, while not disturbing community functions. Change rooms are designed with a central universal change space, completely transparent from the exterior, providing for a clear, bright and inclusive community space. Gendered change rooms are also provided to accommodate competition events, as are team athletic locker spaces.
The location and access to and from these spaces minimizes overlap of the two populations.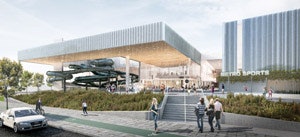 Daylighting
Community programming welcomes controlled natural daylight with a preference for low-glare top lighting. Competition spaces conversely desire conditions anywhere from limited controlled daylight to complete blackout.
The UBC Aquatic Centre employs a central Y-shaped bank of columns that splits the structural roof span with a 21-foot-wide glazed slot down its center, delivering light into the center of this deep plan. A translucent Barrisol screen filters and diffuses light to the competition side while reflecting and amplifying light into the community basins. Perimeter glazing provides operable blinds to fully control daylight conditions for events.

Separation and identity
A large bench structure and translucent screen creates a luminous but open barrier between the two spaces. While no actual physical or acoustical separation exists, there is a subtle balance and delineation of space that is achieved — differentiating and providing identity and character for both sides, while also remaining welcoming and open. Important team branding and varsity identity can happen on one side without creating an overall dominant or exclusionary feel.

Acoustics
Anyone who has spent time in the notoriously hard and reverberant environments of an aquatic hall will appreciate the need to carefully manage the sonic component.
With hordes of gleeful children or students adjacent to competition training, the jobs of the lifeguard, swim instructor and coach become a challenge in what needs to be an instructional environment. To help control reverberation and reduce noise, the UBC ceiling is sloped downward to its minimum functional heights and the entire ceiling surface — including the sides, which tessellate downward to capture the glazed walls — are a highly absorptive fiberglass acoustical paneling system called Techstyle, designed by Hunter Douglas for humid environments.
Reports on audibility have been extremely positive. Coaches have indicated that they can position themselves anywhere in the facility for optimal instruction.

High-quality air
Low-level displacement air is delivered along the central bench that acts as both a seating space and a physical separator. This air is drawn across the water surface to the opposite perimeter gutter, where return air is captured back into the heat recovery system to remove chloramines and deliver fresh air to the athletes and bathers.

Integrated function with campus spaces
The exterior spaces are used to help manage users. Ramps parallel both sides of the aquatic hall, rising to the level of the bleachers on the east. This affords students dynamic views into the pool, creating a sense of openness and invitation. Free access through the doors at the top of the ramp allows students to casually use the bleacher space, shortcut to class or arrive at a competitive meet without the need to enter and disrupt community lobby functions.
A 35-foot-wide space is created on the north side of the building, functioning as a terraced campus laneway, but it can also be captured as space for use by the aquatic centre as an outdoor sunbathing area, a marshaling zone or a dry-land training space.

Metro Sports Facility, Christchurch, New Zealand
Metro Sports Facility Christchurch, New Zealand
Leisure square footage: 30,600
Competition square footage: 32,900
Cost: $160 million (U.S.)
In 2010 and 2011, a series of deadly earthquakes devastated Christchurch, New Zealand's second-largest city. The recovery was unprecedented and included the 300,000-square-foot, $160 million (U.S.) Metro Sports Facility as the key community-focused recovery project.
While this was to be one of the focal social venues to bring people and vitality back to a downtown that lost 80 percent of its building fabric, it was also to be one of the South Island's top regional, national and international sports destinations. The facility features a 100,000-square-foot multi-use aquatic hall, along with a comparable bar of community and competition sport courts. Other programs such as fitness, movement and community studios, national sport partner offices, a daycare and numerous retail outlets round out the project.
The program is structured within an iconic and highly functional H-shaped design expressing the parallel dry- and wet-bar programs, with the community and social spaces conveniently inhabiting the space between.

LARGE LINEAR VOLUME
While the budget and scale of this project vastly outstrip those of the UBC Aquatic Centre, many of the same issues in combining community and competition are present, and many of the technical strategies developed for UBC are similarly employed. The notion of the "wow factor" — having immediate visual and physical access to all the basins and aquatic offerings — was also a primary driver for this aquatic hall.
The strategy in this case was to place the community and competition aquatics end to end as a singular linear volume. Once completed, this will be one of the largest aquatic rooms in the Southern Hemisphere, measuring 430 feet in length and upwards of 50 feet in interior height.
However, due to the scale of the event operations for the 3,000-seat venue — which overlooks the 10-lane, 79-meter competition basin with a complete Olympic diving center — a 40-foot-high clear glazed and operable partition is used to separate the competition and leisure volumes. This provides a physical and acoustical separation during events, while retaining access and visual continuity. A series of south-facing skylights (keep in mind, we're "down under") run the entire length of this grand natatorium and provide a rhythmic continuity of diffuse daylight, connecting the two program spaces through the use of light, form and material.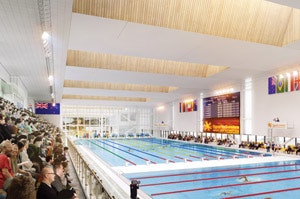 OUTRAGEOUS INDULGENCE
In addition to delivering the most comprehensive high-performance aquatic facility in New Zealand, there was an equally important agenda to deliver the country's most ambitious leisure water and play zone, with inventive and outrageous flourishes of indulgence and aquatic enjoyment.
Many of the operational design strategies implemented at UBC Aquatic Centre were undertaken here to help merge these dual goals. Further innovative aquatic programming was developed to help create unique and memorable competition and community programs. The express intent was to provide the entire spectrum of aquatic experiences.
The following features express the facility's fun side:

HydroSlides
A series of six HydroSlides and a tall glassy tower penetrate the front facade and become the facility's key outward expression of community fun and engagement. A grand canopy to the street architecturally contains these sleek black serpents, and provides shade and shelter for a connected outdoor splash pad and café below.
From the sidewalk, one sees jubilant sliders climbing the tower, and through the full height glazing down the length of the hall, one can also see the diving towers: "sentries" that mark the far end of the site. The clear message of these iconic bookends is an invitation for amateur thrill-seekers to engage with elite athletes.

Shallow-water play / beach café
This space is highly dynamic and charged to engage families and children. The bulk of the open leisure water is here, along with considerable shallow-water play space that includes an 18-foot-high inhabitable play structure. A beach entry and deck chairs surround a café.

Private experiences
In addition to providing a large, open community leisure space, three partially separate and more private spaces were also developed as part of the holistic aquatic experience.
Warm-water space specifically for adults to relax and undertake therapy is located adjacent to but acoustically separate from the leisure hall. Operable walls allow this area to be opened as part of the full leisure space. In addition, a learn-to-swim space is acoustically isolated off the main leisure area, allowing for security and auditory control for young students. Finally, an innovative sensory water center has been developed as a wellness and special treatment therapy space. This healthcare offering within the aquatic space is closely associated with a rehabilitation therapy provider located off the lobby.

Dry-land training and dry diving
In addition to the fully flexible competition basin designed to be capable of hosting future Commonwealth Games, a dry-land training space is located (along with performance coaching spaces) immediately off of the competition deck. Dry diving is also located in proximity to the dive towers to allow for viewing and participation of athletes both in and out of the pool.

The UBC and MSF projects were undertaken by MJMA in association with local partners Acton Ostry Architects (UBC), and Warren and Mahoney Architects and Peddle Thorp Architects (MSF). While these projects differ greatly in scale, they both focus on maximizing programming flexibility while maintaining dual community and high-performance functionalities. Both projects have been carefully designed to ensure that all members of the community — regardless of age or ability — are capable of participating and are encouraged through proximity to take further steps toward greater and more advanced participation.

---
This article originally appeared in the September 2017 issue of Athletic Business with the title "Making room for aquatics leisure and competition under one roof" Athletic Business is a free magazine for professionals in the athletic, fitness and recreation industry. Click here to subscribe.