It's a typical summer morning in Granville, Ohio. Temperatures hover in the low 80s, and humidity is pegged in the 70 to 80 percent range. Chris Crume, director of the Trumbull Aquatics Center at Denison University, is glad there are no scheduled events for the day. "Right now, we have a standard lighting setup. We use metal halide," Crume says. "It takes about 20 minutes for them to come up. They produce great light, don't get me wrong, but if we have a power outage — we're expecting some storms here today — we're 20 minutes down after the power comes back on."
Waiting 10 or 20 minutes for a system to turn on is just one of numerous reasons that many indoor athletics venues are choosing LED technology over solutions such as metal halide lamps. Far from a trend, the move to LED appears to be a groundswell in how athletics facility operators think about lighting. Here are several reasons why:
 

Cost
A crucial component in any facility, lighting carries significant up-front costs, as well as the expense associated with operating those fixtures on a daily basis. Depending on the size of a facility, annual energy costs for a lighting system can run in the tens of thousands of dollars.
Gary Yurich, president of Best Lights, says that LEDs are no longer cost-prohibitive. In fact, he's frustrated that many facilities operators are lagging on making the switch to a more efficient technology that has the potential for marked cost savings.
"It's an absolute no-risk investment," Yurich says. "If you invested $60,000 into your lights, and you were getting $20,000 back per year from the electrical savings, in three years you'd have your $60,000 back, and each year after that, you'd be putting $20,000 back in your pocket."
To make his case, Yurich presents the example of Huron Valley Tennis in Ann Arbor, Mich. Before the facility upgraded to LED, it was using 1,080 watts with metal halide lamps. After the installation of LEDs, that number was cut to 522 watts, which in turn slashed the facility's electric bill by 60 percent and doubled the light levels.
Moreover, LEDs maintain 100 percent of their brightness over their lifecycle, which cuts down on replacement costs. "High-intensity discharge lamps depreciate over time, whereas LEDs don't. "An HID light might start off at 100 foot-candles," Yurich says, "but over the course of a few years that same light might lose 40 or 50 percent of its brightness. An LED lamp, on the other hand, will emit the same amount of light over the course of its life."
Yurich says his clients will eventually catch on but bemoans those that are missing out in the near-term, referencing one client that he says could save almost $2 million over a 10-year period if it switched to LEDs. "People just can't conceive what that might look like. And the rebates that are there from the different utilities — especially out East, where there's one utility that will give you back 70 percent of the installed cost. The paybacks in that case are less than a year."
 

Maintenance
The form factor of LED lights alone is enough reason to make the transition worthwhile, says Chris Kastelic, a senior vice president at architecture firm Sink Combs Dethlefs. "When you think about the costs of these giant conventional trussed systems — the lens itself weighs 30 pounds," says Kastelic. "I mean, it feels like you're lifting a solid sheet of plate glass. And the housings, when you take them down, they're two feet by five feet. I think just not having to hold that kind of weight and that kind of infrastructure in the air, that in itself is a huge advantage in my mind."
The size and complexity of conventional lighting systems means hiring specially trained maintenance personnel to check fixtures and install new lamps when necessary. The fact that metal halide lamps have shorter life cycles also means more frequent maintenance, which can add up.
A 2015 paper titled Evaluating LED Lighting Options for Duke Athletics found that the Duke University athletic department would need to service and replace HID as they burned out, noting that approximately 10 percent of HID lamps on any given array needed to be replaced annually due to failures — at a rate of $300 per bulb. The paper posited that given 100 HID lamps, Duke athletics would expect to pay approximately $3,000 in replacement bulbs per year.
LED manufacturers' warranties played heavily into the Duke analysis, as well. Considering the status of the university's current HID lighting, the paper found that a 10-year warranty on a new LED system would save Duke $30,000 it would otherwise spend maintaining HID lamps.
 

Paradigm shift
The possibilities for LEDs go way beyond efficiency. Their instant-on and remote control capabilities, along with their light weight, make them versatile in ways that conventional lighting simply cannot replicate.
"I think the future is to start getting more creative with those lighting arrays," says Kastelic. "Now you can start doing linear arrays. You can start doing these continuous bands of arrays. LEDs have a better quality of color rendition, they come on instantly, they can be arranged a little differently because they're lighter."
LEDs signal a turning point for Kastelic. In the aquatics space, for instance, he notes that for decades the standard for pools has been to project light indirectly from the perimeter and reflect it off the ceiling down to the water surface. "I think the real question we have as architects and designers in the design process — given the length of life of an LED fixture at 30,000 or 40,000 hours, or 20-plus years — is it time to finally break the golden rule and start putting lights over pools?"
Kastelic admits that's a question that's still up for debate given the dangers of glass falling in water should a lamp somehow break, not to mention the challenge of keeping bright, direct light out of swimmers' eyes.
On balance, however, Kastelic can't help but champion the move to LEDs, and neither can Rick Meyer, vice president of sales and marketing for SPI Lighting. LEDs are now his first suggestion to potential clients for a number of reasons, not the least of which is their versatility. "If someone came to me today and said they need 100 foot-candles in a large pool and can we compare and contrast an LED and a metal halide system, we would strongly advise them now to go LED," he says. "There are so many benefits, from maintaining the system to the quality of light, and they'd be saving 40 percent energy right off the bat."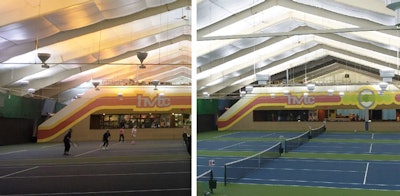 Big picture
Trumbull Aquatics Center opened in 2012, just around the time LEDs were starting to see some mainstream traction but still carried a hefty up-front price tag compared to conventional solutions. Had it been built today, Trumbull likely would have been fitted with LEDs. Crume acknowledges the drawbacks of conventional lighting, but adds that it will likely be a few years before Denison upgrades the facility. "We've looked at doing some retrofitting for LEDs, but that's just been a little bit cost-prohibitive at this point, given the young age of our venue. To go and start swapping out light fixtures wholesale right now would probably not be in our best interest."
It's likely Trumbull will move to LEDs sooner rather than later, as utility companies push larger incentives and the cost of operating a legacy system becomes untenable.
LEDs make sense on all levels — not just for individual facilities but for the health of the planet. According to a 2017 Goldman Sachs report — The Low Carbon Economy — lighting accounts for 15 to 20 percent of global electricity consumption. The report found that high-performing, long-lasting and increasingly affordable LEDs accounted for 43 percent of the global lighting market at the end of 2016. Already the cheapest lighting option in 2014 in terms of cost per kilowatt hours, LEDs are expected to see a further 38 percent cost decline by 2020. The Goldman Sachs report goes on to conclude that the short lifespan of legacy lamps imply that lighting globally will shift almost exclusively toward LEDs sometime in the 2020s, marking "one of the fastest technology shifts in human history."
---
This article originally appeared in the October 2017 issue of Athletic Business with the title "LEDs are here to stay: What you need to know." Athletic Business is a free magazine for professionals in the athletic, fitness and recreation industry. Click here to subscribe.