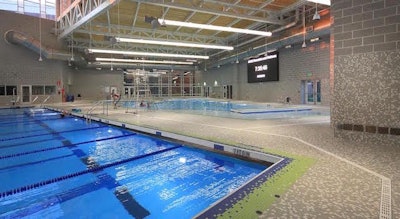 The University of North Carolina at Greensboro recently completed a new aquatic facility and recreation center that more than doubled the size of the wellness center for its student population. The new indoor aquatics center has two separate pools—a 25-meter competition pool as well as a leisure pool with zero-depth ADA entry and a shallow play area. Like many university aquatic facilities undergoing updates, the new UNCG pools were equipped with Pentair's 'green' energy saving equipment including Acu Drive XS™Variable Frequency Drives, Stark™ Filter systems and IntelliBrite 5G LED pool lights to reduce energy consumption by their swimming pools.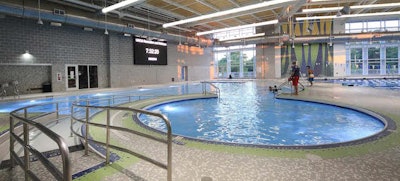 There is a growing trend among athletic aquatic facilities to install specific 'green' or 'eco-friendly' pool equipment designed to lower operating costs by lowering energy consumption. Swimming pool pump rooms are among the areas most scrutinized when facilities undergo 'energy audits' due to the amount of energy consumed by pumps, filters and even pool lighting. When looking for ways to reduce operating costs in aquatic facilities, Pentair offers the most up-to-date, energy-efficient technology to handle the pool pump and filtration needs to drastically reduce operating costs, by reducing energy consumption.


VARIBLE FREQUENCY DRIVES
The Acu Drive XS variable frequency drive (VFD) is designed specifically to help aquatic facilities save energy and operating costs by increasing pump performance, saving up to 60 percent or more on the pump's electricity usage. The VFD allows the system to ramp up to full speed during the day when the pool reaches peak bather loads. At night, the drive can slow the pump down to continue filtration but not at full speed while closed. The VFD units have a minimal payback time as they automatically optimize energy. In fact, the Acu Drive XS VFD units offer a built-in display to show how much time remains until the drive pays for itself. Many utility providers around the country even offer rebates to those that install a variable frequency drive — making the investment in the drive minimal.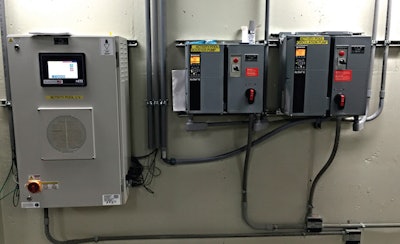 "The VFD is the ideal piece of equipment for controlling costs associated with the energy needed to run the pool pumps," says Justin Caron, Principal at Aquatic Design Group in Carlsbad, California, the aquatic consultant on this project. "VFD units eliminate energy spikes to reduce energy consumption and also help the pump motors run smoother and last longer as they eliminate the wear and tear associated with starting and stopping," explains Caron. "VFDs are part of our energy saving best practices and have become standard in our pump room designs."


FILTERS
In addition to the Acu Drive XS variable frequency drive units, the UNCG facility installed two Stark™ series sand filter systems. The competition pool has one system comprised of three Stark filter tanks plus a separate two-tank system for the leisure pool. These systems have an integrated automatic backwash control system that makes them highly energy efficient. Stark™ Filters are easier to install and maintain because they have a modular design that allows for influent and effluent placement to meet any design requirements.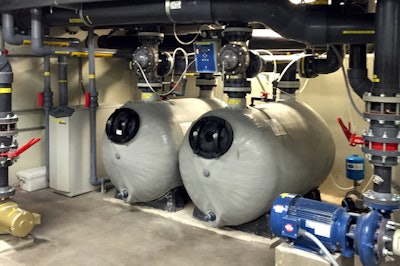 In the case of UNCG, the Stark™ side-by-side (SS Series) configuration was chosen. These new 'green' units were chosen for this particular pump room because they occupy as little as one-fourth the floor space of other filters. The Stark™ filters were ideal for this pump room located below the pools themselves in a relatively tight space. The manway viewport on the front of these Stark™ filters provides a quick, visual observation of the sand bed during filtration and backwash that allows for better monitoring and maintenance. In fact, the difference between a clean and dirty filter can nearly double the pump's energy consumption, so checking the sand bad frequently is crucial. Therefore installing the Stark™ filters with the manway viewport and backwash controller helps drastically reduce aquatic facility energy usage.


LED LIGHTING
The Pentair IntelliBrite 5G LED pool lights offer the most energy-efficient lighting –using 89 percent less electricity than incandescent and halogen pool lights. LED circuits are extremely energy efficient and because each light lasts much longer, the bulbs are changed less frequently, providing aquatic facilities additional savings over time.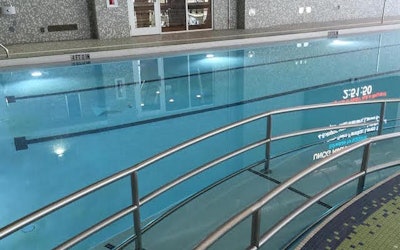 So don't forget about your facility's pool lights. Old incandescent lights are inefficient and don't provide the best illumination. Changing aquatic facility lights to LED technology immediately lowers electrical bills and maintenance staff will rarely need to change those bulbs.

Today's 'green' technology reduces operating costs so your athletic aquatic facility can lower its operating costs, giving you more funds for programming or other facility improvements.
---
Mike Fowler is the commercial marketing and sales manager for Pentair Aquatic Systems in Sanford, N.C. He has been with Pentair since 1992, starting his career in the technical services department at Purex Pool Products. Fowler has held many managerial roles within the company, including marketing, accounting and products. He can be reached via e-mail at mike.fowler@pentair.com.