Check out the newest products as seen in the July|August 2018 issue.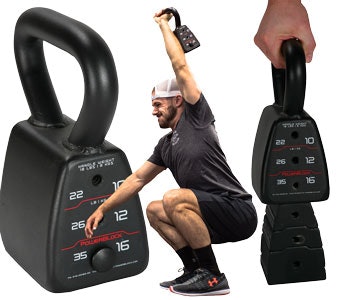 PowerBlock
The new PowerBlock Adjustable Kettlebell feels like a solid iron kettlebell but with the added advantage of adjustability. The PowerBlock offers the four most popular traditional kettlebell weight increments of 8, 10, 12 and 16 kg (18, 22, 26 and 35 pounds). A steel selection pin with a magnetic lock is used to adjust weights in seconds. Compact and ergonomic, the adjustable kettlebell features a contoured shell that provides exceptional comfort in all orientations, and both the outer shell and inner weights are of solid steel construction.
www.powerblock.com
(800) 446-5215
---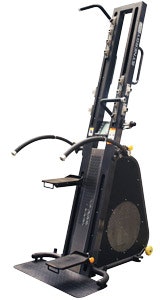 Climb Society
The Summit Power Tower powered by Synergy Air is a revolutionary cardio machine that enables users to strength train with high levels of resistance and the ability to switch to a full-body, intense cardiovascular workout. Built for quality and versatility, the Summit Power Tower improves strength by offering a wide range of exercises such as the deadlift, squat, shoulder press and bent-over row. Users can also engage the upper and lower body together with a power climb for a high-caloric, fat-burning workout.
climb-society.com
(844) 327-2828
---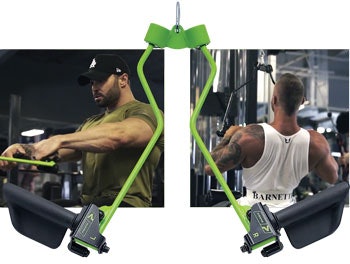 PRIME Fitness
PRIME Fitness announces the newest addition to its RO-T8 Family of "science forward" strength accessories ---— the PRIME RO-T8 Spreader Bar. The RO-T8 Spreader Bar features an ergonomically enhanced RO-T8 paddle-grip design, drastically reducing grip fatigue and unnecessary joint stress with unrestricted, 360-degree range of motion via the unilateral ball-joint design. The RO-T8 Spreader Bar has been thoughtfully designed with biomechanics in mind — the distinct "hourglass" shape of the Spreader Bar positions the grip in the center of the line of pull, promoting better exercise form and execution.
www.primefitnessusa.com
(855) 269-4378
---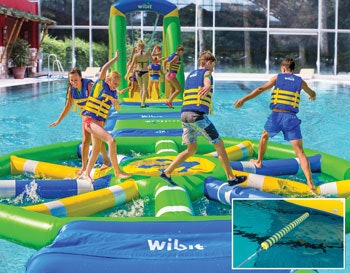 Recreonics
Wibit Sports has two new aquatic play products to help kick summer into high gear and keep the season safe. The new Wibit Target Modular Play Product is both a balancing act and a great racecourse for tag games. Users can run over the bars or create a swim-and-dive challenge by going over and under the obstacles. Its low height makes it perfect for shallow water. The new Pool Booms — a quick and simple solution for secure, horizontal anchoring of tall sliding and jumping inflatables to the swimming pool's edge — is TUV-certified for horizontal anchoring and has been specifically designed for the Action Tower XL, RodeoSlide, RodeoSplash and the Slope inflatables. This anchoring device replaces the need for vertical anchoring and can be connected to many different types of deck-mounted stationary pool equipment such as handrails.
www.recreonics.com
(800) 428-3254
---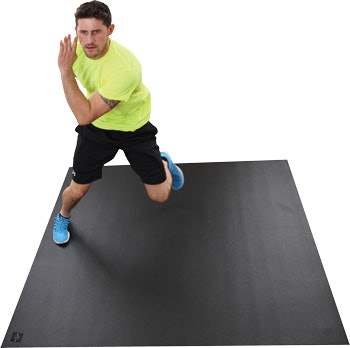 Square36
S36 Sport Surfacing is one of the most versatile and least expensive resilient sport surfacing options available on the market. S36 Sport Surfacing is a perfect flooring solution for clubs, pop-up gyms, army bases, universities, recreation centers, and group cycling and yoga studios, or as temporary surfacing for events. It's also ideal for boutique gyms and home gyms. Available in 6-by-25-foot rolls or as 3-by-6-foot or 6-by-10-foot mats, S36 Sport Surfacing is easy to roll out, roll back up and transport, or adhere to the floor for a more permanent surfacing application. Square36 Sport Surfacing and exercise mats are made from a proprietary blend of premium non-toxic foam and natural rubber and are available in two series: cardio (with a durable rubber top-coating) and yoga (using a premium nontoxic yoga mat material).
www.square36.com
(604) 812-4046
---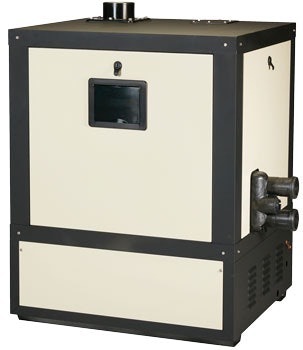 Pentair
Pentair Commercial introduces its new ETi® 400 high-efficiency commercial pool heater. This 400,000-BTU heater has a 96 percent thermal efficiency rating — the highest in its class. Titan Tough™ pure titanium and a direct-fire heat-exchanger design make the heater highly corrosion-resistant. Featuring ASME-certified construction, the unit offers ultra-quiet operation and is easy to install both indoors and out. Additional features include fast heat-up times, easy category-IV venting and air intake using PVC pipe, and a 180-degree rotating control panel for left or right plumbing connections.
www.pentaircommercial.com
(800) 831-7133
---
This article originally appeared in the July|August 2018 issue of Athletic Business with the title "New & Improved." Athletic Business is a free magazine for professionals in the athletic, fitness and recreation industry. Click here to subscribe.