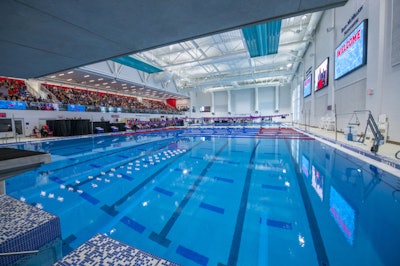 The following content is supported by one of our advertising partners. To learn more about sponsored content, click here.
The Mustangs of Southern Methodist University in Dallas have a long and storied tradition of swimming success that includes dozens of Olympic medalists, scores of NCAA All-Americans and a staggering string of conference championships dating back decades. In recent years, however, the team's equally hallowed home, the Perkins Natatorium, began to show its age. School officials commissioned a prominent local architectural firm to study the site and make recommendations. Could it be revitalized and restored, thus preserving one of the most legendary collegiate pools in the United States? Or would it share the fate of the football team's Ownby Stadium, which fell to the wrecking ball in 1998?
"It had some 'lived-its-life' issues — pretty significant ones — and we determined that renovation or addition would be highly invasive and not feasible, so they decided to start over," says Stephen Springs, senior principal for Brinkley Sargent Wiginton Architects.
BSW's initial concept called for the new nat to occupy the footprint of the old one, right in the heart of the school's august academic buildings. That's what SMU did with Ownby, which shared a footprint with the Gerald J. Ford Stadium that replaced it. But ultimately a new site, on a brand-new part of campus, was selected.
"They're expecting it to establish a presence there to set the tone for future development, so it was important to them that we continue the college's Georgian aesthetic," Springs says.
While the outside is designed as a nod to the university's past, the inside is squarely focused on the future of the school and the teams that will call it home. Opened in November 2017 and named after major sponsors, the Robson & Lindley Aquatics Center (profiled in AB's 2018 Aquatic Design Portfolio) is equipped with Pentair pumps and LED lighting and features a 50-meter pool with eight lanes and a 10-meter diving platform that gives the men's and women's teams a place to swim and dive that matches their deep tradition and lofty ambitions.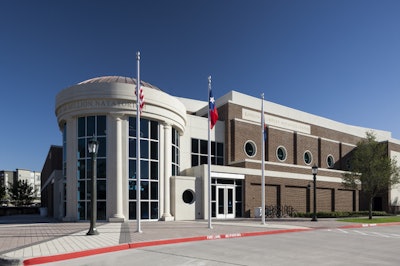 Fast Lane to the Future
The pool's 50 meters is double the distance of the old natatorium, and the lanes increased from six to eight. These extra lanes add up to fewer heats and shorter meets, both welcome changes for Mustang fans, 800 of whom will fill the seats during sellouts at the new venue.
And those fans will watch races in a pool that is not only wider and longer than the one it replaces, but one that's a good deal deeper, too. That was done out of necessity, Springs says, due to the small footprint the architects and builders had to work with and the diving well they had to incorporate.
"Ideally you'd have what's called a dotted-i pool with a separate dive well," he explains. "But the site constraints would not accommodate that. So we decided to combine the pool and diving well, which allowed the project to move forward and accommodated both teams."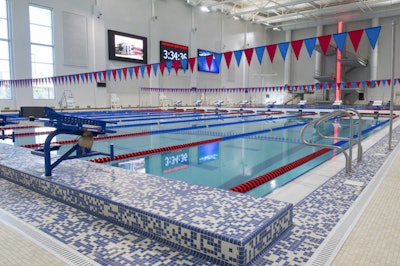 That meant BSW had to put 17 feet of diving depth below the 10-meter platform on the far end of the pool then taper it up to a still-deep 7 feet at the starting blocks. Plans had to adhere to strict safety and competition codes, and for that the architects hired some outside help.

BSW brought in Counsilman-Hunsaker, an aquatic consulting firm with competitive swimming in its DNA. Founded by two NCAA champion swimmers — James "Doc" Counsilman and Joe Hunsaker — the company has worked extensively with Brinkley Sargent Wiginton over the years.

"Last time I checked we'd completed about 30 projects with them, and we've got Pentair on most of them," says Darren Bevard, PE, a principal with the St. Louis-based company. "[Pentair] is a big company with a broad range of product types, and we used them for a couple of key pieces of equipment on this project."

One of the Pentair products Counsilman-Hunsaker specified for the pool is the lighting. The design called for 28 IntelliBrite 5G White LED Pool Lights, which Bevard favors for their long life expectancy and for the the quality of illumination they give off.

"We've always had good success with those," he says. "They provide a truer, brighter white that gives a very nice aesthetic to the pool. They're especially good in deeper water as they provide good visibility."

Good visibility in the pool was not only important for the competitors, but also for coaches. To improve winning potential in a competitive conference, SMU invested heavily in state-of-the-art above-water and underwater cameras as training aides to help swimmers and divers focus on the finer points of their technique. For this reason, subpar lighting would not suffice.


Horsepower Fit for a Mustang Pool
The large surface area and deep water also called for a powerful circulation system, so Bevard turned to Pentair's Aurora line of commercial pumps as the basis of design. Specifically, it's two 40-horsepower, fusion-bonded epoxy-coated cast-iron recirculation pumps and a smaller 2-horse drain-down and agitation pump.

"We have a long track record with their pumps and we know them to be very corrosion-resistant with the fusion-bonded epoxy coating," he says. "So we've been using them for many years. They've got a broad range of pumping capabilities, all different sizes and configurations and diameters on the bronze impellers."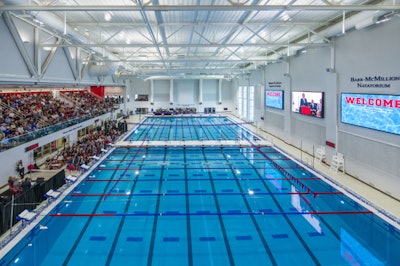 Bevard characterizes the pool as unmatched in college swimming, but says it didn't present a special challenge in aquatics design. Counsilman-Hunsaker and Bevard are used to designing competition pools to similar specifications, and he has a comfort level with code compliance and his equipment suppliers.

That wasn't Springs's take, however. He and his BSW colleagues faced a pretty big challenge -- sticking to the stately Georgian-Collegiate-and-red-brick look with cupolas and porticoes the university borrowed from schools back east when it was founded in 1911. A new nat had to match that look, despite the massive roof that had to cover a pool, locker rooms, VIP suite, coaching and administrative offices and study areas.

"They have pretty stringent architectural guidelines for all of their campus buildings," Springs says. "We had some challenges just because their standards tend to speak to traditional campus buildings, and there were instances where some of the standards didn't really make sense for a natatorium. So we had to go through some formal processes to get approval for what I would call fairly insignificant departures."

The front of the completed natatorium has a rotunda with a domed roof, which certainly fits the aesthetic and also distracts the eye from the large, flat roof is that was needed to span the long pool.

"We used traditional columns and domes to help make the natatorium look like it belonged on campus, along with the brick and the cast stone, which were givens," Springs says. "It certainly sets the bar for future development on that area. Now there's an obvious SMU presence there that fits the vernacular of the rest of the campus."

But no amount of Georgian ornamentation and would matter a lick were it not for what's inside. And that's where the building really shines.

"Robson & Lindley is one of the most technologically interesting venues of its kind because everything in it is brand-new and cutting edge," Springs says. "SMU has a very proud swimming history with a lot of championships and Olympians. There's no doubt this new facility will reinvigorate the team and help them attract that level of athlete back into their program."