The small, tight-knit community of Elkhorn, Wis., isn't short on pride or support for its schools and athletics programs. The town has passed a pair of referendums over the past five years, approving monies for upgrades to everything from the Elks' academic and common areas in different buildings across the district to gymnasiums, expanded tennis courts, new turf for its football field, and a major practice and fitness facility for the high school called The Agility Center. Each of these projects was approached with an eye toward ensuring that the projects themselves speak for and about "The Herd."
"We made a new logo three or four years ago and with that, we put our elk head on the front and back of the The Agility Center. You can see it from the whole east side, which faces the interstate," says Daniel Kiel, athletic director for Elkhorn Area High School. Anyone who comes into our parking lot, they can see it. It's got two big bull elks charging and in the middle, and it says, 'Home of the Elks.' We definitely thought a lot about branding these projects and making it a source of pride for the community and for the kids at school."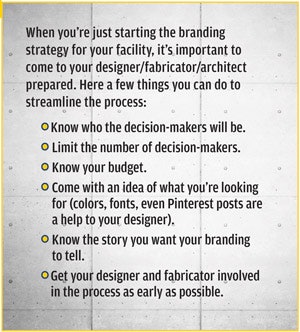 The school worked with its architect, Epstein Uhen, to develop a branding strategy for its new facilities projects, which included color schemes, fonts and prominent placement of graphics. Says Kiel, "They helped us design everything, and we had meetings every week, and that was all part of the discussion — where do we want our logo, how big do we want it, and how much do we want to spotlight it?"
Elkhorn has a number of versions of its logo, recognizing that the school's brand will inevitably expand beyond the school's facilities. "We've also come out with something called 'One Herd,' which is a way to bring together all of the things we do in Elkhart," Kiel says. "Some of the community organizations have even kind of grabbed onto it. We've now had businesses ask us for the One Herd logo."
Elkhart's is just one example of how important branding has become at the high school level. The right strategy not only instills pride in students and staff but also unifies the greater community with the school and its teams. Here are a few things to consider if you're in the process of developing a branding strategy for a new facility, or spiffing up an existing building.


Branding is a process
Kim Howell is the owner of Tiny Mammoth Graphics, a graphics fabricator that also offers end-to-end creative services. Based in Iowa, Howell has worked on a number of high school projects where small communities are consolidating schools into a single facility, which she says can sometimes make for a complicated process.
"They might have three towns and they're building one school or facility for all three towns," she explains. "In that case, we're trying to figure out whether they're going to keep what they have. Are we going to update it? And then, I also think the most important question we have is, who are the decision-makers? That's probably the most important thing we need to know."
Howell says that it's only been in the past few years that high schools have really begun to understand the importance and power of branding their facilities. The packages Howell put together for public schools just a few years ago were anywhere from $1,000 to $5,000. Today she's working with budgets in the $25,000-to-$80,000 range. "Just in the past four or five years is when we've started to really see high schools tackling branding on a larger scale," she says. "I mean, they'll start out really small, like, 'We're going to put our logo on a brick wall.' But now they're seeing that in order to be competitive, they're going to need to spend more money."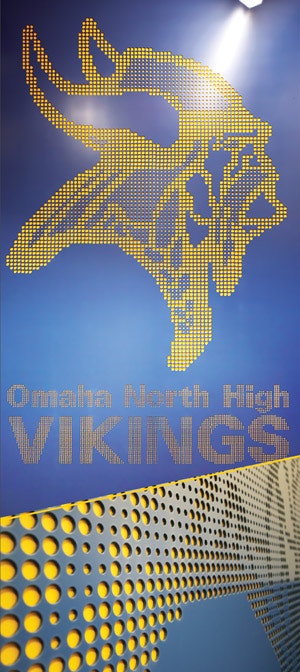 Aesthetics
Surprisingly, the most significant pain point for a high school is not budget but rather where to begin and to whom to turn. The process can be daunting and the first step is to find an expert who can help guide the process. Howell says the design work can be done by either an architectural firm, an advertising agency, or a fabricator that offers creative services. However, she says an architect is the preferred route. "The most successful projects that we've done come from architectural firms. The architectural firms are usually the ones that we see that can guide the schools and superintendents — they can really manage that process."
Mindy Alvarez is a multimedia designer at RDG Planning & Design. She's helped schools create their brand from scratch, and she says it all begins with a style guide, which includes a collection of some pretty basic visual building blocks — fonts, colors, images. Says Alvarez, "Whether it's revising the brand that they have currently, or coming up with something new, a style guide is the foundation for a brand and especially an athletic brand."
But the process doesn't end with a style guide, which is where the client comes in. While a designer can make suggestions, having an idea before you arrive at your architect's or designer's office is incredibly important. "What's not helpful is when they say 'We just want to see what you can come up with,'" Howell admits. "That happens all the time and then, after we've done a bunch of work, they'll come back and say, 'Well, here's what we were thinking.' We kind of mandate now that our clients have some sort of a design feel — even if it's from Pinterest. Whether it be colors or a font — just something. Without that, it creates a lot of backtracking."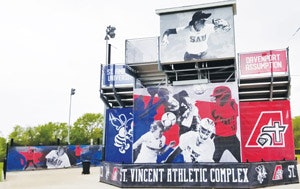 Messaging After establishing the aesthetics of the brand, the discussion moves to messaging. This involves condensing the school and team's values, history and story into a simple message — essentially the subtext of the imagery.
"If we're looking at athletics, we talk about the wants and needs and typically what a school wants is to make their students feel good," Alvarez says. "They want to give a little nervousness to their competition. They want to differentiate themselves. They really just want to stand out. So, I look at the opportunities for them."
Howell says she does a lot of listening as she tries to hone in on what exactly the school is looking to do. "We just let them talk and explain where they're going," she says. "I think we're just really trying to figure out what feel they want to be perceived by the general public and the students and faculty. Usually they have a vision, and that could be something simple, like as soon as people walk in the door, they want them to know that 'We are the Tigers.' "
In all cases, Alvarez says it's helpful if the client can come as prepared as possible. "If they want to use any photos, having high-resolution photography is important," she says. "A budget for the design, and then definitely their wants. I want to know their biggest dreams, and I'll do anything I can to fulfill them."


Placement and installation
Getting your design team involved at the earliest possible stage in the process also is important. It allows them to better marry the branding with the facility itself and anticipate any problems that might arise during installation.
As a fabricator, Howell puts an emphasis on getting involved at the beginning, and not for selfish reasons. "Our team, especially our production manager and field supervisor can tell you, 'You're going to have a problem with this wall,' or 'We're going to have to use a level-three paint,' or 'This floor is uneven, so we should not do a floor-to-ceiling graphic.' He can pull out those details, which then makes it a lot easier when they're developing the graphics."
Alvarez also puts an emphasis on being involved from the start. "Typically I come in at the beginning and we talk a little bit and identify potential areas that could be branded or have a graphic of some sort," she says. "And then I wait until construction has started on the building or until a little bit later than that. And then I start developing the graphics. Then, we don't go into the building until the furniture is ready to go into the building."

Building any facility is a monumental effort that requires a lot of money, patience, collaboration, and hard work. The end product should be an embodiment of its inhabitants' goals and core values. While the process of communicating your school's unique brand might seem complicated, the message beneath is usually pretty simple — if you can find it. As Kiel explained of Elkhorn's goal with its branding, "Basically, we just wanted to tell that story of what makes our kids proud of our school and to make these facilities a focal point of our community."
---
This article originally appeared in the July | August 2019 issue of Athletic Business with the title "Where to Start: The beginnings of a high school branding effort." Athletic Business is a free magazine for professionals in the athletic, fitness and recreation industry. Click here to subscribe.