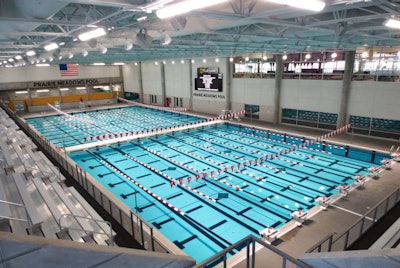 The following content is supported by one of our advertising partners. To learn more about sponsored content, click here.
When the YMCA of Greater Des Moines, Iowa, opened the Wellmark YMCA branch in an old convention center in 2015, it was hailed as the largest downtown YMCA in the United States. With 180,000 square feet of space, the $30 million facility became a critical player in the ongoing revitalization of the capital city's downtown area.
But the YMCA's vision wouldn't be complete for another three years.
"The City of Des Moines really wanted to have a competitive 50-meter pool downtown to help bring in regional and national events," says Terry Feldt, a district executive director for the seven-branch YMCA of Greater Des Moines, who oversees the Wellmark branch. The convention center previously sat empty for several years, he adds, next to a vacant lot that was owned by Wellmark Blue Cross and Blue Shield.
That company donated the land to the YMCA to build the natatorium, and the $9 million MidAmerican Energy Aquatic Center and Prairie Meadows Pool opened March 1, 2018, with the four-day Iowa Swimming Age Group Short Course Championship featuring more than two dozen teams. Things have not slowed down since.
"This is a fast pool," Frankie Hanson, director of aquatic operations for the YMCA of Greater Des Moines, says of the eight-lane, 50-meter pool and movable bulkhead that (literally) is decked out with a suite of Pentair products. "The design was done very well, and there also is spectator seating for 1,200 people. Another draw for teams is being connected to the downtown skywalk system that connects the buildings. So if it's snowing outside, you can walk indoors from the Marriott, which is two-and-a-half blocks down the street, to the pool without having to go outside. That element of convenience has been a huge draw, as well as the number of hotels and restaurants that are all connected."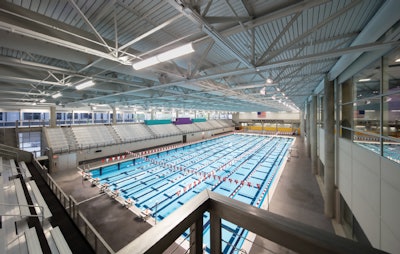 The natatorium, which also features a separate four-lane, 25-yard warm-up/cool-down pool, boasts one of only three 50-meter indoor pools in all of Iowa — and it is the only one not affiliated with a college or university.
The MidAmerican Energy Aquatic Center and Prairie Meadows Pool hosted USA Swimming's TYR Pro Swim Series in March and will welcome USA Swimming's Futures Championships in August. All told, as many as 30 events take place annually at the facility, Hanson says, including regional, state and local USA Swimming and YMCA meets. Participation numbers range from about 200 to 800, depending on the meet. The facility also hosts high-profile water polo tournaments and is expected to bring synchronized swimming events to Des Moines soon.
On top of all this, the aquatic center offers a full slate of community programming.
Customized Flexibility
Fulfilling such diverse needs requires facility flexibility, which is why Water's Edge Aquatic Design in Lenexa, Kan., worked directly with Pentair to customize a variety of on-deck equipment, including piping sizes and anchor posts for six pool ladders and 16 Paragon Track Start Plus+ STS Competitor starting platforms that feature an adjustable backplate, side steps and side handgrips. That strategy allows for multiple facility configurations.
"We didn't want to limit the client to just having a single location for something, such as a starting block, because they might have different ideas for where they want to put things," says Michael Fisher of Water's Edge Aquatic Design LLC in Lenexa, Kan., who served as project manager for the MidAmerican Energy Aquatic Center and Prairie Meadows Pool, as well as other YMCA of Greater Des Moines pools. "This approach allows the Y to be more versatile."
"We had the opportunity to try every configuration possible during that first year," Hanson adds. "So when other teams rent out our facility, or we are hosting a meet where we need to make adjustments, we can format our pools to work in a way that best serves that meet."
Other on-deck Pentair equipment includes three high-platform lifeguard chairs and one low-platform lifeguard chair, plus four Standard Competitor starting platforms in the smaller pool, which also is equipped with two Pentair handrails and a Pentair water basketball goal.
Beneath the surface, Pentair's Aurora horizontal centrifugal circulation pumps keep the water moving efficiently in both pools.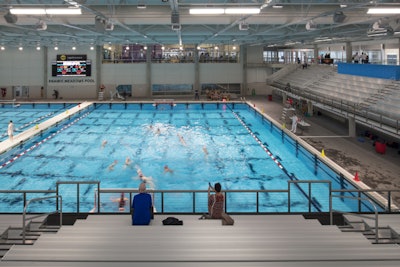 "Going with the Aurora line of pumps allows for a more readily available pump and motor — both up front and down the road, if the facility operator needs parts or replacements," Fisher says. "Availability is one of the big positives of using Pentair products."
"We needed to make sure that the equipment aligns with the whole environment we created," concludes Hanson, referring to Pentair's strong presence at the MidAmerican Energy Aquatic Center and Prairie Meadows Pool. "I think that's expected from those who come to a facility like this. It's grand and beautiful facility, and those things that make it a step up from other facilities would be noticed if they weren't here. If we didn't have [backplate] wedges on our blocks, people would be like, 'How come they don't have wedges on their blocks?' We need to make sure that the equipment lines up with the whole environment."
Mission accomplished.