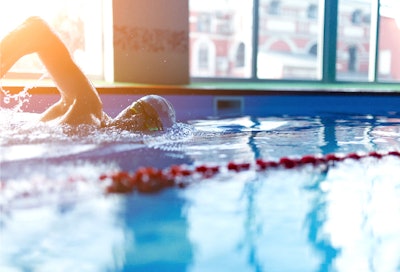 This sponsored content was paid for by Clear Comfort. What is sponsored content?
Discover How the Rock Hill YMCA Aquatics Center Reduced the Time and Money it Spent on Pool Maintenance with Smarter Pool Water Treatment
In aquatics facilities, more proactive pool treatment means less wasted time, money and chemicals.
Managing aquatics facility pools can be complicated and expensive, but modern solutions can help make the process easier. After years of dealing with difficult-to-maintain pool water treatment systems, the Rock Hill YMCA Aquatics Center in South Carolina discovered a new and improved technology that simplified pool maintenance and gave the facility's operators more time and money to focus on the bigger picture.
The Challenge: High-Maintenance Pools
Typically, aquatics operators encounter issues with maintaining proper chemical consumption, water chemistry balancing, broken or fouled UV lamps and more. When Tim Conley took over as Branch Director for the Rock Hill YMCA Aquatics Center, he realized that the UV system the facility used for secondary sanitation wasn't working well.
"It needed about $18,000 in repairs," Conley said. "We were also looking at the high cost of running it."
UV systems contain large expensive lamps, quartz sleeves and seals that need to be regularly cleaned and replaced. Many commercial pool operators struggle with sanitation systems that are overly complex, difficult to maintain and expensive to operate. The cost, time and effort spent on dealing with these systems can take a real toll on aquatics facilities, so finding a solution that is simpler with lower maintenance demands is crucial.
For facilities with high bather loads, these challenges are made more difficult. With a continuous flow of swimmers introducing bather load contaminants in the water, aquatics facility operators must find a way to proactively keep pool water clean and healthy. When pollutants such as sweat, skin oils, lotions, urine or dirt react to chlorine in the pool, it creates harmful chloramines, or combined chlorine. In addition, these chloramines can increase the risk of developing asthma, allergies and other respiratory problems for those in and around the pool.
The Solution: New and improved Pool Technology
Facing a non-functional UV system that led to water quality issues, Conley and the Rock Hill YMCA Aquatics Center decided to install Clear Comfort's Advanced Oxidation (AOP) pool water treatment system instead of getting their UV system fixed. In doing so, the Rock Hill YMCA Aquatics Center was able to lessen maintenance, reduce chemical consumption and lower the facility's electrical costs practically overnight.
"Within one week of the system running, we had swim instructors asking us if we'd stopped using chlorine," Conley said. "The AOP system allowed us to use much less bleach and our electrical costs are way down. It's been a great asset for us."
While UV systems improve pool sanitation, they come with a complexity and cost that has made them difficult for the majority of pool operators to integrate. Rock Hill YMCA Aquatics Center's system uses a patented "direct injection" AOP system that is simpler, more powerful and requires far less maintenance. Clear Comfort's AOP directly injects excited oxygen into the pool plumbing to produce high concentrations of hydroxyl radicals, which instantly oxidize and disinfect the pool water.
AOP is highly effective at reducing disinfection by-products (DBPs), which are the main cause of skin and eye irritation as well as poor air quality in aquatics facilities. Reducing DBPs means a healthier facility with lower chlorine levels and associated chemicals. In short, AOP offers a more stable, simpler and safer pool with far less maintenance and upkeep.
A Better Way Forward with AOP
As aquatics operators turn to more advanced technologies for their secondary and supplemental sanitation, these simple solutions that reduce maintenance while improving air and water quality have become the best practice for elite facilities. Technologies like AOP offer a healthy, sustainable and hassle-free way to protect the health of athletes, patrons and staff – while lowering chemical consumption and electrical consumption to the absolute minimum.
By utilizing modern technology to improve water care routines, aquatics facilities like the Rock Hill YMCA Aquatics Center are able to spend less time maintaining their pools, and more time focused on keeping their patrons happy.
To learn more, download your free "Checklist: How to Simplify Your Pool Water Maintenance" here.