Is there a difference between the way aquatics facility operators experience great indoor air and water quality and the way it's experienced by pool patrons? In the past, it could have been said that owners and operators — tasked with monitoring the health of their facility — were more acutely aware of fluctuations in air and water quality than the visitors who would only notice if there was a problem.
However, as the WELL Building Standard begins to lead the way in facility design for holistic health, and consumers in every industry become more sensitive to sustainability efforts and more willing to put their money behind the initiatives they support, the focus is coming back around to the perceived quality of the patron experience — especially in fitness and recreation facilities.
Steve Berens, CEO of the Colorado-based pool systems manufacturer Clear Comfort, offers the same advice for anyone trying to ensure better air and water quality around any size pool, from commercial aquatics centers to home-based spas: simplify the systems.
"You need to make it easier to manage, not more complex," he says. "And, if you're a facility operator, specifically, you have to simplify it to get the acquisition of the equipment needed to get your job done. You need to find economically sound solutions that produce the needed payback while doing the job."

Helping chlorine
According to Berens, many of the aquatics facility operators he's worked with over the years tend to think about the customer experience in terms of avoiding complaints. "The bigger challenge, quite frankly, is the budget, maintaining safety, and maintaining the facilities in a usable state," he says.
Maintenance is a particular challenge in an aquatics environment, as meeting health and safety standards in and around the water requires the use of some corrosive chemicals. The purpose of Clear Comfort is to minimize the use of such chemicals in the interest of reduced supply costs and waste products, while simultaneously enhancing the user experience.
What Clear Comfort provides is a supplemental water treatment called advanced oxidation that facilities can add to their standard chlorine treatments to make the chlorine itself work more efficiently. It does this by exciting the ambient air to create hydroxyl compounds.
"It's a simple compound of an oxygen and a hydrogen that hits the water and it's very oxidized, which means it replaces all the oxidation load in that specific space that chlorine or bromine or something would have had to do," says Berens. "That means you're lowering the chlorine and bromine counts — keeping them at their normal levels for safety in the water — but you're basically also taking out the volatile organic compounds, those disinfection byproducts, and removing those because we're oxidizing right there in the pipes."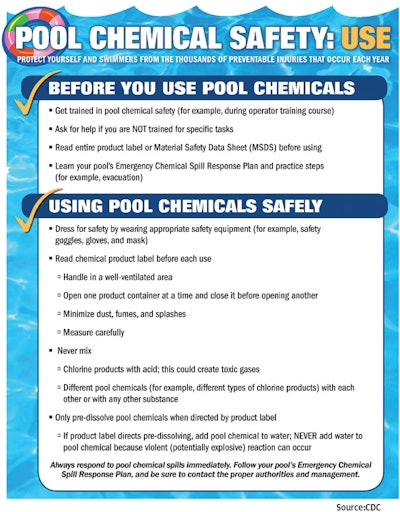 Sustainable systems
More efficient use of chlorine affects the entire chain of resources — using chlorine better means ordering less, which means fewer deliveries of chemicals packaged in non-recyclable plastic and less waste of the chemicals themselves, ultimately leading to a longer-lasting building and the conservation of the resources used to build or renovate.
While many operators' immediate concerns revolve around budget, safety, code enforcement, and wear and tear, the cost savings that result in the long run from more efficient chemical use are very real. For instance, if an A/C system that's supposed to have a lifespan of 20 years and ends up corroded and destroyed after five, that has a big effect on the bottom line.
In short, the less chemicals you put in the pool, the better. "We want to apply the ideas of sustainability and positive impact to the swimming and aquatics industry," Berens says. "And we have people who are able to take credit for that on a LEED certification basis or on an energy efficiency basis from their utilities. We've had people able to use this as a way to become more efficient and more sustainable without costing more — in fact they're saving more."


Holistic health
When asked about the newer WELL Building Standard, Berens says, "We basically apply to all the core aspects. What they consider their core section has to do with water quality, air quality, facility maintenance and the life of the facility — one of the best things we can do is extend facility life by having a less corrosive environment to operate."
The challenge with meeting the ever-rising standards of accountability, as Berens puts it, circles back to simplicity and finding an operationally sound method to increase adoption of best practices. "What we don't want to see is a great concept not be executed because it can't be carried out," he says. "So we do our best to help people understand how they can get a much better facility life, as well as a better immediate experience."
Pool patrons are experiential observers, meaning they are concerned with the interactions of feel and smell, and whether the water or air irritates their eyes. According to Berens, maximizing the efficiency of the chlorine in use reduces the smell and potential for irritation, while managing the sanitation aspects at the same time.
"That's why we're quickly becoming the standard of care," he says. "It's the only technology that scales well from a basic spa to a giant waterpark. We are being used by NFL teams, Major League Baseball, NBA teams, hockey leagues, and a plethora of NCAA sports teams — and specifically in the hardest water conditions possible, which is hydrotherapy tubs. When you put a set of athletes through these facilities, you might get 50 in two hours in a small body of water. That water has to recover quickly."
The best thing any pool operator on any scale can do is be proactive. "No good decisions are made when you've got a health inspector about to close you down," says Berens. "You just grab something and go, and you don't have time to research it. These are important decisions, so take your time to find the right way to get things out of your expense budget and into your capital budget.
"There's nothing free in this world — but if you're going to buy, you should buy something that delivers a standard of care at the lowest economical cost to implement and with the easiest cost over time."

Ultraviolet
One low-impact, high-efficiency option that goes a long way toward cleaner air and water is the use of ultraviolet light, which continues to see traction with aquatics operators.
"Our UV product line is gaining market share every day," says Pentair compliance and safety manager Ken Gregory. "Our UV light product, which was approved by the NSF as a water conditioning device, is also being used on indoor pools to improve air quality."
Ultraviolet light systems are easy on the environment and help reduce the amount of chemicals needed to condition and sanitize water. Pentair advertises that it's Bioshield UV Disinfectant Sanitizers can reduce chlorine use by 50 percent and still kill harmful waterborne diseases, such as Cryptosporidium, Giardia and E. coli.
"We're providing training on our Bioshield UV products, as well as our ozone products that both improve air and water quality," Gregory says. "Our BioShield UV product was the very first NSF-approved water conditioning device on the market. During the NSF testing our Bioshield UV product showed a 60 percent reduction in chloramines, which is the main source of contaminants for indoor air quality."
---
This article originally appeared in the October 2019 issue of Athletic Business with the title "Better air and water quality through advanced oxidation." Athletic Business is a free magazine for professionals in the athletic, fitness and recreation industry. Click here to subscribe.