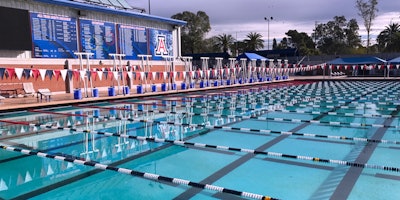 This sponsored content was provided by Clear Comfort. What is sponsored content?
Smarter ways to protect swimmers and the aquatic facilities that serve them
Whether reopened or closed, athletic facilities are looking to improve water care fundamentals and are now more aware of how water treatment impacts the health of swimmers and staff. Battling dermatitis and irritation from pool water has been an ever-present problem that is still largely swept under the rug. However, progressive forward-thinking facilities and operators are changing that paradigm.
Swimmers at the University of Arizona had been experiencing skin, eye and lung irritation after spending time in the competition pool. Home to Arizona's Wildcats swimming and diving teams, the University of Arizona athletes already have to worry about hitting their training goals and winning meets. The last thing they want is dermatitis, itchy skin, red eyes, burning lungs and a chlorine smell following them everywhere. 
Martin Tuck, the Director of Aquatics at the University of Arizona, understood his swimmers' struggle and decided to try a different approach to water care. After researching all of the available water sanitation methods, he discovered one solution that stood out from the rest.
The Problem: Relying on Traditional Pool Chemicals
"We can't depend solely on chlorine to protect our swimmers," said Tuck. "High levels of chemicals and chemical by-products in the pool could be a real problem for our athletes, who spend large stretches of time in the pool on a consistent basis. We need some chemicals in the pool to keep our swimmers safe, but finding the right balance to avoid irritation can be difficult."
Many of the best aquatics facilities – especially those with high bather loads from swim teams – struggle with water chemistry issues that affect both the staff and swimmers. A pool with even a slight chemical imbalance can lead to cloudy water and irritation. Swimmers often have to deal with problems, such as dermatitis, allergies or asthma, itchy eyes and more. 
Dermatitis and Disinfection By-products
Dermatitis is a common form of skin irritation that causes swimmers to experience itchy, dry skin or even a rash with swollen, red skin. This can be very frustrating for athletes who spend much of their time in the pool and need to properly rest and recover after training. There's a common misconception that dermatitis is solely caused by chlorine, when in fact, it is the result of disinfection byproducts.
Disinfection by-products, such as chloramines, are created when disinfectants, such as chlorine, react to sweat, oils and other compounds found in pool water. These chemical by-products are typically what causes irritation for swimmers and the risk of respiratory health problems for anyone exposed to them. What many people refer to as "chlorine smell" in pools is actually the result of disinfection by-products in the water, not just the chlorine itself. 
Cloudy Pool Water 
In addition to making pool water pool less appealing, poor water clarity can also be an issue for aquatics facilities because it hinders the swimmer's ability to see underwater. Cloudy pool water often comes from improper water chemistry balance and maintaining clear water can be a difficult task for pool operators.
High Chemical Consumption 
In addition to contributing to swimmer irritation, high chemical consumption can be very costly for aquatics facilities. Pool chemicals are not cheap and chemical handling can be risky for pool operators. Reducing chemical consumption is important for aquatics operators because it lowers chemical costs, reduces the risk for employees and allows pools to achieve better water quality.
In order to reduce chemical consumption, eliminate disinfection by-products and improve water quality and clarity, aquatics facilities cannot rely solely on traditional pool sanitation chemicals to handle the job – they must employ smarter, more advanced solutions. While some traditional pool chemicals are necessary for proper pool sanitation, there are common waterborne illnesses, like Cryptosporidium, that are resistant to chlorine. However, it can be complicated finding and maintaining the right chemical balance so that people in the pool are not bothered by the effects of disinfection by-products. 
Creating this touchy balance between safety, health and comfort can be a challenge even for the most experienced aquatics facility operators. Fortunately, modern technology has opened up alternative options for pool water treatment that are now readily available and easy to implement.
The Solution: Reducing Chemical Consumption with AOP
To address their swimmers' concerns about water quality and irritation, Tuck and the University of Arizona worked with one of their alumni, Steve Berens, to provide a solution that benefits both swimmers and staff. 
A Different Approach
Berens is the co-founder of Clear Comfort, a company that manufactures an AOP pool water treatment technology that the university staff decided to test out on their competition pool. Since implementing the new system, athletes at the University of Arizona no longer struggle with dermatitis or other chemical-related irritations, and they are able to see through the water better than they ever have before. AOP is extremely effective at eliminating disinfection by-products, and, in turn, can minimize the swimmer irritation and poor water clarity that accompany them.
"Since installing the Clear Comfort AOP system, our swimmers no longer feel irritated after spending time in the pool and our water clarity is highly improved," said Tuck. 
The university also noticed a dramatic difference in water quality and a huge drop in chemical consumption since installing the AOP system. AOP water treatment introduces hydroxyls into the pool plumbing, which are the most potent and fast-acting oxidizers available for pools and spas. The oxidation and disinfection they provide dramatically reduces the need for chlorine and other disinfectant chemicals. The result is a pool that smells better, looks clearer and is much safer and more comfortable for swimmers and staff. 
"We've significantly reduced our chemical consumption, which means we're spending less money on chlorine and swimmers aren't exposed to as many toxins," Tuck said.
Water clarity in the pool has also been greatly improved since the change in its water treatment method. Swimmers have noticed that they can see lines in the pool that they've never been able to see before, and their visibility in the water is much better than it had been in the past.
"Our water is much clearer than it's ever been since using the AOP system for supplemental sanitation," Tuck said. "It's made our pool look much more appealing and it's allowed swimmers to perform even better because of their improved visibility."
Many top aquatics facilities around the country are reducing their chemical consumption and improving their air and water quality dramatically, and the common secret to their success is AOP supplemental sanitation. The days of depending solely on chlorine for commercial pool sanitation are gone, and the new era of pool water treatment utilizing smart and modern solutions is officially here.
"We're happy to be able to better protect our swimmers and create a healthier environment for everyone involved," said Tuck.
The Next Step in Pool Water Treatment 
For decades, aquatics facilities relied on the same disinfectant chemicals to keep their pools sanitized, and encountered the same problems. But with more advanced solutions available, such as AOP and other supplemental sanitation technologies, commercial pool operators have options when it comes to managing their pool water chemistry. Today, aquatics facilities can do more than ever before to create a swimming environment that is healthy and safe for their athletes, staff and patrons. 
Tuck and the University of Arizona discovered the right solution for balancing safety, health and comfort to give their swimmers a clean experience every time, paving the way for facilities across the nation to move away from chemicals and into the future of pool water care.
To learn more about how AOP supplemental sanitation has helped other aquatic facilities reduce over 40 percent of chemical use, download this case study.