The LED scoreboard that has hung in the Ottawa Hills High School Natatorium in Grand Rapids, Mich., since 1991 has quite an origin story.
"My dad is an engineer who owned his own company, and I was a swimmer on the high school team," recalls Eve Julian, sales director for Grand Rapids-based International Sports Timing (IST). "Our scoreboard caught on fire, and my dad volunteered to be on the committee to help raise money to replace it. They were getting quotes for solenoid flipper scoreboards, which looked like old alarm clocks, and they were appalled at how much they cost. He said to my coach, 'I just finished a project with LED lights, and I think I can use them to build you a scoreboard.' "
So Julian's father, Dick Farnsworth, and his business partner developed what IST now claims was the first LED scoreboard designed for competitive swimming. Julian and her teammates stuffed and soldered all of the LED panels, the new scoreboard was installed, and soon other schools took notice.
IST was born, and almost 30 years later, that original scoreboard at Ottawa Hills High School — where Eve Julian is now head coach of the boys' swim team — remains active.
"It still works, and I wish it would die," she laughs, "because I want one of the new videoboards."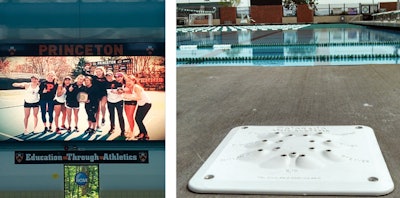 Stopwatches and clipboards
Videoboards that mirror the capabilities of football scoreboards are now the norm in most new aquatics facilities built for competition, according to Paul Vugteveen, sports application engineer at Daktronics, a scoreboard and timing systems manufacturer in Brookings, S.D.
"The biggest difference we've seen in the past five years is the quality and resolution of the video displays people are putting in their aquatics facilities," he says. "It wasn't that long ago that the vast majority of customers were putting in six-digit scoreboards that included a number for the lane, a number for the place and a number for the time. Now the norm is boards capable of listing swimmers' names, using alphanumeric information and showing live video."
The boards, which have significantly dropped in price as LED technology has evolved, can be used for everything from sponsorship advertising to in-water training videos to revenue-generating non-competitive events such as "Flick and Float" movie presentations for community members.
All of this is a far cry from swim timing's humble beginnings, when volunteers armed with stopwatches, pencils and clipboards would write down finish times, which would then be manually input into a computer. That methodology for determining finishes in a sport that mandates timing precision was fraught with peril, in large part because of its capacity for human error.
While humans are still part of the timing process today, stopwatches are used as backups to digital timing systems should, in rare cases, the technology fail.
"Back in the '80s, the industry was still trying to figure out the best ways to incorporate technology into the sport," says 35-year industry veteran John Williams, senior project manager and swim timing consultant for Colorado Time Systems, headquartered in Loveland, Colo. "Now, videoboards are the sexy part of the timing system, because it's something everybody can interact with. They have been the largest development in our industry over the past 10 years."
"Generally speaking, the industry is going to see a push toward tighter and tighter resolution, tighter and tighter pixel pitch," adds Vugteveen. "The result is that the video display still looks good when you're really close to it — as people often are in natatoriums."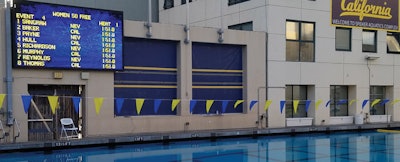 Deck support
While videoboards generate all of the attention, recent changes in how digital timing systems operate also have proven critical to advancing the industry.
Two timing system options are available: Temporary on-deck cable and permanent in-deck wiring. An on-deck cable is long and thick, with boxes running along its length that typically rest underneath the starting blocks. Each box corresponds with a lane, and the touchpad and backup button for that lane plug into the box.
In-deck wiring, often deployed in aquatics facilities that host 15 or more competitive events annually, involves boxes that are recessed into the deck and wired together through conduit under the deck to a wall plate, which then connects to the computer through a cable. Each box is recessed into the deck under the starting block, and the touchpad and backup button plug into a plate on the deck. In-deck wiring eliminates the long cable and provides for a cleaner look.
"One of the major changes that has happened has to do with functionality," Williams says. "We now have a more reliable connection type for all of the inputs out on the deck. Colorado has gone to titanium connections. It's one of the most durable and maintenance-free materials that we can put out there, and we think it's a real step forward in technology, as far as reliability goes."
Prior to titanium, Williams explains, Colorado Time's input connections were made of nickel-plated brass that was less expensive but subject to corrosion in the harsh pool environment. The manufacturer developed a cost-effective way to produce the titanium connections and provide them to customers at a minimal upgrade cost, according to Williams. The company patented the process and offers an industry-first five-year warranty on the input systems.
Another timing industry change, this one driven by evolving computer design, removes reliance on nine-pin serial connection ports — which are no longer included on many contemporary computer models. At many facilities, the timing console might be at a scorer's table on deck, the meet management program could be running from a computer in the pool office, and video displays are controlled from an AV room in another part of the building.
"We've set up a closed network that can tie all those components to one network at any given time, so you can operate them from anywhere," Vugteveen says, adding that Daktronics worked with the industry's leading meet management software provider, Hy-Tek, to ensure compatibility.
All of which begs the question: Will timing ever go wireless in a pool environment?
"My answer is that wireless touchpads won't work great in the pool area," Julian says. "This information is too important to trust just sending it off into the ether and hoping the server feeder catches it."
A wireless antenna could easily be knocked over, slip underwater and eliminate the wireless signal. Another potential scenario involves wireless signals bouncing off the water and interfering with other signals from cellphones and computer networks.
"People might think they want wireless, until that day when a signal drops and the system doesn't properly record a state cut time," Julian continues. "If somebody could find a way to guarantee that every time the pad is touched, that time will be transmitted accurately and reliably, maybe the industry would go wireless. But I don't think anybody at this time is looking into that."

Friendly advice
"We all pretty much have the same product," in the words of one timing equipment manufacturer. Which means selection of the right videoboard and timing system — whether for a new facility or an upgrade — comes down to visiting other facilities to see the equipment in action and inquiring about the degree of local service, training and technical support a would-be client can expect.
"My biggest piece of advice is to talk to other people who use the equipment," suggests Williams. "Is it easy to use? Is it easy to take care of? What challenges do other users have with it? Get your hands on as much information as you can, and know the different options that are out there."
Julian also offers a significant piece of advice for operators who haven't even built a facility yet. "If you're going to design a pool that is meant for competition, please don't use bullnose tile at the end of the pool where the touchpads go," she says. "You'll see brand new pools that are absolutely lovely, but the operators can't hang a touchpad in the gutter because there's no way to attach it."
From sticks to chips
Timing technology in the swimming world has come a long way in a short time. But the industry has made great strides in the running segment, too.
"If you ran a marathon in 2006, when you crossed the finish line, someone would hand you — believe it or not — a popsicle stick with a number written on it, and that was your finish number. Then you had to hand it to someone else, who would write that number down," says Kurt Hansen, founder and CEO of Innovative Timing Systems, a privately held St. Louis company credited with developing in 2007 the first disposable timing chip, which is now used in track and field, cross country, triathlon, marathon and cycling events all over the world. "That was the state of the industry back then, which in today's world sounds absurd."
Today, the timing chip industry is a crowded marketplace, but Hansen says the product is more versatile than ever.
"Don't think of a timing system as purely for track and field and cross country," he says, adding that military branches deploy reusable chips for training exercises, and campus recreation facilities rent them to students who can monitor their progress on apps and compete against others in virtual events. "Consider something that can meet diverse needs across all of your programs."
---
This article originally appeared in the November | December 2019 issue of Athletic Business with the title "The evolution of swim timing technology." Athletic Business is a free magazine for professionals in the athletic, fitness and recreation industry. Click here to subscribe.