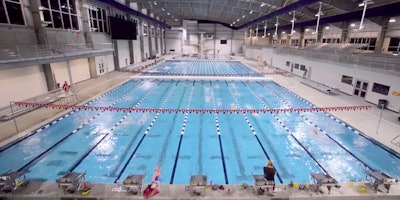 This content was provided by Clear Comfort. What is Sponsored Content?
Liberty University Deployed an Innovative Water Treatment Technology to Achieve the Best Possible Air and Water Quality for Athletes
When walking into the majority of aquatics facilities, you are confronted with that unmistakable harsh "chlorine odor" that operators battle every day.
For top aquatics facilities, providing fresh air and premium water quality to athletes, students, patrons and staff will always be a top priority. However, the hidden dangers such as disinfection by-products, or DBPs, create noxious odors and water quality issues that can be difficult to manage.
When building a new state-of-the-art Natatorium for its swimmers, Liberty University sought a complete solution to enhance air and water quality while simplifying maintenance time. What they discovered was a modern approach to pool water treatment that is built for the future.
Nobody Likes "Chlorine Odor"
Many indoor aquatics facilities struggle with consistently maintaining fresh air quality, especially those with higher bather loads from swim teams, such as at Liberty University. Home to the Lady Flames, the 2019 Coastal Collegiate Sports Association (CCSA) Women's Swimming and Diving Champions, Liberty University's new indoor Natatorium hosts major events with many athletes, spectators, coaches and staff. Obtaining healthy and fresh air quality is crucial to ensuring the high quality of health, safety and comfort of everyone involved in and around the pool.
"We are striving to be at the top of the nation in terms of air quality and water quality," says Donna Hodgert, Associate Director of Aquatics at Liberty University. "Our swimmers spend hours in the pool every day, and I myself am in the pool at least four days a week. Air quality and water quality are very important to swimmers, and swimming regularly in pools with lower air quality can actually be detrimental to athletes' health."
Hodgert is no stranger to swimming pool water. In addition to managing aquatics at Liberty University, she has been a long-time competitive swimmer, has coached collegiate-level swim teams and swims with the United States Masters Swimming program.
"I've been in pools four to five times a week since I was 10-years-old," Hodgert said. "I know air quality and water quality. "When building our new Natatorium, we wanted to do everything possible to provide our athletes with the best possible air and pool water."
Many people assume that the all-too-common "chlorine odor" in aquatics facilities is a result of chlorine in the pool. However, this odor is usually caused by DBPs, such as chloramines or combined chlorine. DBPs form when outside pollutants such as sweat, dirt and oils react to chlorine in the water. Once they form, DBPs not only cause odor but can also lead to dry skin, red eyes, irritated lungs and health issues to those who are regularly exposed to them.
Swimmers, staff and those who are consistently in and around pool water with high levels of DBPs have a greater risk of developing asthma, allergies and other respiratory issues. For competitive swimmers, irritated lungs from poor aquatic facility air quality can hinder their ability to practice and compete. In order to keep their pool water healthy and DBPs under control, Liberty University and other top universities have added secondary or supplemental sanitation methods beyond the traditional pool chemicals.
Take a Deep Breath: There Is a Solution
When building Liberty University's new Natatorium, Hodgert and the staff decided to install Clear Comfort's AOP systems. AOP stands for "advanced oxidation process." These state-of-the-art systems have been proven to effectively reduce DBPs, while lowering chemical consumption. Hodgert explained how Clear Comfort's AOP has impacted the facility, staff, athletes and spectators.
"I would say our Natatorium is now one of the top five aquatics facilities in the nation in terms of air quality and water quality, thanks to Clear Comfort," Hodgert said. "You definitely notice walking on the pool deck that there is absolutely no chlorine smell."
Using an AOP system for secondary or supplemental sanitation is one of the simplest and most effective ways to improve air and water quality throughout aquatics facilities. AOP systems work by producing hydroxyl radicals to sanitize and oxidize the pool water. Hydroxyl radicals are extremely fast-acting and the most potent oxidative compounds available for recreational water treatment. These radicals can destroy DBPs and other contaminants in a fraction of a second, resulting in pool water with less odor, less irritation and, in turn, less risk of developing health issues.
"It's just a good experience for the athletes and for the spectators," Hodgert said. "The swimmers are happier to be in the water. Our chlorine consumption is also much less with the new Clear Comfort system. I would highly recommend it to any aquatics facility operator who wants to improve their facility's air and water quality."
A Breath of Fresh Air: Simple, Modern Solutions Built for the Future
The search for the best air and water quality has lead top aquatics facilities across the country to complete solutions that attack the root of the problem. With advanced technologies, such as AOP, now readily available, many universities, recreation centers, water parks and other aquatic facilities of all sizes are utilizing more effective solutions with less unnecessary costs and efforts.
"I highly recommend the Clear Comfort system," says Hodgert. "It's a system I can maintain myself, whereas our UV system in our older pool needs service professionals to come twice a year to work on it."
While AOP water treatment is seen as today's gold standard, this significant leap in technology also improves the bottom-line for aquatics facilities. When compared to UV systems, Clear Comfort's AOP systems are proven to deliver superior results with 30 to 50 percent chemical savings and a 60 percent total cost savings. By providing better air and water quality with lower overall costs, the shift to AOP in aquatic facilities represents a major step toward the future of recreational water treatment.
To learn how a real aquatics facility achieved the best air and water quality by reducing up to 90 percent of its DBPs, click here to download the full case study.