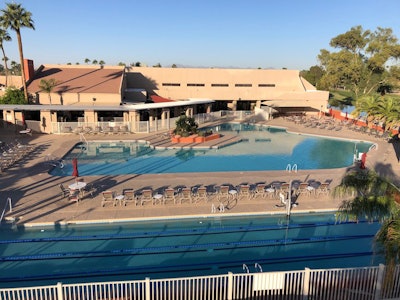 The following content is supported by one of Athletic Business's advertising partners. To learn more about sponsored content, click here.
---
The busy season is in full swing in Sun Lakes, Ariz. The master-planned community south of Chandler is noted for its three large homeowners associations and has been named a top retirement community by many national media organizations. Sun Lakes also is a destination for many so-called "snowbirds" who spend their winters soaking up the sun and enjoying daytime temperatures in the 70s.
That means the four outdoor leisure pools (including a children's pool for the grandkids), one outdoor lap pool and five spas at Sun Lakes HOA #2 — four square miles comprised of more than 3,800 homes with about 7,600 older adults living in them — will see plenty of use over the next several months. Residents of the HOA's Cottonwood and Palo Verde developments will no doubt enjoy their aquatics experiences more now, because all bodies of water at Sun Lakes HOA #2 have undergone a major mechanical makeover with Pentair products.
"There were major flow-rate problems," says Jim Miller, facilities manager at Sun Lakes HOA #2. "The motors were maxing out, and we still weren't getting enough power. We were tripping breakers, the equipment room was noisy and we were going through chemicals like crazy. I'd say we were probably replacing motors at the rate of two a year."
Miller connected with Pentair through one of the pool contractors with whom Sun Lakes HOA #2 works, and the equipment manufacturer sent out area sales representatives to evaluate the situation and discuss cost-saving, energy-efficient solutions to improve circulation and overall operation.
Powered by Pentair
Miller's biggest concern was the main pool in the Cottonwood development — an L-shaped, 187,000-gallon leisure pool that is at least 30 years old and is used for everything from individual relaxation to water-fitness classes. As the site's largest and most popular pool, which accommodates an average of 300 users per day, the Cottonwood main pool had the most to gain from an equipment upgrade.
The Cottonwood main pool, four-lane lap pool and spa were shut down for a month in Summer 2019 for deep cleaning and the installation of several high-efficiency, low-maintenance Pentair products.
Out went the four poor-performing 3-horsepower pumps, replaced by one 10-horsepower Pentair EQ Series® pump with strainer — designed for maximum efficiency, quiet operation and a long motor life.
The update also included installation of an Acu Drive™ XS Variable Frequency Drive and four Pentair-PacFab Triton TR140-C3 filters.
Cottonwood's lap pool also received an upgrade with a 5-horsepower WhisperFlo XF® Variable Speed Pump, and the spa was outfitted with an IntelliFlo® Variable Speed Pump.
Pentair's IntelliBrite® LED lights also were added to the Cottonwood main pool, lap pool and spa — an upgrade Miller and his team hope to give to the other onsite pools and spas.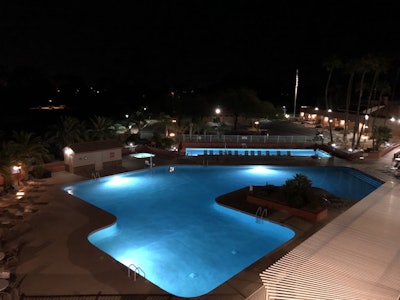 "We can't believe how much more power and flow we have," Miller says. "And everything is so much quieter and more efficient. Just walking into that pump room is so nice now, because we've got something that's quality in there."
Major Energy Savings
Not only has performance improved, but Sun Lakes HOA #2 is expected to reap significant energy savings, with an estimated total energy reduction of 77 percent, according to Pentair's calculations. What's more, Miller expects to see a five-year return on investment of $46,936 for Cottonwood's main pool alone. That's an annual system savings of $9,387.
"We're not even running the motor at 50 percent," Miller says, adding that the homeowners association's board of directors — which approved the Pentair project — takes great pride in the HOA's emphasis on energy efficiency. "I'm excited to see what kind of energy savings we see. It should be big."
Swimming might be one of the most popular recreational activities at Sun Lakes HOA #2, but it's certainly not the only one.
The community encompasses approximately 1,120 acres, with walking paths that surround fishing lakes in both the Cottonwood and Palo Verde neighborhoods. When residents aren't enjoying the onsite pools and spas, they can play golf on a par-72 championship course and a par-62 executive course, as well as tennis on seven courts, pickleball on four courts and racquetball on two courts.
Sisk Park houses a nine-hole putting course, bocce ball courts, and areas for horseshoes, basketball and volleyball. Additionally, the community provides separate men's and women's fitness centers, and a spacious clubhouse offers a variety of indoor activities such as painting, dancing, ceramics and cards.
When it comes to improving onsite facilities — specifically the pools — this was not the first time Sun Lakes HOA #2 used Pentair equipment. Miller gave the IntelliFlo® pumps a trial run on a smaller leisure pool in the Palo Verde development a couple years ago.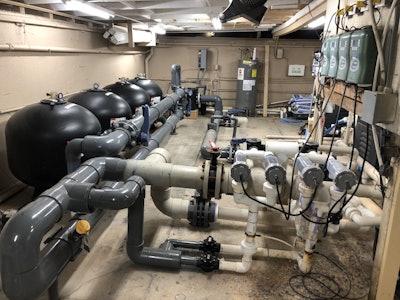 "In the beginning, we did lots of research," says Miller, whose sister-in-law uses Pentair equipment for her residential pool. "Everything kept coming up Pentair, and now we know that the equipment is as good as everyone says it is.